'Image is irrelevant, it's about your health' - Cavan star opens up on cancer scare
March 27, 2021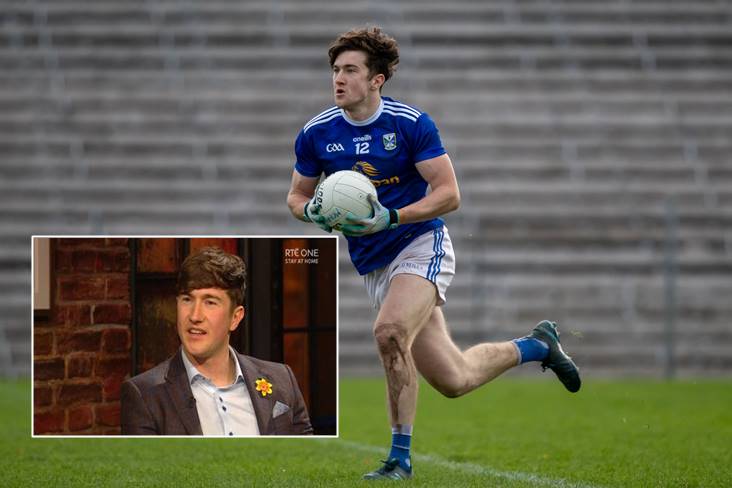 Cavan star Oisin Kiernan, and, inset, on the Late Late Show.
Cavan star Oisin Kiernan is urging men to check themselves for testicular cancer after admitting he ignored a lump he discovered back in 2018.
The Castlerahan clubman was one of the leading lights for the Breffni County last year as they captured their first Ulster senior football championship title since 1997.
Speaking to host Ryan Tubridy on last night's Late Late Show Daffodil Day Special in aid of the Irish Cancer Society, Kiernan opened up about his cancer scare at the age of 25. Instead of accepting he had found a lump, the former Meath footballer put off visiting his GP before he was eventually diagnosed with cancer.
"Life was good, I was enjoying football, enjoying work and I didn't want anything to get in the way of that," Kiernan said.
"I was naive really and I hope others will learn from my mistake."
Having underwent a second round of chemotherapy after the cancer spread to his lymph nodes, Kiernan said he struggled with his appearance.
"My body changed quickly. Within two days [of chemotherapy] my hair was gone. I started to bloat and I was looking fairly pale. I looked sick, but I didn't feel sick," he continued.
"I struggled to get used to the image. I'd get up in the morning and look in the mirror and I didn't know who was looking back at me.
"I spoke to a friend and said the image was getting to me a bit, he said image is irrelevant, it's about your health and that was it really."
Most Read Stories