Huge number of GAA stars back Michael Egan's Declan Kirby GAA Star book
March 26, 2021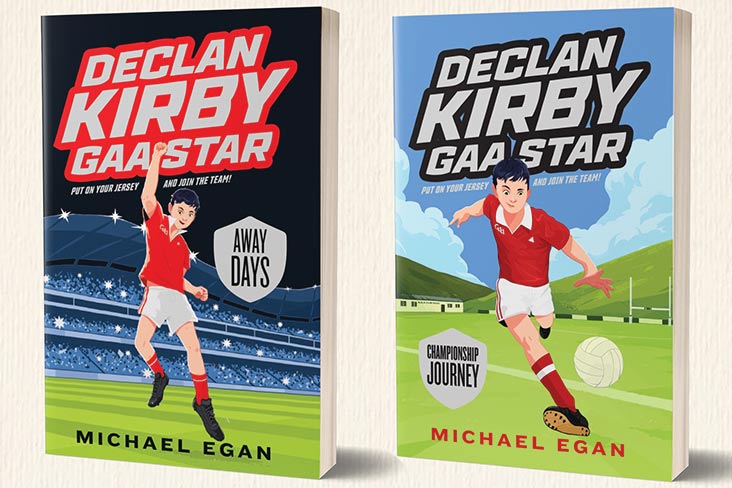 The GAA Star series is ideal for GAA-loving children aged 9+ and is designed with reluctant readers in mind.
Primary school teacher Michael Egan's first book Declan Kirby GAA Star: Championship Journey which is published by Gill Books will be available to buy this Friday 26th March. He is delighted to say that it will be available to buy from many stores. You can pick up a copy instore from Easons, books.ie, Dubray, Bookcentre and all good book shops as well as some Super Valus.
You can order online if you wish at Easons or download straight to your kindle here.
Egan is also delighted to say that a huge amount of Gaelic stars have agreed to help with promotion including Philly McMahon, Tomás O Sé, Stevie McDonnell, Andy Moran, Kevin Feely, Paddy Bradley, Noelle Healy, Mark McHugh, Eoin Cadogan, Kieran Lillis, John O'Loughlin, Shane Curran, Benny Coulter, Evan O' Carroll, Gary Sice, Colm Begley and Gareth Dillion. Rory O'Connor of Rorys Stories has also agreed to help with promotion.
"The message was resonating with the players when I was speaking to them and they were delighted to back the message which to is get more children reading and involved in GAA clubs'," says Michael.
The excitement is building and Marie Crowe who hosts the show Game On on 2FM will also be giving away a book on her show in the coming weeks.
"I'm really looking forward to this. There is going to be great excitement. I can't wait until it all begins."
The book has been kept tightly under wraps until now but one man who has read it is the principal of Scoil Mhichíl Naofa school in Athy, Co. Kildare, Seán Hourihane.
His verdict; "Fantastic. Enjoyed reading it. The kids will love it. A little teaser in every chapter aswell as experiences children will relate to keep you interested. It flows really well. The short chapter works very effectively."
Michael says: "Anyone that knows me knows that I'm fairly sociable and I'd love to be around to sign books but I spoke to the PR team and a formal launch is totally out due to all the Covid restrictions but nevertheless we'll get the word out there and hopefully people will back our message."
Gill Books Commissioning Editor, Sarah Liddy is also looking forward to the launch saying: "We are delighted to be publishing these brilliant books. Michael has created a wonderfully realistic world around Smithgreen GAA club with a great cast of characters."
Egan says: "I hope that my books will get reluctant readers in particular excited about reading. Sometimes you have children who are very active. You give them a football or a hurl and sliotar and they'd be out the back for an hour, but to get them to read for 20 minutes can be sometimes be difficult. But if you can create a subject matter that they are interested in that is going to hopefully be a vehicle for parents and teachers to get children to read more."
More about the books
Championship Journey - Follow the trials and tribulations of Declan Kirby and his team at Smithgreen Gaelic football club, a recently formed but promising GAA team. Although they have a talented team, there are problems beneath the surface – will their temperamental star player Dereck produce the goods when it is really needed? Meanwhile, someone seems to be hatching a secret plan to have the manager replaced, just when they need him the most. Declan also carries a secret wish – that his dad will once again come and see him play. Maybe if they make the championship final his dream will come true?
Away Days - Declan Kirby can't believe it when he's selected for the county team. What's more, a few of his Smithgreen teammates are chosen as well. Declan and his friends band together to try and win an All-Ireland underage competition and travel to Galway where they find out all is not what it seems.
Most Read Stories