TG4 All-Ireland Ladies Football Championship previews
July 16, 2021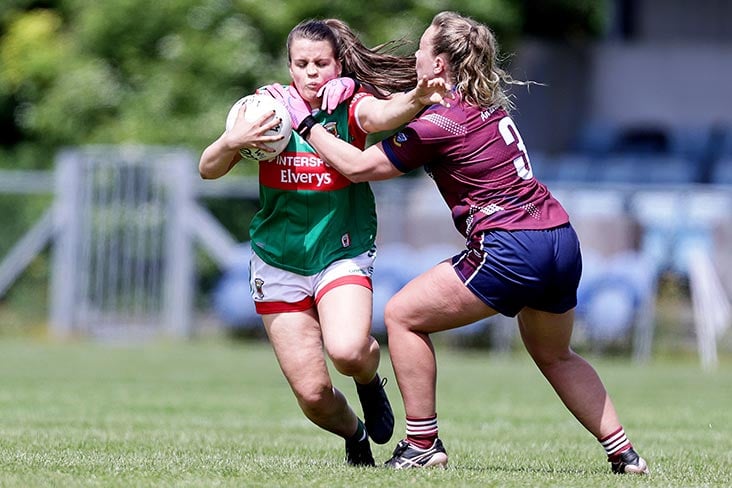 Mayo's Amy Dowling and Jennifer Rogers of Westmeath
Compiled by Jackie Cahill
LAST year's finalists Dublin and Cork could both secure quarter-final slots in the 2021 TG4 All-Ireland Senior Championship on Saturday.
Victories over Waterford and Tipperary respectively would guarantee progress to the last eight for 2020 champions Dublin and runners-up Cork.
The live TV game on Saturday between Ulster rivals Armagh and Cavan at St Tiernach's Park, Clones, will have a 5.30pm start, as Armagh aim to make it two wins from two in Group 1.
Elsewhere in the Senior Championship on Saturday, Mayo take on Monaghan in the other Group 1 fixture, as Galway aim for a knockout slot when they take on Donegal in Group 4.
There's also a full round of fixtures scheduled in the Intermediate and Junior Championships – as 2020 Intermediate Finalists Westmeath look to bounce back from their opening round loss to Longford.
In their Intermediate groups, Leitrim, Kildare and Down could all claim top spot and progress to the quarter-finals with victories, as they prepare to take on Clare, Laois and Louth respectively.
The Armagh-Cavan game is the live TV offering – while all of the other eleven weekend fixtures in the TG4 Championships are available to view at the LGFA and TG4's dedicated Championship portal https://page.inplayer.com/peilnamban/
TG4 All Ireland Ladies Football Championship 2021 – Result on the Day
All games at 2pm unless stated
Saturday 17th July 2021
TG4 All Ireland Senior Championship – Group 1 - Round 2
Mayo v Monaghan; Sean O'Heslins, Ballinamore
Mayo got off to a winning start against Cavan last weekend and if results go their way today, they could wrap up a place in the last eight.
Victories for Mayo and Armagh in this pool would leave both counties to battle it out for top spot next weekend, with Monaghan and Cavan facing a relegation battle in that scenario.
But Monaghan will want to bounce back from their 14-point reversal against rampant Armagh last weekend – and breathe fresh life into their Championship assault.
Monaghan will feel they're a better side than what they showed in Round 1, while Mayo will hope to build on their opening day win.
There's plenty at stake for both sides in Ballinamore and while Mayo will start as favourites, Monaghan will prove problematic if they can find some form.
Mayo (v Monaghan): A Tarpey; S Lally, C McManamon (capt.), E Brennan; T O'Connor, É Ronayne, K Sullivan; C Needham, S Cafferky; F Doherty, R Kearns, M McHale; G Kelly, S Howley, T Needham.
Monaghan (v Mayo): E Corrigan; M Monaghan, N Fahy, A McAnespie; S Coyle, A McCarey, E Traynor; C Courtney, M Atkinson; L McEnaney, E McCarron (capt.), L Garland; C Treanor, C McAnespie, A Garland.
Armagh v Cavan; St Tiernach's Park, Clones 5.30pm – Live on TG4
In recent weeks, Armagh have recaptured some of the form and swagger that took them all the way to an All-Ireland semi-final last year.
Despite not making the knockout stages in Division 2 of the Lidl National League, they've been irresistible in the Ulster Championship, before claiming a 14-point victory in their TG4 All-Ireland SFC opener against Monaghan last weekend.
In this four-team group, another win against Cavan this evening in the live TV game would have the Orchard County sitting pretty and within touching distance of a quarter-final slot.
Cavan, in contrast, cannot afford another slip-up after losing out by six points against Mayo last weekend.
Skipper Kelly Mackin and 2020 TG4 Senior Players' Player of the Year Aimee Mackin combined for 1-10 last weekend and they're players who are bang in form.
Armagh (v Cavan): A Carr; S Marley (capt.), C McCambridge, G Ferguson: E Lavery, L McConville, T Grimes; N Marley, N Coleman; B Mackin, C O'Hanlon, F McKenna; A Mackin, A McCoy, A Clarke.
Cavan (v Armagh): E Walsh; R Doonan, S Lynch, M Smith; S Greene, L Fitzpatrick (capt.), M Sheridan; C Dolan, N Byrd; A Kiernan, A Sheridan, C Finnegan; N Keenaghan, G Sheridan, A Gilsenan.
TG4 All Ireland Senior Championship – Group 2 - Round 2
Tipperary v Cork; Sean Treacy Park, Tipperary Town
Victory for Cork would assure top spot for the Leesiders in this pool – and leave Tipp and Meath to battle it out in a winner-takes-all live TV clash next Friday evening.
The Leesiders were made to work hard for their two-point win against Meath last weekend and now they face a Tipp side low on confidence.
The Premier County suffered relegation from Division 1 of the Lidl National League recently – having already lost captain Aishling Moloney and Emma Morrissey for the Championship to long-term injuries.
When the sides met in the Lidl National League at Páirc Uí Chaoimh, Cork cruised to a 12-point victory.
This is Tipp's first outing of the Championship campaign and they couldn't have asked for a much tougher assignment.
Tipperary (v Cork): L Fitzpatrick; L Nagle, M Curley, E Cronin; L Spillane, C Kennedy, E Kelly; A.R. Kennedy (capt.), O O'Dwyer; C O'Dwyer, A Fennessy, L Dillon; R Howard, N Hayes, A McGuigan.
Cork (v Tipperary): M O'Brien (capt.); M Ambrose, R Phelan, E Meaney; E O'Shea, C O'Shea, M Duggan; A Hutchings, H Looney; O Farmer, C O'Sullivan, Á O'Sullivan; S O'Leary, B O'Sullivan, E Scally.
TG4 All Ireland Senior Championship – Group 3 - Round 2
Dublin v Waterford; Baltinglass
For a third successive year in the Championship, Dublin and Waterford will meet in the group stages.
18 points separated the sides in 2019, before Waterford cut the gap to just four points last year, a game that was played at Saturday's venue.
But it would take a monumental effort from the Déise to get one over on the champions, who had ten points to spare against Tyrone last weekend.
Victory for Dublin would assure them of top spot in this group, and leave Waterford and Tyrone facing a winner-takes-all clash for a quarter-final spot next weekend.
Waterford come into this one without a game since concluding their Lidl NFL Division 1B campaign.
They won one from there in the League but victory over Tipperary was enough to stave off the threat of relegation.
Dublin (v Waterford): C Trant; N Collins, O Carey, M Byrne; O Nolan, S McGrath, L Caffrey; J Dunne, L Magee; H Tyrrell, L Davey, C Rowe; C O'Connor, N McEvoy, S Aherne (capt.).
Waterford (v Dublin): R Landers; M Dunford, L Mulcahy, R Casey; M Wall (capt.), K McGrath, A Mullaney; C Fennell, E Murray; R Tobin, M Delahunty, B McMaugh; E Fennell, K Murray, A Wall.
TG4 All Ireland Senior Championship – Group 4 - Round 2
Donegal v Galway; Markievicz Park, 4pm
When these sides met in early June, Donegal romped to a 4-21 to 2-10 victory over Galway in the Lidl National League at Tuam Stadium.
Galway won't have forgotten that sobering experience and will be anxious to prove that result was just a one-off.
Galway have already secured three precious points in this group, having had to grind it out against Kerry in a gripping live TV opener last Friday night.
A second win here would see Galway safely through to the semi-finals, but Donegal appeared to have bounced back well from their League semi-final loss to Cork when they collected 6-16 in the Ulster semi-final victory over Cavan.
Galway will hope for a better overall performance this time and the Championship game under their belts already could stand to them.
Donegal (v Galway): A McColgan; N Carr, E McGinley, E Gallagher; T Jenkins, Nicole McLaughlin, R Rodgers; K Herron, S Twohig; B McLaughlin, Niamh McLaughlin (capt.), N Boyle; N Hegarty, K Guthrie, G McLaughlin.
Galway (v Donegal): D Gower; S Healy, S Lynch, S Molloy; K Geraghty, N Ward, C Cooney; S Divilly, A Davoren; O Divilly, M Glynn, L Coen; M Seoighe, L Ward (capt.), K Slevin.
Sunday 18th July 2021
TG4 All Ireland Intermediate Championship – Group 1 - Round 2
Longford v Wexford; Clane
Longford ripped up the formbook in Round 1 as they scalped pre-Championship favourites Westmeath.
Now, they come up against a Wexford side also buoyant following their opening round victory over Sligo.
Both of these teams would have been ranked by many as the outsiders in this group when the Championship draw was made – but now they're both very much in the mix for coveted quarter-final slots.
Longford (v Wexford): R McGrath; K Crawford, L Keegan, A Cosgrove; C Mulligan, E O'Brien, C Farrell; N Darcy, O Nevin; E Heaney, L Monaghan, S Shannon; A Darcy, M Farrell (capt.), C Healy.
Wexford (v Longford): S Merrigan; L Doyle, A Halligan, K White; C Donnelly, S Murphy, S Harding-Kenny; C Banville, R Murphy; S Hamilton, C Murray, A Neville; D Doyle, A Murphy (capt.), A Wilson.
Westmeath v Sligo; Mullahoran
Westmeath were shocked after extra-time by Longford last weekend – and will be looking to bounce back quickly.
The Lake County, Championship runners-up in 2020, know that two wins from their remaining two outings in the pool phase will still see them through – but there's work to do now.
It's also a must-win fixture for Sligo, who lost out to Wexford in Round 1. A defeat for either side here will leave them staring at a relegation battle.
Westmeath (v Sligo): L McCormack; N Spellman, J Rogers, T Fagan; F Coyle, L Power, R Dillon; V Carr, T Dillon; F Claffey (capt.), L Archibold, A Jones; C Blundell, K Hegarty, S Dillon.
Sligo (v Westmeath): L Gaughan; A Morrisroe, M McNamara, J Mulligan; C Dunne, L Boles, J Lyons; S Reynolds, N Brennan (capt.); S Cunnie, C Gorman, S Regan; M McCormack, E Kevany, D McGrath.
TG4 All Ireland Intermediate Championship – Group 2 - Round 2
Clare v Leitrim; Duggan Park, Ballinasloe
Leitrim snuck home against Fermanagh with just a point to spare in Round 1 and a second win here would see them into the quarter-finals.
But Clare are a seasoned Championship outfit and they'll aim to make their first outing in the 2021 competition a winning one.
Leitrim recovered well from the disappointment of losing the Lidl NFL Division 4 Final to register a valuable Championship win – but Clare will present a stiff test.
Clare (v Leitrim): M Glynn; E O'Gorman, S Ní Chonaill, R Doohan; O Devitt, T Kelly, R Considine; C Moloney, R Looney; N O'Dea, A Reidy, F Marrinan; E Keane, C Callinan, C Harvey (capt.).
Leitrim (v Clare): M Monaghan; M.A. Maguire, S Tighe, S McCartan; R Rooney, C Owens (capt.), C LeGuen; Á Heslin, V Egan; L O'Dowd, M Guckian, E Bruen, L Fox, A Clancy, R McHugh.
TG4 All Ireland Intermediate Championship – Group 3 - Round 2
Laois v Kildare; O'Moore Park, Portlaoise
Two sides who know plenty about each other meet again. Kildare won when the sides met in the group phase of the Lidl NFL – but Laois turned the tables in the recent Division 3 Final.
This is now developing into a real rivalry and Kildare won't need reminding that Laois knocked them out of the 2020 Championship by recording a victory when the teams clashed in the final round of group games.
In a competitive group, Kildare know that a second win on the spin following last weekend's victory over Roscommon will see them into the knockout phase – as Laois prepare to launch their Championship campaign.
Laois (v Kildare): E Barry; C Dunne, A Potts, A Kelly; R Williams, E Healy, L Nerney (capt.); F Dooley, J Moore; A Healy, A Havill, E Fitzpatrick; M Nerney, S.A. Fitzgerald, L Tarpey.
Kildare (v Laois): D McGinn; C Sullivan, L Lenehan, M Doherty; L Murtagh, L Gilbert, H McLoughlin; S O'Sullivan, G Kenneally; C Wheeler, L Curran, G Clifford (capt.); E Dowling, N Dooley, A Rattigan.
TG4 All Ireland Intermediate Championship – Group 4 - Round 2
Down v Louth; Páirc Esler, Newry, 3pm
Down beat Offaly by three points last weekend to record an opening day Championship win and top the group.
Now they come up against Lidl NFL Division 4 Champions Louth, who are preparing for their 2021 Championship bow.
A second TG4 Championship win on the spin for Down would see them into the quarter-finals – and leave Louth to battle it out with Offaly next weekend for the other last-eight spot on offer.
Down (v Louth): A Burns; O Kelly, C Byrne, C Cunningham; O Duffy, M Doherty, K White; A Keown, O Lavery; N Scullion, A Cull, L Duffy (capt.); A Laverty, N Ferris, S Dougherty.
Louth (v Down): U Pearson; E Hand, S Quinn, E Murray; M McMahon, S McLaughlin (capt.), C Nolan; A Breen, D McKenna; A Russell, K Flood, R Carr; L Collins, L Boyle, N Rice.
TG4 All Ireland Junior Championship - Round 2
Antrim v Carlow; Lannleire, Dunleer, 1.30pm
After recording a big win over Derry in the recent Ulster Final, the tables were turned in dramatic fashion last weekend as the Oak Leafers claimed a three-point win.
Now, Antrim have some work to do if they want to claim one of the four semi-final spots on offer from the five-time round-robin phase of the Junior Championship.
This is Carlow's first outing of the Championship season, as they were afforded a bye in Round 1.
Antrim (v Carlow): A McCann; N McIntosh, O Corr, N Webb; A McFarland (capt.), M Blaney, Á Tubridy; E Ferran, C Brown; N Enright, C Carey, G McLaughlin; A Taggart, M McCurdy, C Taggart.
Carlow (v Antrim): N Hanley; O Fitzpatrick, A Dooley, R Bermingham; M Dermody, E Atkinson, N Murphy; C O'Neill, N Forde; N Kelly, A Gilmartin (capt.), M Kinsella; D O'Brien, C Ní Shé, N Mohan.
Derry v Limerick; Kinnegad
Derry are riding high on confidence after last weekend's memorable victory over Antrim – and a second win on the trot would have them in a really strong position in the group.
Limerick, meanwhile, will need to regroup quickly after losing out by seven points to Wicklow in Round 1.
A second successive defeat wouldn't be fatal to Limerick's hopes of making the semi-finals – but it would leave the Shannonsiders with a lot of work to do.
Derry (v Limerick): L Gunn; J Corr, D Donnelly, N Brown, A Frizelle, G Conway (capt.), Erin Doherty; A McAllister, Emma Doherty; C McGurk, D McNicholl, D Kivlehan; R McAllister, O McGeough, K Canavan.
Limerick (v Derry): S Hennessy; M Buckley, M McCarthy, K Reidy; Y Lee, N McCarthy (capt.), R Ambrose; M MacNamara, S Ryan; A Ryan, A O'Sullivan, L Ryan; N Bennett, A Cunningham, K Heelan.
Most Read Stories