Leitrim legends - Packy McGarty and Cathal Flynn
July 15, 2021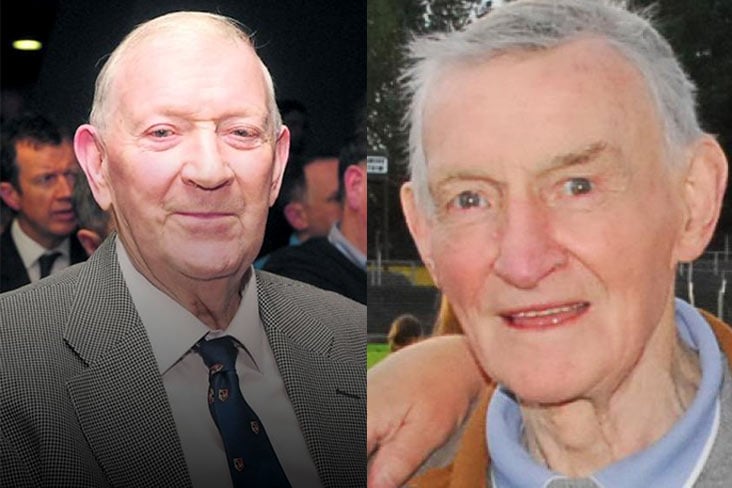 The late Cathal Flynn (left) and Packy McGarty
Two of the finest footballers ever produced in Leitrim, nay in Ireland, passed away to the great Croke Park of the skies during the first portion of 2021.
Galway of this era had Purcell and Stockwell but the men to their north east had their own set of twins, the great Packy McGarty and the equally great Cathal Flynn.

Fittingly they died less than two months of each other, Packy on April 6th and Cathal on June 3rd.
Many fine tributes followed and we take a selection from that well known website RIP.
Packy McGarty
Our deepest sympathy to Ellen and all the McGarty family on the death of Packie. May he forever rest in peace. Packie, was more than just a good footballer. He was a gentleman and an example to the way we should lived our lives. We as two disabled people were well acquainted with meeting Packie. He would rush towards us with friendship and hospitality. On receiving a trophy at one of those meetings, he said: "I don't deserve this trophy. I may have been good at what I love doing, (playing football). But there are disabled people here who did not ask for what they have got, but accepted their circumstances much better than I ever could. "Sleep Peaceful, Packie. Ar dheis De go raibh a anam uasal. Peter McHugh & Andy McGovern
We offer our heartfelt condolences to Aunty Ella, Christine, Jean, Padraig, Michael, Mary, Aileen, Eamon and families. We recalled many fond memories of Packie this past week. I always loved listening to the stories of the great players he played with and against. Packie was always so friendly. He loved talking sport and was so sharp and animated. Great memories. We were also proud to hear the lovely tributes to Packie this past week. Very sorry for your loss. Thinking of you at this difficult time. May Packie rest in peace. Paul, Aoife, Conor and Eoghan Flynn Canberra
Sincere sympathy to Ellen and all the family on Pakies passing. Had the pleasure of playing against him on many occasions and even greater pleasure playing with him in Railway Cup matches with Connaught. While I saw many great footballers in that era ( PURCELL ) I did not see any better than PAKIE. Met him on a few occasions over the years - what a gentle man! Rest in peace my friend. Seamus Leydon Galway
Sincere condolences on the passing of Packie. Had many great battles with him on the football pitch. May he rest in peace. Martin Quinn Kibride Co Meath
Sincere sympathy to the Mc Garty family on their great loss. I remembered seeing Packy playing Railway Cup games when only the best got selected. I was privileged to play with him for Sean Mc Dermotts in Dublin. He gave me great advice about being safe in Dublin. I also had the pleasure of meeting him in Ferbane a few years ago and we had a good chat a true Gentleman Rest in peace Packy. Michael Grogan
I would like to convey my heartfelt sympathy to Packie's spouse, Ellen and to all the McGarty family on your sad loss. Packie was my childhood idol when I watched his brilliant displays on the football field against Galway in the Connaught Finals in the 1950's and 1960. And years later I was amazed to be treated as an equal when I unexpectedly found myself sharing the backseat with him on a number of occasions in "the Dublin car" when we travelled down from Dublin to play for Leitrim in National League matches in the late 60's and early 70's. What a wonderful man he was and a modest genius. May he enjoy his eternal reward. Kevin Rooney, Manorhamilton & Galway
Sincere condolences to all the McGarty family on their great loss of a true legend both on and off the football fields Packy was one of the greatest I have ever seen and.he should have been a walk on to both teams of the century in 1984.may he now rest in the peace of the lord. Willie McGee Mayo and Leixlip
Our deepest sympathy to Ellen and the McGarty Family on the very sad passing of their beloved Packie , an incomparable husband, father, grandfather and friend. I'm sure that like many of my generation growing up in the 1950s and 1960s, when Packie was our hero and role - model, his passing this week 'ambushed' us with the unlikely merger of two conflicting emotions - gratitude and a deep sense of loss. Gratitude for the great joy and pride of County that Packie's brilliance as a footballer and person brought to us as children, and the irreversible sense of loss and grief that we felt last Tuesday when we heard that Packie, the 'magician' of our chilhood, had taken his last breath. Unlike most players, Packie had a wonderful talent, gilded with a unique genius, a rare combination in any era. On the field of play, he had the instinctive knowledge and fortitude of a migratory bird, and like a few footballers of his time, he readily challenged and conquered the fear of making a mistake. I think that it was qualities like these that made him the peerless player that he became, and made us all so proud to be from Leitrim. Thank you, Packie, for the imperishable memories you have left us as a great footballer, a very kind and decent person and an out-and-out gentleman. Eamonn and Orla Daly and family, Drumshanbo
A sad loss Pakie will be, may he rest in Peace, a star who will again be on the pitch in Heaven with Purcell, Heffernan, Carney, Sheehy & other greats who knew how to play Gaelic Football. Jack Q
Condolences to the McGarty family on the sad passing of our great hero Packie. What a lovely mass for a lovely human being, great family man as his son spoke with such love and respect for Packie our Leitrim hero. I grew up in the fifties kicking football with my friends pretending we were Packie McGarty and Cathal Flynn our heroes on that great team when Leitrim were so unlucky not to make the big breakthrough in Connacht. Later on my travels as soon as football people heard I was from Leitrim the great Packie was always mentioned. His friendliness and humility and basic human kindness shone equally with his unique talent . Thanks for the memories Packie, rest in peace Tom Bohan, Dublin & Manchester
My heartfelt condolences to Ella, Eamonn and the family on Packie's sad passing. A truly inspirational footballer, he was also a lovely man. I had the honour and privilege of being his teammate and of experiencing his great footballing prowess at close quarters. Just to be on the pitch with him was special. It was also such a great pleasure to have spent many hours with himself and Ella in their home in Terenure. His enthusiasm for the game was boundless and many battles were recounted with the greatest of relish - but always with great humility. Packie will be mourned by the entire GAA world. It was such an honour to have known him. There will not be his like again. Go mbeidh leaba i measc na naomh aige. Ben Wrynn, Fenagh and Leixlip
So sorry to see the passing of Packie. To his wife Ellen and all the MCGarty family I extend my sincere sympathy. Packie was one of the most oustanding footballers that I have played against, a true footballing legend . I played for Galway from 1955 to 1963 and we met Leitrim many times and the combination of MCGarty and Cathal Flynn was to be feared. The game he played in the 1958 Connacht final still is a permanent memory to me when I think of the supply of ball he gave to the full forward line especially Cathal Flynn. I know because I was marking Cathal. May Packie rest in peace. Sean Keeley Ballinasloe Co Galway
I would like to offer my sincere condolences to Ellen, Christine, Jean, Padraig, Michael, Mary, Aileen and Eamonn on the passing of my very good friend, Packie. I had the pleasure and the privilege of playing football in the 60's with Packie for our native Leitrim and Connaught and inter-club football in Dublin. In my view, he was, pound for pound, one of the very best players of his generation comparable to Sean O'Neill of Down or Benny Gaughran of Louth. He was also a special person and any time spent in his company was always a sheer joy. He will be sadly missed by all who were lucky enough to know him. May Packie's gentle soul rest in peace. Joe Layden
Cathal Flynn
Sincerest condolences to the Flynn family on the sad passing of Cathal, a true Leitrim legend, so soon after another 'Nonpareil', the late Packie McGarty. They were one of the finest partnerships ever to grace Connacht's and Ireland's football grounds, to Leitrim's and Ireland's eternal credit, and my late mother, a Leitrim woman, and her extended family took great pride and pleasure in their performances. Cathal was the quintessential sportsman and gentleman, both on and off the field, and we are the poorer for his passing. May he rest in eternal peace, agus go raibh leaba aige i measc Naoimh uile na hÉireann go deo na ndeor. Donal & Máire Lowry, Leopardstown, Dublin
Deepest Sympathies to Terri,Clara and the wider Flynn family on the sad passing of Cathal.R.I.P. Leitrims most accurate forward, a most affable and full of helpful tips.True Gentlleman. Gerry Logan Ballinamore
I was really sorry to hear of the passing of Cathal. To his wife Terry, Clara and extended Flynn family I extend my sincere sympathy. I played with Galway Football Team from 1955 to 1963 inclusive and played Leitrim from time to time in the Connacht Championship. In 1958 and 1962 I played at number 2 and was directly marking Cathal in both games. I played against a lot of good forwards over my period with Galway and I rated Cathal as the best forward that I played on. Twenty years ago I nominated him to two men who were writing a book and they asked me who was the best .Also to Jim Carney of the Tuam Hearld . He could solo with both feet at speed and great footballing brain. Cathal may you rest in peace. Sean Keeley Ballinasloe Co Galway
Deepest sympathy to Terry, Clara, and Dave and all the Flynn family. Cathal was one of my childhood idols as he and Packie McGarty lit up our young lives with their wonder displays for Leitrim. In recent years we became great friends and I will miss his telephone calls. RIP. Michael Feeney
Sincere sympathy to Terry,Clara,Brid ,Eilish and families on the passing of Cathal. He was a gentleman on and off the field . No corner back looked forward to marking him. May his gentle soul rest in peace. Mairtin and Betty Mc Gowan Ballyconnell
Terry, all the McGarty family were shocked and saddened to learn of Cathal's passing so soon after our dear dad, Packie. We wish to pass on our condolences to all the Flynn family. He was a great friend and team mate of Packie. Dad spoke about Leitrim players all the time and Cathal's name was mentioned frequently. Dad had great respect for him as a friend, team mate and an outstanding football player. When teams were being picked of players from all over the country Packie said Cathal was as good as any corner forward in the land. He remembered his skill, accuracy and scoring ability from play and placed balls. Leitrim's twins are reunited in heaven and no doubt a football is not far away. Best wishes. The McGarty Family
Terry, Heartfelt sympathy to you, Clara and the extended Flynn family on Cathal's passing. I am so proud to have known him well and to remember him as a gentle, friendly and proud Leitrim man.His footballing and impeccable free-taking skills brought joy to Leitrim followers for so many years. Trophies were few, but Cathal and Packie McGarty and the others played their hearts and souls out to push Leitrim to tithe top. . Codladh samh duit,Cathal. Tommy Moran, Ballinamore
My deepest sympathy to Terry and the Flynn family and relatives on the sad passing of Cathal. May his gentle soul rest in peace. When we lived in Dublin (as Leitrim men) we frequently met. For sure, Cathal and the late Packie McGarty, did Leitrim and Connacht football proud, and indeed football in general. God Bless. Dermot Layden, Sligo
Cathal was a GAA legend not only in Leitrim but all over Ireland. He represented Leitrim from 1952 to 1966 and was a regular selection on the Connacht Railway Cup team. Cathal was a Railway Cup winner in 1958 with his footballing twin Packie. A very proud Leitrim man, Always a pleasure to meet , he was a fountain of knowledge and a gentleman. He is reunited with his beloved son Gary and his 'twin' Packy. May his soul rest in peace. With deepest sympathy to Terry, Clara and all the Flynn family. Eamonn Duignan Mohill & Dublin
We finish up our little homage by re printing an obituary of Cathal, penned by another Leitrim legend, Tommy Moran....
Still together, Leitrim football's Terrible Twins. The news of the death of Cathal Flynn, so soon after the passing of Packie McGarty, had minds swirling back to their long partnership in the green and gold of the county they both loved so well.
Their first foray in the same forward line was on the Fenagh side that won the Leitrim Minor Championship In 1951 and '52. A mere two years later, when scarcely in their twenties, they togged out together in the Connacht dressing room for the Railway Cup final in Croke Park, in which Leinster had a lucky two point win.
And so it would go on, the team photos of that era, with Packie's arm around Cathal's shoulder.
Little wonder that they were both nominated for the Connacht team of the millennium, for they continually featured as top scorers for the province, against the top defenders in the country. It was no bother to either of them to play with the big boys and be honored by selection on the Ireland teams against the Combined Universities.
Cathal was a native of Gorvagh and had attended Finisklin NS and then Adoon, where his father Charley was Principal. It was in the confined spaces of the Adoon school playground that Cathal began to make a name for himself as someone to watch and he earned selection on the Fenagh Juvenile team, on a side that had others future stars like Jimmy McKeon and Brendan Heeran.
Cathal and Jimmy would later join Packie McGarty and Eddie Rowley on those Fenagh minor championship winning sides.
Football was in Cathal's blood, for his father had played with the Keatings club in Dublin, while teaching in the city and had lined out for the Dubs In 1911, 12 and 13, before coming back to Leitrim and making a name for himself in GAA circles, by playing for the county, before becoming Chairman of the County Board and then persuading Peter O'Hehir, the father of broadcaster Micheal, to come and train Leitrim for the 1927 Connacht Final.
That date would go down in Leitrim GAA history, with Tom Gannon, the captain, receiving the Connacht Championship Cup and then surviving over future decades to be with Declan Darcy to hold the Nestor Cup In Hyde Park sixty seven years later in 1994.
The Leitrim side of the 1950s and 60s is often referred to as the McGarty/Flynn era, as they were two of the many stars of county sides that were the talk of the country and so unlucky not to have won one or more Connacht Senior titles. The National League of those years would see Leitrim hold their own with the best and be proud of ace free-taker Cathal Flynn, who held the record of top scorer in the country for many years.
Cathal became the darling of Franciscan College, Multyfarnham In 1952, when he scored 1-7 out of a 1-8 score line, to beat St Mel's of Longford in the Leinster Colleges Final. Incidentally, Multy's other point that great day, came from Leo Kenny of Ballymahon, who would become a Longford star and during his banking career come to Drumshanbo. Allen Gaels, Leitrim and Connacht would benefit so much from Leo's devotion to the GAA.
Cathal Flynn had particular reason to be proud of Padraig Kenny, Leo's son, who was an incisive forward in that 1994 Connacht Final and also to meet Leo's daughter Caitriona at the 2019 Allianz League Final In Croke Park, when Cathal and his surviving teammates from the 1959 League semi final met their opponents from Derry in an anniversary dinner, sponsored by Mike Carty of Rosie O'Grady's, New York.
Caitriona was there with her husband, Seamus Clarke as sponsors of the Leitrim team. This would have been the last occasion when Cathal and Packie and their other team mates would have had a chance to reminisce about their careers in the green and gold. Their rewards were few, but all of them did it for their love of Leitrim.
Cathal and Packie are now in the Croke Park of the Heavens and if St Peter has his camera ready, there will be an up to date photo of Packie, with his arm round Cathal's shoulder. Together still.
Cathal's passing will be mourned by Leitrim GAA followers everywhere, who will join in heartfelt sympathy with Cathal's wife, Terry, their daughter Clara and all the Flynn and extended family.
Solas na bhFlaitheas duit, Cathal.
There are a lot of scores flowing between the Canal End posts up above.
May they rest in peace.
Most Read Stories