Passing of Two Hurling Greats
September 29, 2020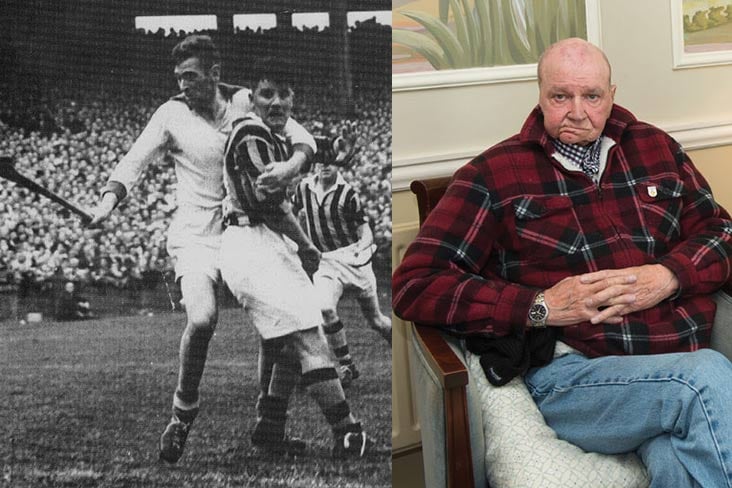 The late Billy Dwyer in action for Kilkenny and Liam Danaher
So sad to tell readers about the recent passing of two hurling greats from the late fifties/sixties, Kilkenny's Billy Dwyer and Clare's Liam Danaher.
Billy Dwyer hurled with the Foulkstown club in his native Kilkenny and on moving to Dublin played for the Faughs club for many years.
He won All Ireland medals in the Black and Amber in 1957 and 1963. On both occasions Billy lined out in the number 14 jersey and Waterford were the twice bitten victims.That high scoring 63 final is rated as one of the classic All Ireland deciders.
Billy was a regular in the Leinster Railway Cup jersey around this period. Again operating on the edge of the square he shone as Munster were overcome in the 1962 decider.
Liam Danaher played mostly at midfield for the Banner, from around the mid to late sixties. At a time when Clare were in the hurling doldrums.
Still the Newmarket - on - Fergus stylist had the ability to attract the attention of the Munster selectors and occupying the right half forward position played a lead role as Leinster were ousted in the Railway Cup decider of 1966.
Liam Danagher was buried in his native Lemenagh Cemetery on Monday September 28th last with his club Newmarket - on - Fergus forming an impressive Guard of Honour.
The funeral details of Billy Dwyer are: Billy will be reposing at Molloy's Funeral Home, Callan. Funeral arriving to St. Joseph's Church, Foulkstown, Kilkenny on Tuesday evening at 6.15pm. Requiem Mass on Wednesday at 2pm followed by burial in adjoining Cemetery.
Most Read Stories