Paddys Day without a club final
March 17, 2020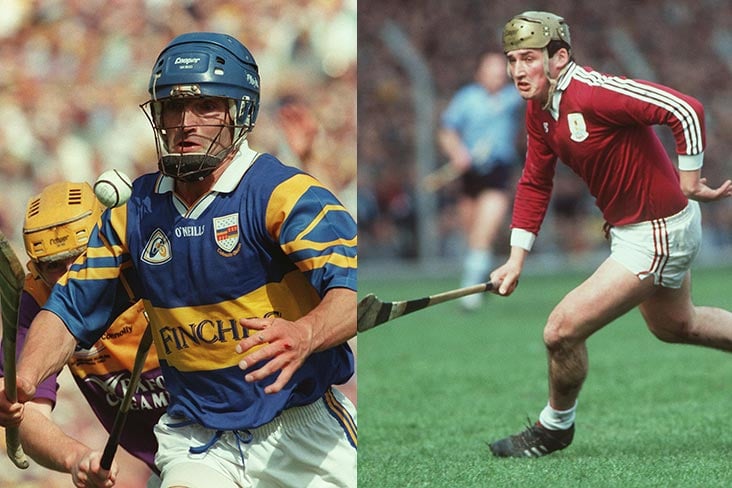 Cashel's Colm Bonnar and Conor Hayes Kiltormer
Strange times these, no club finals on St. Patricks Day. But it did happen before and in recent times.
For those old enough to remember, hark back to 1992. The football final did take place as planned that day at H.Q. No hurling decider though, instead we had the second replay of the semi final featuring Kiltormer and Cashel King Cormacs in what was probably the greatest ever set of encounters since the establishment of the club competitions.
A Galway club taking on their Tipp counterparts. All on the back of a fierce rivalry that had mushroomed between these neighbouring counties at the tail end of the eighties.
In the lead up to this final showdown, one that was going to entail 210 minutes of magical hurling, Cashel had outscored Midleton 0-9 to 0-6 in the Munster decider.
Kiltormer had an easier run and were too strong for Four Roads in Connacht and Sean Treacys in the semi finals. But they had the haunting legacy of going under to the English champions, St. Gabriels of London, 2-11 against 1-12 in the previous years campaign.
Massive crowds attended all games. A number of recent All Ireland winners were on show in both combinations and one recalls television footage on the huge tail back in traffic and match goers trying to gain entrance to the Ballinasloe grounds for the first replay.
February 23rd saw the opening exchanges at Leahy Park, Cashel before a reported 9,000 people. And it was the wind assisted visitors who made all the early running, Kiltormer were 8 points to the good following 20 minutes of play. Goals from Jamsie O Donoghue and T.J. Connelly settled the Munster kingpins and they had to be satisfied withdrawing for the interval break only 1-8 against 2-2 in arrears.
Within 10 minutes of the second period Cashel had clawed themseves back on level terms but thereafter Kiltormer hurled as good as they got, both outfits refused to budge an inch with the final scoreline reading 1-10 to 2-7.
So to Balinasloe for match two. Again the Galway men were fast out of the traps and set up a 0-6 to 1-2 half time lead. They extended this to five on the turnover before the Cashel fight back. Again stalemate with Kiltormer shooting 0-11 and Cashel 2-5.
Tommy Grogan, who shot a whopping 1-35 throughout the campaign, put Cashel a point clear in the early stages of extra time. Enter another Kiltormer surge as they in turn went 1-14 against 2-9 ahead at the end of the first fifteen minutes. Only two more points to come, those belonged to Cashel and a final scoreline of Kiltormer 1-14, Cashel 2-11.
Thus the reason why Croke Park hosted a semi final on March 17th. Again the exchanges were close but never really matched that served up in the drawn encounters. Perhaps the closeness of the pitches in Cashel and Ballinasloe added to the excitement.
As prior Kiltormer were the more impessive early on and retired 1-3 over 0-5 in front. Nine minutes into the second period this was extended to 1-6 to 0-5. True to form Cashel were going to respond and boosted by a John Grogan goal took a slender one point lead. Cashel folk will point to an injury to key player Colm Bonnar during a key stage of that second half but it was the Galway boys who finished the stronger.
Tony Furey was to prove the hero of the hour and it was his goal with 4 minutes to go that proved decisive, Kiltormer 2-8, Cashel 1-8. An epic was over.
Some great memories, some great players. In the Galway corner, Conor Hayes, one of the greatest full backs ever, his clashes with big Cormac Bonnar were the stuff of legend. Then we had the Kilkenny brothers, Aidan Staunton, Brendan Dervan and the flying Justin Campbell.
The Bonnars, Conal, Colm and Cormac as usual did Cashel proud. Raymie Ryan, Pat Fitzell, a career haunted by injuries, John and Tommy Grogan. Thirty to forty terrific hurlers involved.
The final eventually took place on March 29th in front of 13,855 patrons in Thurles. Despite a number of injuries to key players, there was no stopping the Kiltormer steamroller and they had too much power for an emerging Birr who succumbed 0-15 to 1-8. Oiche Mhaith.
Most Read Stories