What they said ... the weekend in quotes
October 22, 2018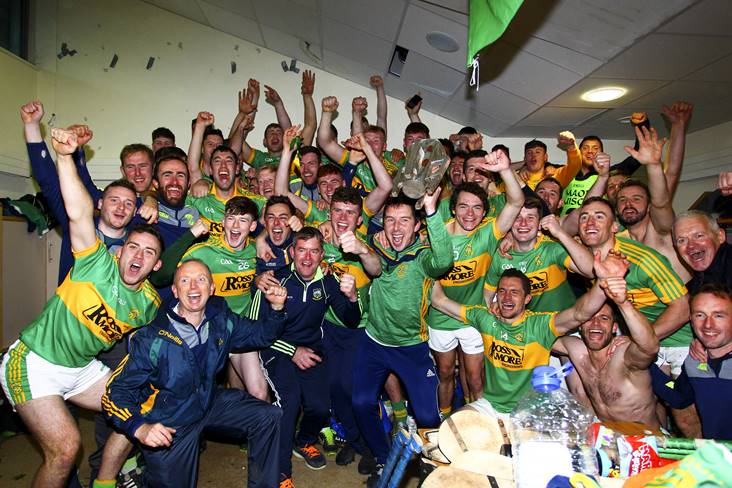 Clonoulty-Rossmore players and management celebrate after the Tipperary SFC final victory over Nenagh Eire Og at Semple Stadium, Thurles. ©INPHO/Ken Sutton.
"I had decided before the start of last year that I wasn't staying on. I said, 'Look, I'll give it (management) a go for a year' and I suppose it's worked out well enough."
After hanging up the boots 12 months ago, Clonoulty-Rossmore's John Devane's managerial career has got off to a great start.
"When you look at the scoreboard the bottom line is it's 15 scores to 23. They definitely were better today and they're deserving of their victory."
Nenagh Eire Og's John Fitzgerald had no complaints after the final whistle was sounded in Semple Stadium.
"We were disappointed with our championship form over the past two years but I think the performance we delivered on this occasion was exceptional."
The two year famine (!) is over in Crossmaglen after Donal Murtagh guided the famed club to a 44th county success.
"It reminds me of 20 years ago. Playing an All-Ireland semi-final against Birr, extra-time... and for a finish you were like a punch-drunk boxer. And I think both sides were out there."
The Dublin SHC final stalemate revived memories for Kilmacud boss Anthony Daly.
"I just can't commend the lads enough. What a battle!"
Joe Fortune and Ballyboden St Enda's live to fight another day.
"They're a great group. The attitude they have, the commitment they have. I don't think you'd find any better in the country."
The Coleraine players came in for special praise from manager Sean McGoldrick following their three point Derry SFC success over Lavey.
"Preparing for the final everyone was extra nervous because we know what Athy are like and the pace they have. It would be devastating if it was to end because we are on such a good run at the moment and it's so enjoyable."
Ronan Sweeney and Moorefield continued their winning ways in Kildare.
"It means the world to me. This is why I used to kick the ball against the house and it's something I've always dreamed of. County titles are hard to win."
Gaoth Dobhair got the better of Naomh Conaill in Donegal thanks to an eight point return from county star Odhran Mac Niallais.
"We showed huge character, resolve and hunger in that last quarter. I think that thought of not getting across the line actually drove us across it."
Past final disappointments stood Donal Keogan and Castlerahan in good stead in Cavan.
"We spoke all week about staying in the game until the 45th minute. We felt if we could do that, we'd blow home. We just felt Cratloe looked a little under pressure the last game or two. We felt with our strength and conditioning that if we could stay with them, we could get home."
The Clare SHC final panned out along the lines that victorious Ballyea manager Kevin Sheehan expected.
"It's fantastic to win Antrim but you always have to have ambition. I know what I want out of the Ulster championship and I expect my players to be the same."
Cargin boss Damian Cassidy isn't content with an Antrim SFC success.
"I knew the potential in the team, and the younger players have all matured from 2016."
Coalisland gained revenge for their 2016 Tyrone SFC final replay defeat to Killyclogher in the best possible fashion and manager Damian O'Hagan always had faith in his team.
"It boiled over today and there is no point in saying it did not. It was a pity, but when you are out there it's hard to figure out who started it, and who did this or that. In fairness to the match officials, it is very hard to referee games nowadays."
Dingle selector Diarmuid Murphy reflected on the melee which marred their Kerry SFC semi-final win over East Kerry.
"I've learned over the years to be diplomatic and I am going to be diplomatic now. I do not advocate my teams getting involved with any of the rough stuff. I ask them to go out and play football. I ask them to have pride in their jersey - I don't advocate them going out and striking anyone or getting involved in the off-the-ball stuff."
East Kerry boss Gerry O'Sullivan adopted a diplomatic stance.
"I saw where Tommy Walsh said something a while back, that in 10 years' time you won't have hurling, you'll have elite hurling. All the former players, the fellas who played for Kilkenny and gave great service, you talk to them now and they're just sick. They said it's so wrong what's going on. They can see it."
Brian Cody shares Tommy Walsh's concern about the growing divide between the inter-county and club scenes.
Most Read Stories