Handball legend Michael 'Ducksy' Walsh dies
August 04, 2016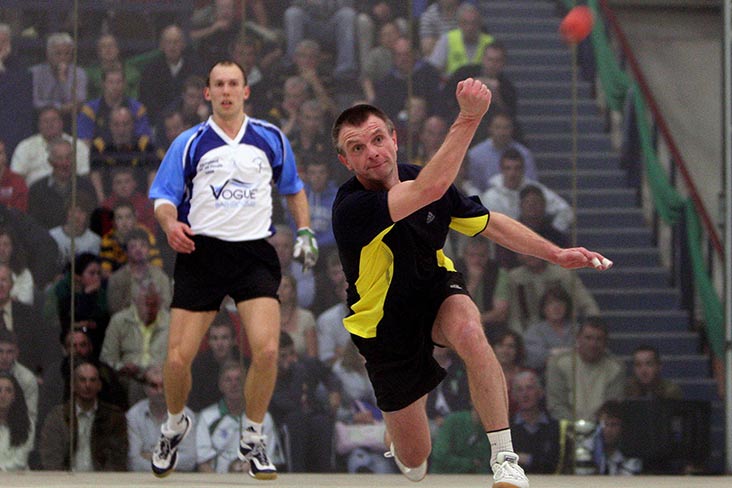 The legendary Michael 'Ducksy' Walsh
The handball community is in mourning today following the untimely passing of its greatest icon, Kilkenny's Michael 'Ducksy' Walsh.
Walsh first came to prominence as a child in the famed Talbot's Inch club in the early 1980s. He became the first Irish player to win a title at the prestigious USHA Junior Nationals and later won minor and junior All-Irelands in 1984 and, in 1985 at the age of 19, began a run of 13 successive All-Ireland Softball Senior Singles titles.
He was beaten in 1998 but returned to win three more Senior Singles titles.
'Ducksy' also dominated the 40x20 court and in doubles, where he won senior titles in both codes with Michael Reade, Eugene Downey and hurling star DJ Carey. Right up until his death, he remained one of the very best players in the game; he won the Irish 60x30 Nationals last month and was listed at number two in the Irish rankings released after that tournament.
"He was my handball hero growing up," Dublin star Eoin Kennedy said.
"I watched him countless times and then got to play him in multiple finals. He was the perfect combination of being incredibly skilful and incredibly determined. He lived and breathed the game, it totally consumed him.
"His enthusiasm for playing and coaching was evident right to the end. He'll be a huge loss to handball - it's just a terrible shock."
Walsh was widely regarded as the greatest all-rounder in handball history - he excelled in all codes and was also an excellent coach.
GAA Handball National Manager John Kelly stated that Walsh was ""one in a million, a tremendous competitor, a sportsman par excellence and an iconic figure whose loss has left the entire handball community numb with grief."
Ducksy, who was 50, is survived by his wife Sheena and their three children.
Most Read Stories