Comortas Peile na Gaeltachta: Wolfe Tones claim first title for Meath
June 04, 2018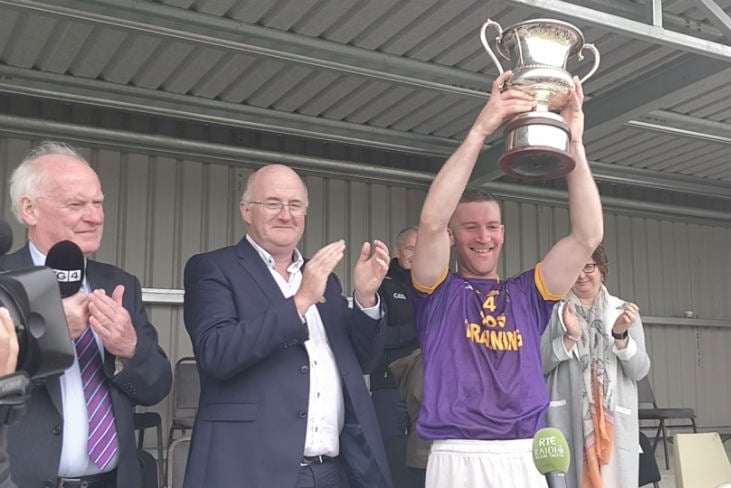 Wolfe Tones captain Niall McLoughlin lifts the Comortas Peile na Gaeltachta trophy in the presence of GAA President John Horan. Photo by Cóilín Duffy
by Cóilín Duffy
Wolfe Tones, Meath 3-9
An Cheathru Rua 2-7

Wolfe Tones became the first Meath side to claim Comortas Peile na Gaeltachta Senior honours, with a five-point win over An Cheathru Rua at a sunny and picturesque Downings in North Donegal on Monday.

This game was well balanced on the score-board for the most part, but a defensive mixup with two minutes of normal time remaining gifted the reigning Meath Division 1 League champions a goal to push them five-points clear, and from this they never looked back.

Just 18 players travelled for the weekend, which saw them open with an eight-point victory over Mayo's Belmullet, but by the decider the panel had swelled to 27, although Tones were still without some key players.

Meath Senior panellists Thomas O'Reilly, Shane Glynn and Dan O'Neill were all unavailable, while Saran O Finegain, who was full-forward on the Meath minors last year, is sitting the Leaving Cert this week.

Caolan Ward and Eanna O'Kelly Lynch were also out because of injury.

A 2-12 to 1-13 win over Donegal's, Naomh Columba followed in Saturday's semi-final to set up Monday's final against a An Cheathru Rua side which had beaten a fancied An Ghaeltacht side in the quarter-final, and followed it up by claiming a last-four win against Naomh Conaill, previous winners in 2015 and 2016.

Wolfe Tones opened their scoring with captain Neil Mac Lochlainn on target, but An Cheathru Rua quickly equalised with an Oisin Ó Griofa score.

Ó Griofa added his second point to put the Galway men ahead for a first time, before a Colin Ó Domhnall score opened up a two-point gap.

Cillian O'Brien pulled a point back, but a Sean O Loideain goal ensured a 1-3 to 0-2 lead after 12 minutes.
An Cheathru Rua were guilty of a number of wides at this stage as Wolfe Tones battled back with a second O'Bren score, and two Cian Ward efforts cut the gap to the minimum in the 22nd minute.

O Loidean brought his tally to 1-1, before a Neil Reilly point cut the gap to the minimum on 29 minutes.

An Cheathru Rua worked hard to extend their lead before the break but their efforts proved fruitless with Liam Mac Donncha and Stephen O'Brien efforts coming off the posts, as An Cheathru Rua took a 1-4 to 0-6 interval lead.

An Cheathru Rua came unstuck once more on the restart, with two wides in as many minutes, as Wolfe Tones added 1-2 unanswered.

Conor Sheppard claiming a 33rd minute goal after a pass from Fiachra Ward - who had a hand in all three of Wolfe Tones goals.

Cian O'Nell and Cian Ward added points as Wolfe Tones opened up a 1-8 to 1-4 lead by the 36th minute.

Amazingly Tony Kearney's charges wouldn't score for another 20 minutes, but they continued to hold the lead, despite a strong An Cheathru Rua comeback, which saw them cut the gap to the minimum with Maitiu O'Domhnaill, Padraig and Ciaran O Cualain each claiming a point each.

Wolfe Tones wides tally stood at seven for the half at this stage, and 12 overall, but they became sharper between the posts.

Neil Reilly popped over a fine close range point, when he just had the keeper to beat, before a mix up by An Cheathru Rua defender Iarflaith O Conchur and goalkeeper Diarmuid MacDonncha saw the ball end up in the net, with Fiachra Ward in close proximity.

Two minutes later Ward found the net himself, after a Neil Mac Lochlainn pass, and although An Cheathru Rua pegged a goal back through Cillian De Paor, it came in the third minute of injury-time, as Wolfe Tones held out for victory.
Scorers for Wolfe Tones: Conor Sheppard, Fiachra Ward 1-0 each; Cian Ward 0-3 (3f); Cillian O'Brien, Neil O'Reilly 0-2 each; Neil Mac Lochlainn, Cian O Neill 0-1 each. (Iarflaith O Conchur og)
Scorers for An Cheathrú Rua: S Ó Loideáin (1-1), C de Paor (1-0), O Ó Gríofa (0-2, 1 free), C Ó Domhnaill, P Ó Conghaile, P Ó Loideáin, C Ó Cualáin (0-1 each)
Wolfe Tones: D Nolan; C Sheppard, E Harrington, A McLoughlin; N McLoughlin, S Sheppard Éanna Harrington; A O'Callaghan, S Corrigan; B Finnegan, C Ward, G McFadden; C O'Brien, F Ward, N O'Reilly 
Subs for Wolfe Tones: M Coleman for C O'Brien (47); T Blaine for N O'Reilly (63).
An Cheathrú Rua: D Mac Donnacha; S Ó Flathartha, I Ó Concubhair, P Ó Conghaile; C Ó Domhnaill, C Ó Sé, L Mac Donnacha; M Ó Briain, S Ó Loideáin; P Ó Loideáin, O Ó Gríofa, S Ó Loideáin; C de Paor, M Ó Domhnaill, A Ó Conghaile.
Subs for An Cheathrú Rua: S O'Briain for O Ó Griofa (15); F Ó Sé for A Ó Conghaile (36); C Ó Cualáin for S Ó Loideáin (48); A Ó Conghaile for P Ó Loideáin (54); D Seoighe for S Ó Flatharta (62); S Ó Tiarnaigh for P Ó Conghaile (62).

REFEREE: Liam McGonigle (Donegal)
Most Read Stories