Fenton hopes to line-out alongside "incredible inspiration" Carthy some day soon
February 22, 2021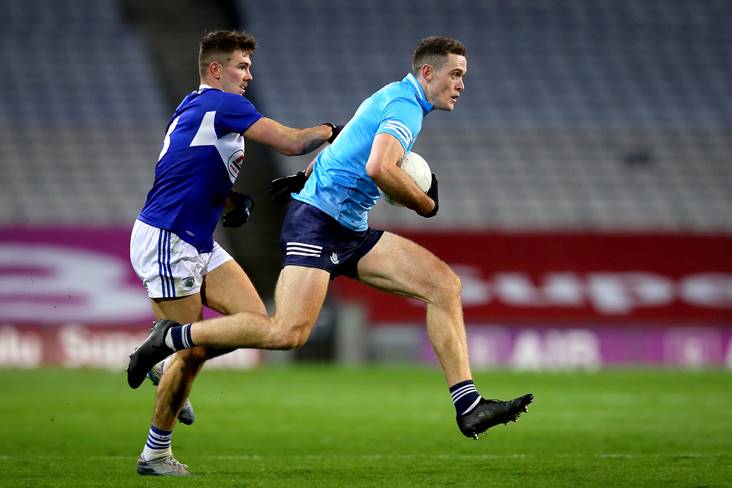 Dublin's Brian Fenton holds off Daniel O'Reilly of Laois. ©INPHO/Ryan Byrne.
2020 Footballer of the Year Brian Fenton says he hopes to be lining-out alongside Shane Carthy at centre-field for Dublin some day soon.
Carthy recently appeared on the Late Late Show to talk about his book 'Dark Blue', in which he opens up on his struggles with mental health issues.
The 26-year-old also outlined his intentions to break into the Dublin panel in 2021 and, speaking after his recent Footballer of the Year success, Fenton described Carthy as "an incredible inspiration over the last few years".
"Yeah, Shane would have been on that U-21 where I found my breakthrough," Fenton told GAA.ie.
"I've gotten to know him very well, he was kind enough to come and do a talk in Raheny GAA two or three years ago when he first mentioned he was writing about his story and writing a book on his journey.
"We know Shane and we know how talented he has been. Despite everything he has been through, to hear him turn around and publicly and openly say that his ambition and goal is to get back playing well and push hard to get on our team, it just reminds you how fortunate and lucky we are.
"Shane has been an incredible inspiration over the last few years. For a lad to go through such difficulties and turmoil personally, to want to come back and be as good as he can be with the Dublin footballers is just amazing.
"That will just drive us all on this year. Shane is a fantastic guy and hopefully we'll be lining out together midfield for Dublin some day soon."
Most Read Stories