Dublin's eye-watering championship scoring stats since 2010
July 31, 2018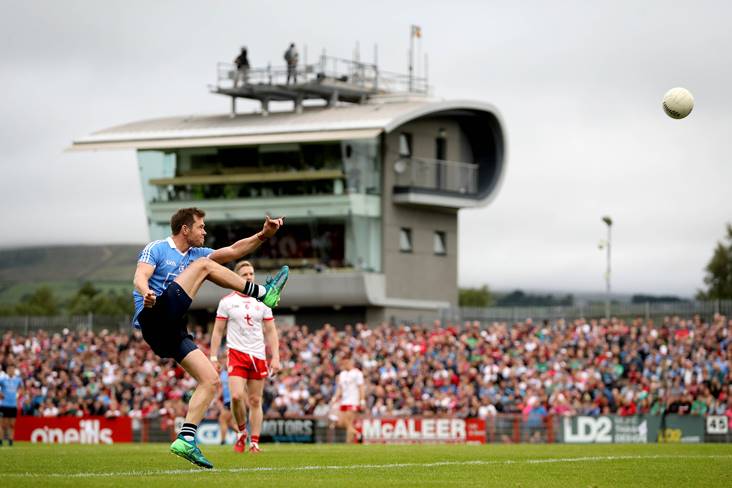 Dublin's Dean Rock takes a free against Tyrone.
©INPHO/Ryan Byrne.
Dublin have lost just two championship matches in the last eight seasons and their scoring stats are nothing short of remarkable.
Since exiting the 2010 championship when losing to Cork by a point at the semi-final stage, the Dubs have played a total of 47 championship matches, losing two (to Mayo in 2012 and Donegal in 2014), drawing two (against Mayo in 2015 and 2016) and winning 43.
In 2011, under Pat Gilroy, as the Dubs won their first All-Ireland in 16 years, they registered a tally of 5-82 in six games and conceded 3-66 - an average winning margin of less than four points.
By 2015, as they romped to their third Sam Maguire Cup success in five years, Jim Gavin's men were scoring freely. In Leinster alone, they racked up 11-56 and conceded 0-30 - an average winning margin of almost 20 points! For the year, they scored 18-118 and conceded 4-83.
In 2012, the Leinster champions amassed 7-74 and let in 2-66 - not enough to win an All-Ireland! In 2013, in six games unbeaten, it was 13-99 V 5-71 - another All-Ireland in the bag.
Two season ago, in the second year of the three-in-a-row, the Sky Blues' tally was 8 goals and 122 points, while they shipped 6-84 in seven outings. Last year, the champions scored 10-124 and conceded 2-73 - an average winning margin of 12.5 points - treble that of 2011!
So far this year, the indomitable Dubs have landed 10-114 in five outings and conceded just 1-63, Wicklow being the only team to have found the net against them. The average winning margin for the year to date is close to 16 points.
Dublin's overall tally in the last eight years is 71 goals and 733 points. They have been hit for 23-506 in that time. On average, they have scored 7.89 points per game more than their opponents.
With Roscommon awaiting in Sunday's Super 8s dead rubber at Croke Park, these stats might improve even further.
2011
Dublin 1-16 Laois 0-11
Dublin 1-12 Kildare 1-11
Dublin 2-12 Wexford 1-12
Dublin 0-22 Tyrone 0-15
Dublin 0-8 Donegal 0-6
Dublin 1-12 Kerry 1-11
2012
Dublin 2-22 Louth 0-12
Dublin 2-11 Wexford 1-10
Dublin 2-13 Meath 1-13
Dublin 1-12 Laois 0-12
Dublin 0-16 Mayo 0-19
2013
Dublin 1-22 Westmeath 0-9
Dublin 4-16 Kildare 1-9
Dublin 2-15 Meath 0-14
Dublin 1-16 Cork 0-14
Dublin 3-18 Kerry 3-11
Dublin 2-12 Mayo 1-14
2014
Dublin 2-21 Laois 0-16
Dublin 2-25 Wexford 1-12
Dublin 3-20 Meath 1-10
Dublin 2-22 Monaghan 0-11
Dublin 0-17 Donegal 3-14
2015
Dublin 4-25 Longford 0-10
Dublin 5-18 Kildare 0-14
Dublin 2-13 Westmeath 0-6
Dublin 2-23 Fermanagh 2-15
Dublin 2-12 Mayo 1-15
Dublin 3-15 Mayo 1-14
Dublin 0-12 Kerry 0-9
2016
Dublin 2-21 Laois 2-10
Dublin 0-21 Meath 0-11
Dublin 2-19 Westmeath 0-10
Dublin 1-15 Donegal 1-10
Dublin 0-22 Kerry 2-14
Dublin 2-9 Mayo 0-15
Dublin 1-15 Mayo 1-14
2017
Dublin 0-19 Carlow 0-7
Dublin 4-29 Westmeath 0-10
Dublin 2-23 Kildare 1-17
Dublin 1-19 Monaghan 0-12
Dublin 2-17 Tyrone 0-11
Dublin 1-17 Mayo 1-16
2018
Dublin 4-25 Wicklow 1-11
Dublin 2-25 Longford 0-12
Dublin 1-25 Laois 0-10
Dublin 2-15 Donegal 0-16
Dublin 1-14 Tyrone 0-14
Most Read Stories