"My memory of them was bringing a horse through the lobby of a hotel in Times Square!"
June 16, 2021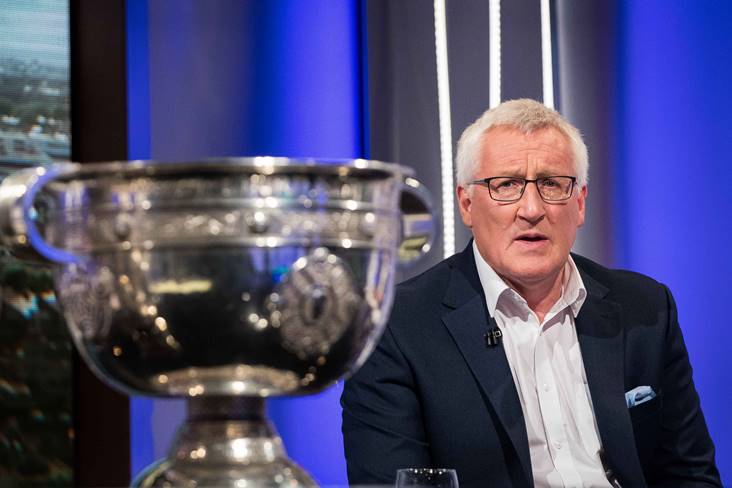 Kerry legend Pat Spillane. ©INPHO/Ryan Byrne.
Nine-time All-Star Pat Spillane was in great story telling form at the launch of the 50th anniversary of the All-Stars awards in Croke Park yesterday.
Amongst other things, the Kerry legend recalled "the worst drinking session" he was ever on back in 1986 and also told a tale about "two mad Galway hurlers".
"On the 1986 All-Star tour Kerry were All-Ireland champions and playing the All-Stars and we knew it was the end of the line," he told GAA.ie.
"We knew this gig was our last gig. We're in America and this is our last gig. The legs were gone, the mileage was up, and this was our last gig.
"We had to play the All-Stars in San Francisco in Balboa Park and we went on the tear the day before. The whole day Saturday down in Fisherman's Wharf, the worst drinking session I was ever on.
"I think the All-Stars beat us by about 30 points. We were the saddest bunch of fellas to ever represent Kerry. (Mick) O'Dwyer never usually got angry and we never trained on tour and this was the only time ever he got cross. O'Dwyer insisted we go training the following day
"So he found a beach in San Francisco and we had to run a half an hour out and a half an hour back. And you knew the writing was on the wall because the winner of the race was the County Board Chairman and he was running in his sandals!
"Second in the run, which came as a big surprise to O'Dwyer, was The Bomber (Eoin Liston). What O'Dwyer didn't know was that he had hid behind sand-dunes on the way out so he only joined us for the last couple of kilometres!
"My final memory of the All-Stars are of certain hurlers from the West of Ireland. Mad men! My last memory of them one night was them bringing a horse through the lobby of a hotel in Times Square!
"They untackled him from a trap outside and brought the horse into the lobby and I don't know what happened after that. Two mad Galway hurlers!"
Most Read Stories