LGFA launches 'Take a Second' respect campaign
March 22, 2023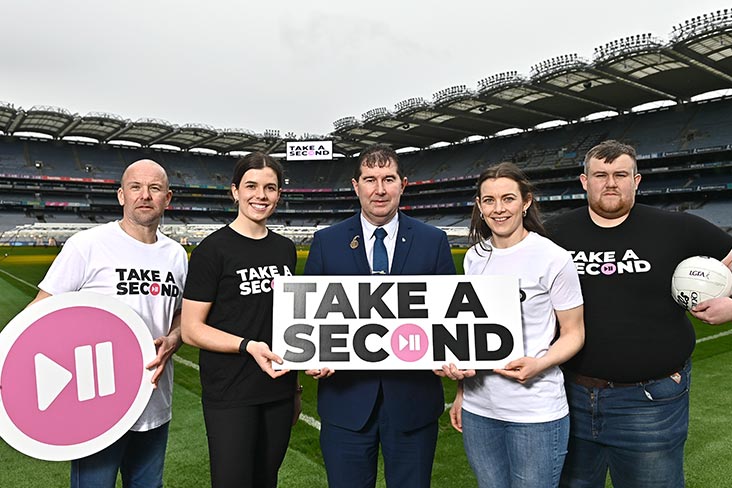 In attendance at Croke Park as the Ladies Gaelic Football Association announced details of its 'Take a Second' awareness campaign are, from left, LGFA referee Jonathan Murphy, Tipperary footballer Anna Rose Kennedy, Uachtarán Cumann Peil Gael na mBan, Mícheál Naughton, Kerry footballer Anna Galvin and Longford manager Alan Mullen.
The Ladies Gaelic Football Association has today launched its 'Take a Second' campaign – aimed at encouraging and celebrating a culture of positivity and mutual respect among all members.
The LGFA is determined to deliver a wide-ranging and impactful campaign that promotes and celebrates positive behaviour from its members on matchdays and behind closed doors in various meeting and committee rooms.
The LGFA spoke to over 1000 members recently and 66 per cent of respondents indicated that the Association needs to take action on respect.
Respondents think that coaches lose their cool the most, with parents a close second and spectators third.
Other key findings include:
· 85 per cent have witnessed a referee or match official being disrespected
· 70 per cent witnessed a referee being disrespectful to a player or coach
· 55 per cent feel that disrespectful behaviour occurs most often at underage club matches, with 36 per cent witnessing it most at adult club matches
Consequently, 49 per cent of respondents would never consider becoming a referee, while 10 per cent have walked away from a role within their club or county due to the behaviour of others.
The LGFA wants to tackle this culture and one of the Association's key aims has always been to deliver safe, supportive and respectful playing and non-playing environments for players, coaches, referees, parents, spectators and volunteers.
Present at Croke Park to launch the campaign were Ladies Gaelic Football Association President, Mícheál Naughton, inter-county stars Anna Galvin (Kerry) and Anna Rose Kennedy (Tipperary), leading inter-county referee, Jonathan Murphy, and Longford Ladies Football team manager, Alan Mullen.
Anna Galvin features in the campaign manifesto video, alongside Dublin's Leah Caffrey.
Commenting on the launch of the campaign, LGFA President, Mícheál Naughton, said: "The LGFA is constantly looking at how we can improve the levels of respect that all members and stakeholders show to each other.
"With the launch of this campaign, we are urging everybody involved in our Association, from players to coaches, referees, parents, spectators and volunteers, to Take a Second and think about their next action and the potential impact it might have on another LGFA member.
"As LGFA members, we all have that duty of care to be responsible for the health, safety and well-being of our fellow members.
"Our playing fields and meeting rooms should be safe spaces and environments for all of our members and we are aiming to ensure that this is the case now and long into the future.
"Making the right call for Ladies Gaelic Football will help to ensure that we can continue to celebrate and champion everything that makes our sport so wonderful."
To find out more about the campaign, and to access a number of key resources, please visit: http://bit.ly/3nam7YP
Most Read Stories