What they said … the weekend in quotes
February 10, 2020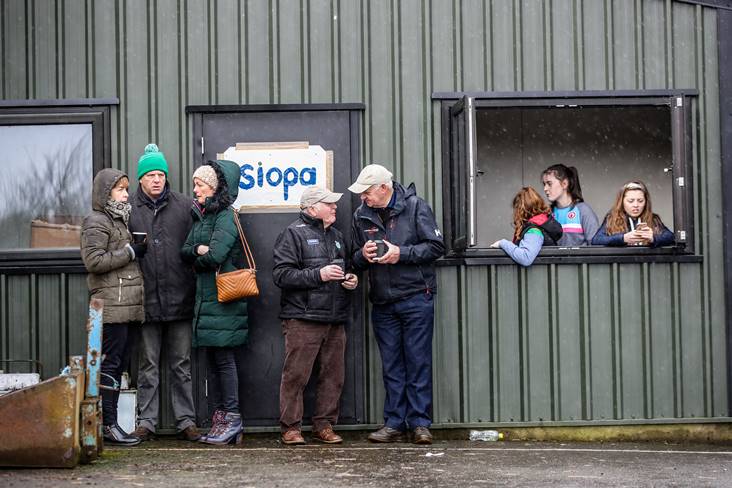 Spectators shelter from the rain before the Allianz FL Division 1 round 3 clash between Tyrone and Kerry at Edendork. ©INPHO/Bryan Keane.
"It is easy pickings to say that 'there are two fellows involved and I will give both of them both yellows' and because he had picked up one early in the first half, two yellows make a red."
David Clifford's sending-off was the main talking point in Edendork and Peter Keane was, understandably, critical of referee Fergal Kelly's decision to brandish a second yellow card.
"It's a ridiculous situation which is happening more and more. Defenders are overly physical on forwards and all of a sudden the referee takes the easy option, let's book the two of them. Unfortunately for David Clifford he had already been booked for an innocuous tackle in the first half."
Oisin McConville echoed the Kerry manager's sentiments.
"When he is confident he is ultra-confident and on his own pitch before this own people he has done this many times at training so it was just like another day."
Local boy Darren McCurry came in for special praise from Mickey Harte after his six point exploits in Edendork.
"It has been questioned in Galway before – having heart and character and had we the 'bottle' for these big matches."
Galway's battlign comeback against Donegal was a source of great satisfaction for Padraic Joyce.
"It's not a case that Galway won the match; we handed it to them. We were seven points up and we should have kicked on. We didn't and that's the disappointing thing."
Defeat was a bitter pill for Declan Bonner to swallow.
"They got a bit of a run on us in the second half, the goal was a crucial score. We'd be disappointed with that goal and listen, we're disappointed we didn't get the two points."
Monaghan were reeled in by Dublin at GAA HQ on Saturday evening and Seamus McEnaney had to be content with a share of the spoils.
"It seemed that we lacked the intensity that was required, slow out of the traps. They were going at it hard, and we struggled to compete. They overran us, and they were up for it and wanted it more."
Dessie Farrell tried to explain his team's uncharacteristic slow start against the Farney County.
"I'd say everybody in the stand thought there was going to be another kickout. And it goes two seconds over and he blows the whistle. All I want, all every manager wants, is rules to be applied consistently, and then you know where you stand."
Referee Sean Hurson's time-keeping was called into question by Meath boss Andy McEntee following the Royals' one point loss to Mayo.
"There's a lot of damage there so they're just evaluating it to be absolutely sure. It's significant injury for sure. He's working very, very hard on it. We'll hope to see him later on in the season."
James Horan gave an injury update on Colm Boyle after the experienced player was forced off the field against Dublin last week.
"The better team won."
Kildare played second fiddle to Armagh in the Athletic Grounds and Jack O'Connor had no complaints.
"We are happy but I get no joy from beating Kildare."
It was a bitter sweet victory for current Armagh and ex-Kildare manager Kieran McGeeney.
"You are seeing a lot in the team of Cian's coaching, he's great at getting the players to play different scenarios in training."
Cork made it three wins from as many outings in Division 3 and Ronan McCarthy hailed the impact of Cian O'Neill on the training field.
"I just have to commend my players for the effort, the heart and the togetherness especially in the second-half. I give them every credit because it was a battle of spirits for the finish. Our guys showed it in spades."
After getting the better of neighbours Waterford, Paul Galvin's Wexford are very much in the Division 4 promotion hunt with two wins from three games played.
Most Read Stories