Former LGFA President Peter Rice passes away
November 21, 2023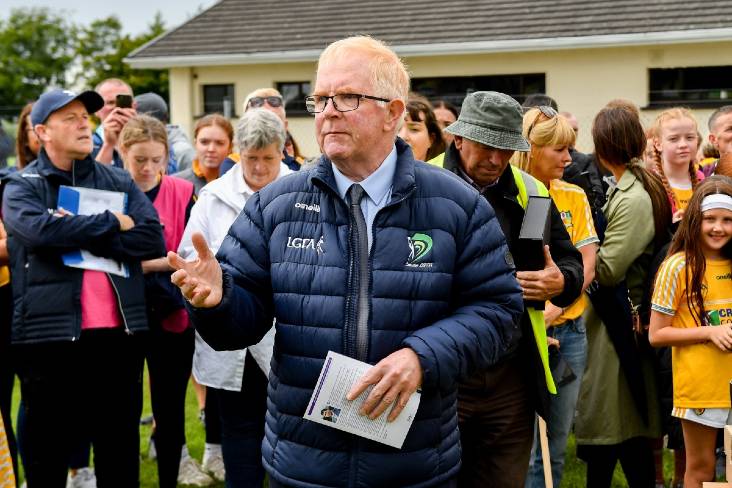 Former LGFA President Peter Rice
Former LGFA President, and current national board member of the Association, Peter Rice, passed away peacefully on Monday after a short illness.
Peter was a true advocate for Ladies Gaelic Football and an inspiration to all who worked closely with him over many years.
Peter was a loyal volunteer since the 1980s and has served at every level of the association at club, county, provincial and national levels, where he served as LGFA National President from 1991 to 1994.
Peter was a Laois man residing in Wexford for many years and was closely associated with the St Fintan's club, which he helped form in 1989, and previous to that with the Forth Celtic Ladies club in Wexford, which is now Shelmalier.
He managed St Fintan's to win numerous titles, including an All-Ireland U14 Féile, U16, U18, Junior and Senior Championships, along with Junior and Senior Leagues, and the All-Ireland 7-a-side Shield competition.
He served as Wexford county board PRO in 1984, 1985 and 1988 and he was President of the Leinster Council from 1986-1989, before filling that same position again during the 1990s.
Peter was a former manager and selector with many Wexford underage teams, which included All-Ireland U18 (1986) and U14 (1990) successes, as well as an U16 All-Ireland Final appearance in 1992.
Peter went on to become vice-chairperson of the Wexford county board in 1989, and was Wexford's delegate to Central Council in 1989 and 1990.
He was manager of Wexford adult teams in 1990 and 1991, before embarking on further stints as Wexford Junior Team manager and as a selector with the Senior team in 1992. Peter then became Chairperson of Wexford's Fixtures committee in 1993, and County Board Treasurer in 1994.
In later years, Peter was a selector with the Wexford teams that reached the 2007 TG4 All-Ireland Intermediate Final and the 2011 TG4 All-Ireland Junior semi-final. He was also involved in Leinster teams competing at Interprovincial level.
Peter was a long-time member of the LGFA's National Management Committee where he served as national treasurer from 2006 - 2016 and then as former President.
A former member of the LGFA's All Star and Disciplinary committees, Peter also served on a committee established in 1985 to publish the LGFA's own Official Guide.
The first LGFA Official Guide was then ratified at a Special Congress on March 8, 1986 and later in that same year, Peter was involved in the staging of the first All-Ireland Ladies Football Final at Croke Park.
Peter received a GAA President's award in 2013 on the back of outstanding years of service to Ladies Gaelic Football.
Leading the tributes, LGFA President Mícheál Naughton commented: "We are deeply saddened to learn of Peter's passing.
"Peter was one of life's true gentlemen and a true Gael who delivered outstanding service to our Association in various roles.
"A quiet and unassuming man, Peter was incredibly committed to our Association and worked tirelessly on behalf of the LGFA.
"He had a smile that would light up a room and we pass on our sincere condolences to his family and many, many friends."
Ladies Gaelic Football Association CEO, Helen O'Rourke, added: "I've known Peter throughout my entire involvement in our Association.
"He has always been a trusted friend and advisor, a man you could always rely on to steer you in the right direction.
"Peter played a huge role in the development of our Association and will be fondly remembered for his contribution to our success.
"Ar dheis Dé go raibh a h-anam dílis."
Funeral details: https://rip.ie/death-notice/peter-rice-wexford-mayglass-536767
Most Read Stories