'These big occasions, my family just love it'
November 11, 2023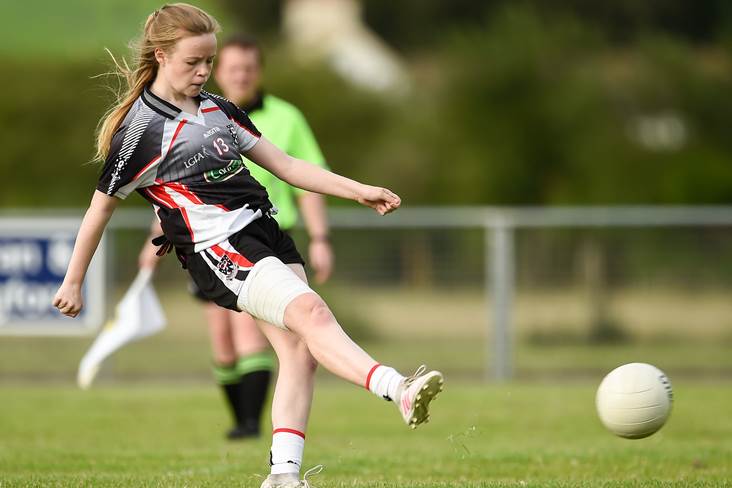 Leah Duffy of Sligo scoring a goal from a penalty ©Oliver McVeigh/Sportsfile
By Daire Walsh
It will very much be a family affair for Leah Duffy when she attempts to secure a Connacht LGFA Intermediate Club Championship title in the colours of Eoghan Rua against Ballinamore Sean O'Heslin's of Leitrim at Markievicz Park later today (SATURDAY throw-in 1pm).
A regular starter for Sligo throughout 2023, the TUS Athlone student is the daughter of former inter-county referee Marty Duffy. A member of the GAA's National Referees panel for several years, he took charge of the All-Ireland senior men's football championship decider between Munster rivals Kerry and Cork in 2009.
Although he has served as chairperson of the Connacht referees committee and the referees' appointments committee since hanging up his whistle in 2017, the past few years has also seen Marty maintaining a passion that long preceded his time on the inter-county scene.
Since its early inception as an LGFA club for players from Castleconnor, Enniscrone and Easkey, he has been heavily involved with the Eoghan Rua club.
When they won the 2020 Connacht LGFA junior crown at the expense of Galway's Naomh Mhuire – in a final that was actually played in June 2021 – Marty was one of the team's selectors, while Leah started at left half-forward and amassed a personal haul of 2-3. The father-daughter combo remain in these respective roles over two years later and will be hoping for another provincial success later this afternoon.
"He's one of the coaches. He's not the main man, but he's there and it's very special being there with him. I just take his advice more than anyone and I love going home, and having a chat with him. Analysing everything with him," Leah explained.
"He's been in and out of Eoghan Rua since the very beginning, since they started up. I think when they started up he was one of the main guys there. Throughout the years, from coming up from U12, and even when I was playing with the boys U10s or whatever, he'd be involved. Everyone loves having him around. He's a great coach, in fairness to him."
In addition to her father, Duffy's uncle Michael was also a highly-regarded GAA referee in the past. He was in the middle for Kerry's All-Ireland U21 football final triumph against Kildare in 2008 and the All-Ireland minor football showpiece between Tyrone and Cork two years later.
Michael's sons Brian and Gavin have also represented Sligo on the playing field in recent years and they are all expected to cheer on Leah when she takes to the pitch for today's final.
"We are a very proud family and we're such a GAA-based family. My cousins and everything are playing with Sligo. These big occasions, my family just love it. Everyone is involved and my aunt and uncles, and everybody will be there. We're a very proud family and we're a very supportive family," Leah said.
By progressing to this current stage of the club championship, Duffy and Eoghan Rua have defied the odds to a certain extent. Viewed as outsiders heading into a Sligo intermediate championship showpiece with Drumcliffe-Rosses Point, they survived a late rally from their opponents to record a 3-13 to 3-10 victory.
Similarly, Eoghan Rua were expected to be up against it when facing Salthill/Knocknacarra in a Connacht IFC semi-final last Sunday week – given their counterparts enjoyed a clean sweep of junior club silverware in 2022 and went on to claim second-tier honours within Galway this year.
Yet the West Sligo women were confident in their own abilities and finished with two points to spare (2-13 to 1-14) in an enthralling encounter that went all the way to extra-time in Salthill.
"We saw what they had done in the junior last year. We know that they were probably favourites going into Sunday, but I think almost going in as underdogs, it helped us a lot. I don't think anyone was expecting us to come out on top.
"It definitely encouraged us more, we'd almost have a point to prove. I think they were meant to be favourites for the intermediate. It definitely encouraged us more than anything to kick on and to upset the competition a bit.
"I think even in Sligo, I don't think people would have expected [us to win]. We're West Sligo, we're smaller than a lot of the clubs in Sligo town and I just don't think people would have expected us to come out with that result on the day [against Drumcliffe-Rosses Point]. We just love upsetting the bigger teams. It encourages us more and drives us on."
Whereas their game with Salthill\Knocknacarra went right down to the wire, Ballinamore Sean O'Heslins come into today's fixture on the back of an emphatic 4-12 to 1-9 win over Mayo's MacHale Rovers in the competition's other semi-final. That said, Duffy is hopeful that coming through a tighter contest will stand to Eoghan Rua once the ball is thrown in for a novel occasion at the home of Sligo GAA.
"It's not every day that you have a Sligo/Leitrim Connacht final either. I'm hoping maybe that because we had the tight game and we had the extra-time, that we might just have that bit of an upper hand when things do get tight in the final. Definitely both teams are going to be coming in swinging, so we'll see."
When you consider she played Sligo's opening game in Division 3 of the Lidl National Football League against Clare back on January 22 – and was a mainstay for the Yeats County in the months that followed – it has been a year of non-stop action for Duffy. There is every chance her season could be extended into December if Eoghan Rua can make it beyond the provincial club championship, but she has been more than happy to put her shoulder to the wheel.
"It was very full on this year, between club and county. It was quite hard at times. There was a few times where I wondered what the hell I was doing! It is hard work and especially coming into the winter months, it is hard work, but it is worth it in the end," Duffy added.
"Hopefully we can kick on towards December as well after the Connacht final. We'll be back again with county soon as well. Not much of a break, but hopefully now it will be worth it in the end."
Most Read Stories