"We obviously know it's going to be a massive jump between junior and intermediate"
March 18, 2023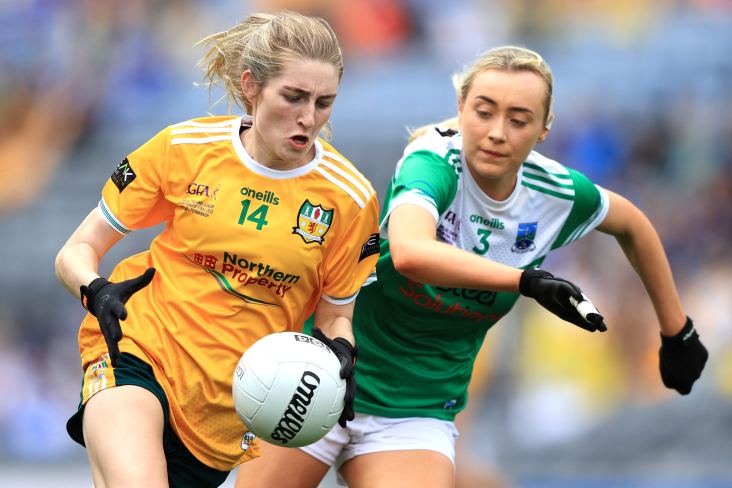 Antrim's Orlaith Prenter is challenged by Molly McGloin of Fermanagh ©INPHO/Tom Maher
by Daire Walsh
While they ended the inter-county season as TG4 All-Ireland Junior champions, 2022 was already a dream come through for Orlaith Prenter long before Antrim overcame Fermanagh in a replayed final at the Athletic Grounds in Armagh.
Having previously counted her as an underage coach and team-mate at club level with St Ergnats Moneyglass, Prenter got to play alongside her childhood hero Cathy Carey in a Saffron jersey after breaking onto the team at the beginning of last year.
The pair dovetailed effectively in the Antrim attack and were duly recognised with spots on the TG4 Junior Team of the Championship for 2022.
A debutant with the Ulster county as far back as 2002, Carey already had a brace of junior titles to her name from 2009 and 2012. Prenter had frequently travelled to watch her club colleague don the county colours in the past and was therefore thrilled to be able to share in her latest success.
"We always used to get the bus down. I remember them playing the All-Ireland final in Croke Park a good few times and we all would have been down to that. Even senior games in Moneyglass, all the underage ones would have been up watching them. I'd say everyone in the club, especially in Ladies football, would look up to Cathy and I'd say that would be the same at county level," Prenter acknowledged.
"She's a massive role model for all of us and she has been for a good few years. She's captain for Moneyglass and for Antrim. She really does set the standard for everyone. You'd nearly push yourself on, because if you don't, Cathy will be making you! She's massively important for Ladies Football in Moneyglass and Antrim.
"Whenever I was underage, she would have been the coach. Everyone was pushing on to try and impress her. She really did set a high standard for us, even at underage. Then 2016 would have been my first year playing senior football for Moneyglass. Right from the first training session, you knew what the standard was that she expected from everyone, including herself."
Although Carey was a guiding force, Prenter also credits her father Brendan for helping to develop her into the player she is today. A former goalkeeper with the Antrim hurlers, Prenter Sr. also won an All-Ireland Junior Club Hurling Championship title with Creggan Kickhams in 2014 - at the ripe old age of 47.
"He would have been the one down the pitch with me, every night of the week, kicking the footballs back out. He put in a lot of hours behind closed doors that I probably don't give him enough credit for.
"He does love taking credit for if I ever do well, saying I got it from him! He's a massive influence on my career. All the hours he put in teaching me stuff outside of training. I do have to give him credit where it's due."
Prenter also possesses her father's gift for the small ball as she lines out at local level with the Randalstown-based camogie outfit Tír na nÓg. It can be difficult at times to strike a balance between both of her club teams and it has become an even bigger challenge since she broke onto the Antrim senior football squad.
This has also meant that, despite being a business student at the Ulster University Magee Campus in Derry (she is set to graduate in the coming months), she ultimately opted against playing college football.
"I didn't really have time to fit it in, especially with taking up county last year. I just didn't have time for the schedule, but if I could go back, it's probably something I would change and experiencing uni football probably would have helped me a wee bit. Playing with different people from different counties, skill wise. I didn't have enough time for it, I just couldn't fit in.
"It's definitely hard balancing. Some of the nights the trainings are on at the same time and things like that. It's hard to keep hold of it all, but you make time for what you can. You've got to prioritise what is most important at a time.
"Obviously club championship games and leagues aren't starting for another few weeks yet, but we're near the end of the league for county. Then we'll get a break after the league between championship, so that will be the time to focus on club."
If Antrim have designs on pushing forward from last year's All-Ireland success, then Prenter is one player they will be looking to for inspiration. Following the conclusion of last year's inter-county championship, she was in outstanding form as Moneyglass reached the Ulster Senior Ladies Football Championship decider.
In their semi-final encounter with St Macartan's of Tyrone, Prenter astonishingly contributed her side's entire scoring tally in a 1-13 to 2-6 victory. Whilst the Antrim champions came out on the wrong side of the result (1-11 to 1-7) against eventual All-Ireland finalists Donaghmoyne in the provincial showpiece, she once again showcased her credentials with a superb personal haul of 1-6.
She has maintained this high level of performance into 2023, which has seen Emma Kelly's Antrim comfortably advancing to the semi-finals of Lidl National Football League Division Four with consecutive group stage wins over Fermanagh, London and Carlow.
A last-four showdown against Limerick awaits them next weekend and Prenter is hopeful that potential promotion into the NFL's third-tier can serve as a springboard for a productive campaign in the TG4 All-Ireland Intermediate Championship later on in the summer.
"That's what we aimed for at the start of the year, to get out of Division Four. Everything has been going well so far and we've been progressing as the games have been going on. Hopefully we can get through the next stage and then onto the league final," Prenter added.
"We obviously know it's going to be a massive jump between junior and intermediate. We know what we're up against, but there's no reason why we shouldn't be competing."
Most Read Stories