Football rankings: where the counties stand now
December 03, 2020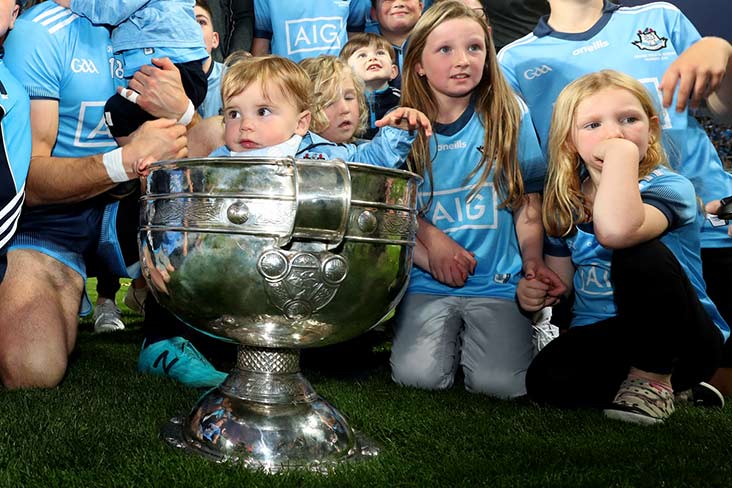 The Sam Maguire Cup is a perfect fit for this young Dublin supporter
Here are our latest football rankings as we head for All-Ireland SFC semi-final weekend.
1. DUBLIN (No change)
Six in a row chasing Dublin are still the team to beat. If anyone stops their record breaking progress it will rank as the biggest sporting shock of the year. Have won every game since intercounty football resumed and were in a different class in Leinster, making a mockery of the idea that Meath were going to be competitive in the provincial final. Opposition hopes that they might struggle to replace Jack McCaffrey have proven unfounded.
2. KERRY (up 1)
League champions but shocked to their core by the loss to Cork with the last kick of the game in the Munster semi-final. Arguably they set up too defensively against the Rebels but the winter championship didn't suit them. Rise one place here due to Donegal's demise in the Ulster final and the feeling that they are the closest challengers to Dublin.
3. MAYO (up 1)
Connacht champions for the first time in five seasons, the path to the All-Ireland final seems to have opened up after Kerry's exit and they are strong favourites to advance past Tipperary in the last four. An exciting blend of young talent with older heads has Mayo fans dreaming that 2020 might just be their year.
4. DONEGAL (down 2)
All the talk of Donegal being the one team who might put it up to Dublin came back to haunt them as they appeared to take Cavan for granted in the Ulster final and paid the price against a brilliantly determined opponent. The tight heavy pitch in Armagh didn't suit Donegal in the provincial decider but after failing to make it out of the Super 8s last year and then this year's Ulster final display, there are growing questions over Declan Bonner's charges.
5. CAVAN (up five)
Relegated to Division 3 and then Ulster champions in the space of a little over five weeks. The team that is never beaten, Cavan have performed heroically especially in the comeback wins against Monaghan, Down and then Donegal. Don't for one moment be fooled into the notion that this side is all hard work, for they are blessed with a spine of footballers who are of the highest quality. Now they face Dublin, the greatest of them all, and whatever the outcome, it would be a huge surprise if the Breffni County rolled over against Dessie Farrell's side.
6. TYRONE (no change)
Fergal Logan and Brian Dooher are the new Tyrone joint managers after Mickey Harte's term was not extended. There is no doubt there are plenty of talented players in the county but following on from a legendary manager is never an easy task.
7. GALWAY (no change)
From such promise in the Spring to the most damp squib of a comeback once the intercounty season returned. Three games since lockdown ended, three loses and it is hard to know which was most dispiriting - the hockeying from Mayo in the league or the one point loss to the same opposition in the Connacht final.
8. TIPPERARY (Up 11)
From Division 3 strugglers to Munster champions, 2020 is a year that will live long in the memory of Tipperary football supporters. Hard fought wins over Clare and Limerick were followed by a dominant display against Cork in the provincial decider with Michael Quinlivan and Conor Sweeney in a different class. David Power has worked wonders and the journey may not be over yet.
9. ROSCOMMON (down 1)
Yo yo-ing from Division 1 to Division 2 and back again saw Roscommon make the jump back to the top division again this year. There were high hopes of once again lowering Mayo's colours in the Connacht semi-final but the Rossies were well off the pace.
10. CORK (down 5)
Division 3 winners and a brilliant win over Kerry in the Munster semi-final were soon forgotten after a flat display against Tipperary which saw the Premier claim the provincial crown. They never hit the heights of their win against the Kingdom and it makes you wonder if that Kerry win was just a freak result.
11. MONAGHAN (No change)
Considering they cemented what now seems like their permanent hold on Division 1 status, there is much to be positive about for the Farmey men. However, they were another side that struggled when the intercounty season restarted, losing two and drawing one game out of three. But it is the way they threw away a big lead against Cavan before bowing out of Ulster in timid circumstances that will linger in the memory for Banty's side.
12. MEATH (Down 3)
A progressive series of league performances and easing past Wicklow and Kildare to reach a Leinster final had us all talking about Meath putting it up to Dublin in the Leinster final. Instead there was a 21-point capitulation with the Royals struggling in nearly every department against Dublin. Andy McEntee's charges are better than that display but Dublin are masters of keeping Meath at arm's length..
13. ARMAGH (Down 1)
Promotion to Division 1 is a huge step forward for Kieran McGeeney's side and a championship win over Derry gave more room for optimism. We would normally give a higher ranking to a county for that alone, however their annihilation at the hands of Donegal in the Ulster semi-final took much of the gloss off 2020 for the Orchard County.
14. KILDARE (Down 1)
There was some mixed league form but Kildare came close to promotion on the final day and looked set for a Leinster final appearance when six points up at half time against Meath. However, the team fell apart in the second half of the Leinster semi-final in the face of a Royal onslaught and Jack O'Connor knows he still has plenty of work to do.
15. WESTMEATH (Down 1)
In the mix for promotion from Division 2 right up until the last round, Jack Cooney's men are a match for most counties. Had the unenviable task of facing Dublin in the first round of the championship and put in a display that made a lot of observers take note.
16. DOWN (Down 1)
Finally up out of Division 3, Paddy Tally's side were impressive in their championship win over Fermanagh and at half time in the Ulster semi-final were eight points up against Cavan with some pundits already looking forward to the decider. That second half display is one to forget for the Mourne men as they had no answer for Cavan's hunger. Definitely on an upwards trajectory.
17. LAOIS (Down 1)
Looked set for the drop to Division 2 until a Lazarus type comeback in the final minutes against Fermanagh kept them safe. Worked hard to see off Longford in the Leinster championship but after a good start, Mike Quirke's side were no match for Dublin in the Leinster semi-final.
18. CLARE (Down 1)
Retained their Division 2 status and the return of Gary Brennan for the championship meant they had hopes of a Munster final place. Tipperary had other ideas and a Munster quarter-final defeat was not something Banner football supporters expected.
19. FERMANAGH (Down 1)
Looked like they might have to forfeit their league tie against Clare due to the impact of Covid but the Ernemen turned up and were unlucky to lose both their remaining league matches as they were relegated. Having stayed with Down in the first half of their Ulster quarter-final, some wayward shooting proved to be their downfall in the end.
20. DERRY (No change)
Only their head to head loss to Down stopped them from gaining promotion out of DIvision 3 and their narrow Ulster loss to Armagh hinted at a positive future. Armagh's subsequent beating against Donegal put that result into perspective though.
21. LONGFORD (No change)
Respectively placed near the top of Division 3, the midlanders got caught by a Laois comeback in the Leinster quarter-final and were one of the teams who really missed the backdoor system, which they normally threw themselves into gung ho.
22. OFFALY (No change)
For the second year in a row John Maughan's men came close to taking a scalp in the Leinster championship as they fluffed some great goal chances when losing out to Kildare. Were looking over their shoulder at the bottom teams in FL3 for most of the year when they should be more than capable of making a promotion push.
23. WICKLOW (No change)
Out of DIvision 4 in Davy Burke's first year at the helm, the Garden County can look back on 2020 with a real sense of achievement. The Leinster loss to Meath looked worse than it was and Wicklow know they are capable of going toe-to-toe with all bar the top counties in the eastern province.
24. LIMERICK (No change)
Division 4 league champions and within seconds of making the Munster final until Conor Sweeney's wonder sideline point earned Tipperary extra time and a route to victory in a tightly contested provincial semi-final. How they must look on at Tipperary's Munster win and think 'what if?'
25. LEITRIM (No change)
Decimated by a Covid outbreak post lockdown, Terry Hyland's side had to give a walkover in the league and were already in a relegation battle that they failed to get themselves out of. Gave Mayo a right run for 40 minutes of their Connacht quarter-final before goals put a flattering look on the scoreline for the winners.
26. ANTRIM (No change)
Were in promotion contention from Division 4 before Wicklow ran through them in Aughrim in their penultimate game. Led Cavan at halftime in their Ulster quarter-final before pushing the Breffnimen all the way in the second half. Enda McGinley has since been appointed as the new manager.
27. LOUTH (No change)
Made the drop to Division 4 with only a final day win against an understrength and already promoted Down the only upside to a disappointing league campaign. A first round loss to Longford saw Wayne Kierans tenure come to an end and Mickey Harte has since come in as the new manager. The only way is up surely!
28. WEXFORD (No change)
Early pace setters in Division 4 with Kerry legend Paul Galvin at the helm, the Model County were rocked when Galvin announced he was stepping down during lockdown. Their final league match was a winner takes all promotion decider against Wicklow but just like the championship encounter with the same side a week later, the result went against Wexford.
29. CARLOW (No change)
Endured a difficult league after making the drop straight back down from Division 3 last year. Turlough O'Brien stood down during lockdown with Niall Carew coming in to replace him. It was far from ideal but understandable as O'Brien intended to stand down at the end of the year.
30. SLIGO (No change)
Rooted near the bottom on FL4, Sligo couldn't field in the championship due to a Covid-19 outbreak in their camp. Paul Taylor stood down shortly after they were forced to hand that walkover to Galway. An Annus Horribilis for Sligo.
31. WATERFORD (No change)
Benji Whelan stood down after two years at the helm. Finished in the second last spot in the league nationally and fell to a heavy loss against Limerick in the Munster SFC.
32. LONDON (No change)
Their league campaign was ended by travel restrictions due to Covid-19 which also put an end to their participation in the Connacht SFC.
Most Read Stories