Cluxton 'a master of his craft'
September 15, 2019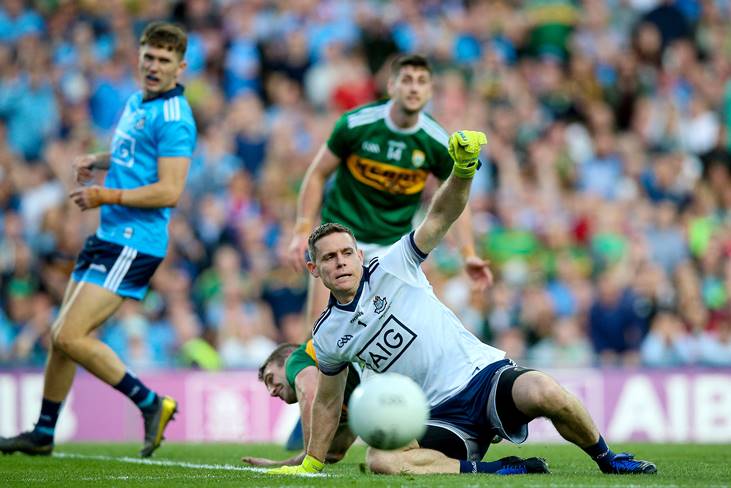 Kerry's Stephen O'Brien has a shot saved by Dublin goalkeeper Stephen Cluxton
Stephen Cluxton is the consummate professional in the eyes of Jim Gavin.
The Dublin manager wasn't surprised to see his captain and goalkeeper produce a vital save from Stephen O'Brien in the second half of the All-Ireland SFC final replay after spending hours working on his technique after conceding a goal in the drawn game.
"That's the result of hundreds of hours. I've seen that, if you look back on his stance, that's not the first time I've seen that," Gavin told Dublin Live of the save which preserved Dublin's three-point lead and set them up for an historic five-in-a-row.
"Josh Moran, his goalkeeping coach, and the goalkeeping coaches that have worked with him deserve credit for that. That's something that you see replicated. I saw it earlier on this week.
"The day after the drawn game, him spending two hours on the pitch with Evan Comerford and Michael Shields from Sylvester's, the goalkeeping coach. The three of them working on trying to rectify his positioning for Killian Spillane's goal in the first game.
"So that's someone who's dedicated to their craft, and the result of that is what you see in those clutch moments, to have that composure to make himself big and strong and just do his job. That's what Stephen does – he does his job.
"He had a bloody laptop, trying to replay in slow motion what way his feet and positioning were. That somebody who's a master of his craft.
"Through that example, he inspires people around him. Stephen is well able to talk, he's very articulate and people listen. But how he demonstrates, his actions, that's what I'm interested in. That's what he does. He's a do-er."
Most Read Stories