2020 Hurling Championship draws: Tipp open against Waterford
October 10, 2019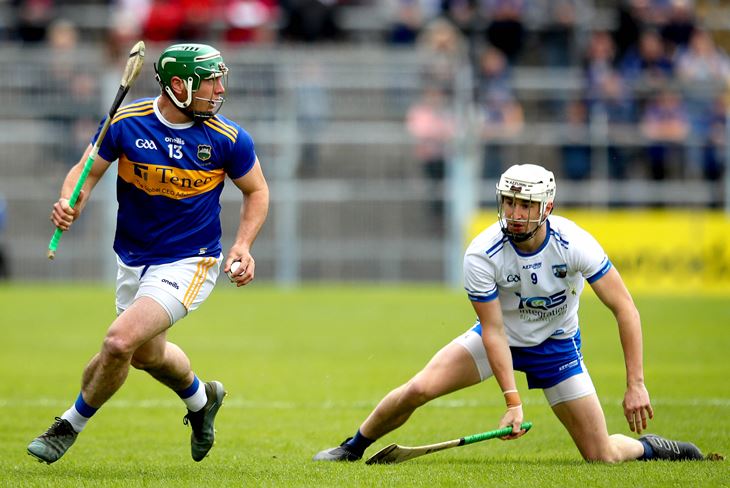 Tipperary's John O'Dwyer and Conor Gleeson of Waterford
The draws for next year's Munster and Leinster senior hurling championships, the Joe McDonagh Cup, the Christy Ring Cup, the Nicky Rackard Cup, and the Lory Meagher Cup have been confirmed this morning.
Defending All-Ireland champions Tipperary are set to open their 2020 summer campaign against Waterford in Thurles on the weekend of May 9/10 which will see new manager Liam Cahill plotting against his native county.
In the Leinster championship, Kilkenny take on Dublin in Round 1 while holders Wexford have received an opening round bye.
The fixtures in full for all competitions can be viewed below:
2020 MUNSTER SHC
Round 1, 9/10 May
Limerick v Cork
Tipperary v Waterford
Clare Bye
Round 2, 16/17 May
Waterford v Limerick
Clare v Tipperary
Cork Bye
Round 3, 30/31 May
Limerick v Clare
Cork v Waterford
Tipperary Bye
Round 4, 6/7 June
Clare v Cork
Tipperary v Limerick
Waterford Bye
Round 5, 13/14 June
Cork v Tipperary
Waterford v Clare
Limerick Bye
2020 LEINSTER SHC
Round 1, 9/10 May
Dublin v Kilkenny
Laois v Galway
Wexford Bye
Round 2, 16/17 May
Kilkenny v Laois
Wexford v Dublin
Galway Bye
Round 3A, 23/24 May
Wexford v Galway
Round 3B, 30/31 May
Dublin v Laois
Round 4, 6/7 June
Laois v Wexford
Galway v Kilkenny
Dublin Bye
Round 5, 13/14 June
Kilkenny v Wexford
Galway v Dublin
Laois Bye
2020 JOE McDONAGH CUP
Round 1
Antrim v Westmeath
Kerry v Meath
Carlow Bye
Round 2
Westmeath v Kerry
Carlow v Antrim
Meath Bye
Round 3A
Carlow v Meath
Westmeath Bye
Antrim and Kerry Free
Round 3B
Antrim v Kerry
Westmeath, Carlow, Meath Free
Round 4
Kerry v Carlow
Meath v Westmeath
Antrim Bye
Round 5
Westmeath v Carlow
Meath v Antrim
Kerry Bye
2020 CHRISTY RING CUP
Group 1 - Round 1
Offaly v Derry
Sligo v Wicklow
Round 2
Wicklow v Offaly
Derry v Sligo
Round 3
Offaly v Sligo
Wicklow v Derry
Group 2 - Round 1
Roscommon v Kildare
Down v London
Round 2
London v Roscommon
Kildare v Down
Round 3
Roscommon v Down
London v Kildare
2020 NICKY RACKARD CUP
Group 1 - Round 1
Armagh v Donegal
Leitrim v Longford
Round 2
Longford v Armagh
Donegal v Leitrim
Round 3
Armagh v Leitrim
Longford v Donegal
Group 2 - Round 1
Mayo v Warwickshire
Tyrone v Monaghan
Round 2
Monaghan v Mayo
Warwickshire v Tyrone
Round 3
Mayo v Tyrone
Monaghan v Warwickshire
2020 LORY MEAGHER CUP
Round 1
Cavan v Lancashire
Louth v Fermanagh
Round 2
Fermanagh v Cavan
Lancashire v Louth
Round 3
Cavan v Louth
Fermanagh v Lancashire
Most Read Stories