JFC: Denn and Templeport set-up final date
September 27, 2020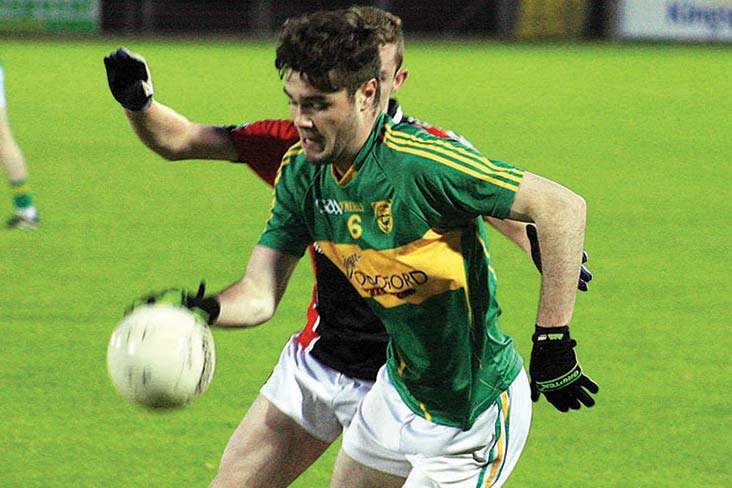 Templeport's Benjamin Kelly
Denn will face Templeport in next Sunday's junior football championship final after both sides came through their respective semi-finals this afternoon.
Dillon Raythrone's first-half goal proved crucial as Templeport edged out Knockbride by 1-13 to 0-14 at Kingspan Breffni.
The game's only goal came two minutes before the break and saw the Bawnboy men leading by 1-7 to 0-5 at the halfway stage.
Points from Eoin McCaffrey and Raythrone gave Templeport a decent start before back-to-back scores by Conor Galligan had them up by three in the 23rd minute.
Philip Rogers and Roy Donohoe brought Knockbride straight back into contention but they'd be rocked by the concession of Raythorne's goal before the interval.
The Canningstown side made inroads early in the restart with points from Shane Carolan and Ciaran Smith prior to James Murphy splitting the posts at the other end.
Two frees from Sean Burns were backed up by Matthew Traynor's point to bring Knockbride back within one, but they couldn't get on level terms with their west Cavan counterparts.
Instead McCaffrey landed a brace of points (one a free) at a vital juncture for the 2015 winners, leaving Knockbride to continue chasing the game after the second water break.
Burns and McCaffrey cancelled each other's scores out twice more to keep the gap at three and another from Burns made it a two-point game coming into the home stretch.
County man Benjamin Kelly fired over in injury-time to ensure Knockbride would need a goal to force extra time and it never came their way, as Burns' last point of the afternoon left them two short in the end.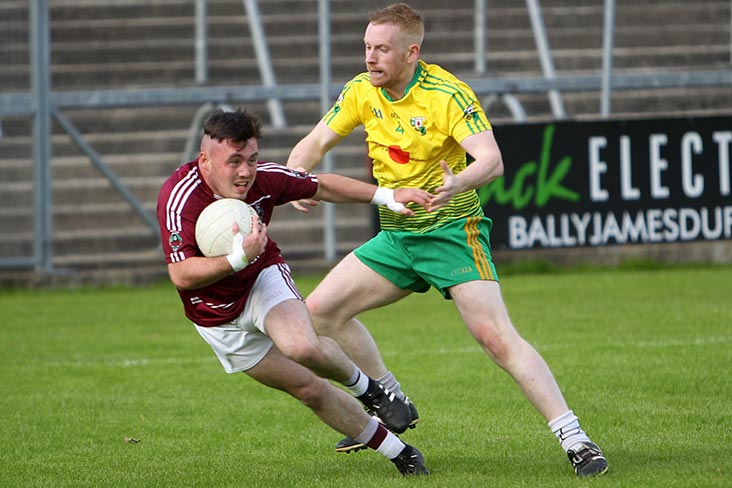 Denn's Ben Conaty holds possession
Earlier in the afternoon, Denn had minimal fuss against Shannon Gaels as they handed the Blacklion men a 3-18 to 1-9 defeat to stay on course for their first junior championship crown since 1984.
The Crosskeys men made an electric start at Kingspan Breffni and never looked back, with goals from Sean Donohoe and Thomas Edward Donohoe surging them 2-2 to 0-0 in front after nine minutes.
Shannon Gaels would have to wait 20 minutes before eventually getting off the mark via a Caoimhan McGovern free and grabbed a lifeline on the eve of half-time when Niall McGrath punched into Denn's net, leaving it at 2-6 to 1-2 at the break.
Thomas Edward Donohoe (2) and Cavell Keogan hit points early in the resumption that stretched Denn's lead out to 10 prior to Enda McHugh and James Brady trading scores.
Cavell Keogan shot over a gem from an acute angle to keep the scores flowing for the men in maroon and his third of the game would have them leading by 11 with 10 minutes remaining.
A Brandon Keogan goal a minute later sealed the deal, as Ben Conaty and Cormac Cusack-Smith brought the winning tally up to 3-18 and completed the impressive rout for the St Matthew's Park side.
Throw-in for this Sunday's JFC final between Denn and Templeport at Kingspan Breffni has been confirmed for 3.00pm.
Most Read Stories