All-Ireland champions Galway lead the Camogie All-Stars shortlist
September 18, 2019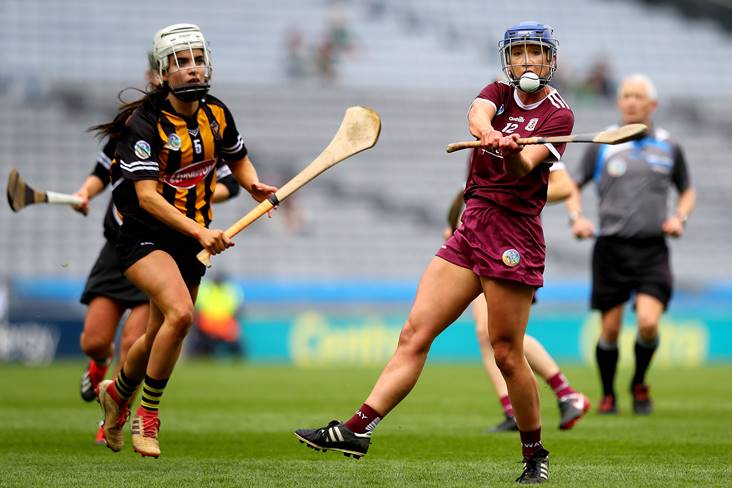 Kilkenny's Claire Phelan and Niamh Kilkenny of Galway. ©INPHO/Ryan Byrne.
The 2019 Camogie All-Stars team will be announced at the 16th annual Camogie All-Stars Awards banquet, sponsored by Liberty Insurance in Citywest Hotel on Saturday October 19th.
This year's winning team will also have the added incentive of the second All-Stars Tour to New York in November to look forward to, where they will be joined by the 2018 winners as well.
All-Ireland champions Galway have been rewarded with 14 nominations.
Goalkeeper Sarah Healy and defenders Heather Cooney, Sarah Dervan, Shauna Healy, Emma Helebert, Tara Kenny and Lorraine Ryan are amongst the nominees for the Tribeswomen. Aoife Donohue and Niamh Kilkenny are nominated at midfield, whilst Noreen Coen, Catriona Cormican, Carrie Dolan, Niamh Hanniffy and Ailish O'Reilly are nominated amongst the forwards.
Runners-up Kilkenny have received 13 nominations. Goalkeeper Emma Kavanagh and defenders Kellyann Doyle, Catherine Foley, Edwina Keane, Claire Phelan and Grace Walsh are amongst the nominees. Meighan Farrell and Davina Tobin have been nominated in midfield whilst Anne Dalton, Denise Gaule, Katie Power, Michelle Quilty and Miriam Walsh are all nominated in the forwards positions.
Tipperary receive nine nominations as a result of their run to this year's Semi-Finals. Goalkeeper Caoimhe Bourke and defenders Julianne Bourke, Karen Kennedy, Eimear Loughman and Clodagh Quirke are joined by midfielder Mary Ryan and forwards Cáit Devane, Ereena Fryday and Eibhlís McDonald on the nominations list.
Cork receive four nominations having exited the Championship at the hands of eventual champions Galway in the Semi-Finals. Defenders Hannah Looney and Pamela Mackey receive nominations along with forwards Linda Collins and Amy O'Connor.
Waterford, who reached this year's Quarter-Finals before also losing to Galway have four nominations as well. Lorraine Bray is nominated in defence and Áine Lyng is nominated in midfield. Forwards Beth Carton and Niamh Rockett also receive nominations.
Limerick, who reached the knockout stages for the first time this year, have one nomination in the form of their top scorer Niamh Mulcahy.
Ian Brick (Kerry), Johnny Greville (Westmeath) and Cathal Murray (Galway) are amongst the nominees for Manager of the Year, which will also be announced on the night. Each of them was successful in leading their sides to All-Ireland glory this year.
President of the Camogie Association Kathleen Woods congratulated the nominees stating that "2019 was another exceptional year in the Liberty Insurance All-Ireland Championships and the upcoming All-Stars Awards will celebrate some of the outstanding individual performers who contributed greatly to a thoroughly enjoyable summer in what was a great showcase for our game.
"An All-Stars Award nomination recognises the outstanding achievements of our players and it is truly deserving for these tremendous role models to receive such recognition for their efforts. I wish to thank our sponsors Liberty Insurance for their continued sponsorship of the Camogie All-Stars Awards and the 2019 All-Stars Tour to New York, which will add even greater excitement to a wonderful night on October 19th."
The nominees for the 2019 Soaring Stars Awards for the Intermediate and Premier Junior Championships will be announced later this week.
Nominees for the Camogie Association/WGPA Senior, Intermediate and Junior Players' Player of the Year Awards sponsored by Liberty Insurance will be announced next week.
Camogie All-Stars Awards 2019 sponsored by Liberty Insurance, nominees list:
Goalkeepers: Caoimhe Bourke (Tipperary), Emma Kavanagh (Kilkenny), Sarah Healy (Galway)
Full-Back Line: Julianne Bourke (Tipperary), Sarah Dervan (Galway), Catherine Foley (Kilkenny), Shauna Healy (Galway), Edwina Keane (Kilkenny), Tara Kenny (Galway), Eimear Loughman (Tipperary), Pamela Mackey (Cork), Grace Walsh (Kilkenny)
Half-Back Line: Lorraine Bray (Waterford), Heather Cooney (Galway), Kellyann Doyle (Kilkenny), Emma Helebert (Galway), Karen Kennedy (Tipperary), Hannah Looney (Cork), Claire Phelan (Kilkenny), Clodagh Quirke (Tipperary), Lorraine Ryan (Galway)
Midfield: Aoife Donohue (Galway), Meighan Farrell (Kilkenny), Niamh Kilkenny (Galway), Áine Lyng (Waterford), Mary Ryan (Tipperary), Davina Tobin (Kilkenny)
Half-Forward Line: Anne Dalton (Kilkenny), Carrie Dolan (Galway), Ereena Fryday (Tipperary), Denise Gaule (Kilkenny), Eibhlís McDonald (Tipperary), Niamh Mulcahy (Limerick), Amy O'Connor (Cork), Katie Power (Kilkenny), Niamh Rockett (Waterford)
Full-Forward Line: Beth Carton (Waterford), Noreen Coen (Galway), Linda Collins (Cork), Catriona Cormican (Galway), Cáit Devane (Tipperary), Niamh Hanniffy (Galway), Ailish O'Reilly (Galway), Michelle Quilty (Kilkenny), Miriam Walsh (Kilkenny)
Manager of the Year 2019 nominees
Ian Brick (Kerry), Johnny Greville (Westmeath), Cathal Murray (Galway)
Most Read Stories