From brain surgery and aftermath to a life in coaching and Manager of the Year
November 04, 2023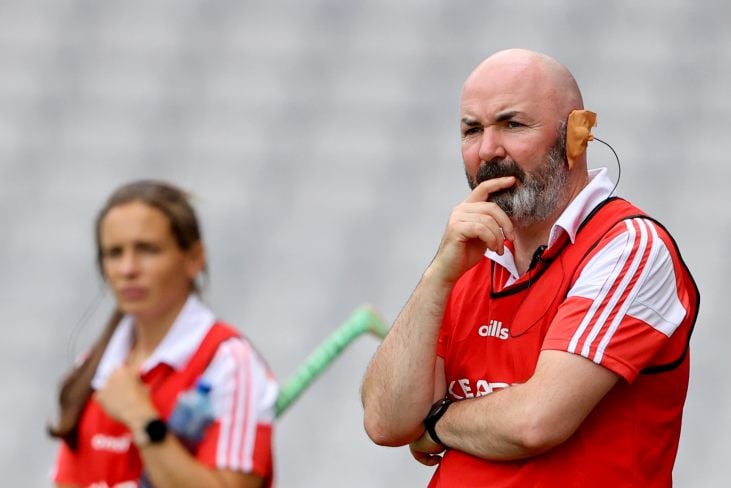 Cork camogie manager Matthew Twomey ©INPHO/James Crombie
By Daragh Ó Conchúir
The number of messages and in particular, the geographical spread of them, meant a lot to Matthew Twomey. They also told a tale of genuine pleasure for an immensely likeable individual, even if his Cork team ruthlessly ended the fairytale run of Waterford, who probably had the support of every other county in Ireland, in the Glen Dimplex All-Ireland senior camogie final.
Behind the ready smile and quick wit lays a thick layer steel, however. That is appropriate, of course, as along with his brother Tomás, John O'Rahilly and Mick Roche, he runs the steel fabrication and galvanising company his late father, Matt co-founded, Irish Pioneer Works.
In a practical sense, it stood out as the pressure mounted following a poor performance in the Very League Division 1 final against Galway, a subsequent defeat by Waterford in the Munster Championship and then another loss, to Galway again, in the opening round of the All-Ireland campaign.
But Twomey knows real adversity. Understands the context. It is written on his face. Or on his head, to be absolutely accurate, where the evidence of the operation to remove a brain tumour when he was 19 is plainly visible.
Having to give up playing at such a young age, when combined with the physical scars of surgery that saved his life, left mental wounds that took some time to heal. Eventually, mentoring and improving players brought succour, even if it could never completely fill the void. After a lengthy unbroken period at a variety of levels at Douglas and two stints under Paudie Murray with Cork's senior camogie squad, that unforeseen fork in the road has led Twomey to tonight's 2023 PwC Camogie All-Stars banquet at Croke Park, where he will be presented with the Manager of the Year award for leading Cork to a first O'Duffy Cup triumph in five years.
The Rebels are likely to be the big winners, with 11 PwC All-Star nominations. They also have skipper, Amy O'Connor and midfield dynamo Saoirse McCarthy among the three nominations for Player of the Year, along with Beth Carton, who had such a glittering campaign for Waterford.
The Leesiders' dominance for the majority of proceedings ensured they survived a huge Denise Gaule-inspired Kilkenny rally in the All-Ireland quarter-final – Gaule is the Cats' sole nominee tonight - and they then got the better of an arm wrestle with old foes Galway, who have seven nominations. That was a wonderful day for camogie at UPMC Nowlan Park as in the opening semi-final, the Waterford support lifted their team over the line, having gone six points down without getting a score against Tipperary, whose efforts throughout the season have earned six nominations.
In the final, O'Connor hit three goals in under two minutes to end the Déise dreams. The St Vincents star didn't miss the target once from ten shots in scoring 3-7. Waterford were dealt a very early blow when Vikki Falconer suffered a cruciate knee ligament injury 90 seconds in. The Tramore marker, whose displays throughout the year have earned her one of Waterford's nine nominations, had been detailed to shadow O'Connor.
The glory coming Cork's way on August 8 did not seem all that likely after Galway beat them for the third time in less than two months as the All-Ireland Championship got under way at Kenny Park two months earlier. This was having lost three national finals in a row, two in Twomey's maiden season as boss. But these significant setbacks actually unified them.
"The League final at the time was the hardest defeat," Twomey recounts now. "I know the All-Ireland is a killer but we weren't good. The things Liam Cronin had brought in we could see in training but it wasn't coming to the fore in the games. Then we got beaten by Waterford and Galway again.
"More than anything else, what made me say to myself at the time, 'We're going to have a good rattle off of this,' was that we didn't turn on each other. We had a good spat after the Waterford game. There was a lot of truths told, both ways. We emptied the tank. We knew if we clicked, if we got the supply right and the timing of the runs right, we had the forwards to do damage.
"Beating Down and Clare were important and then beating Kilkenny was huge. We only won by a point – Denise Gaule decided to put on an exhibition, it was unbelievable – but looking back on it, we felt we were far better than them and that what we were doing was right. We went into the Galway game and obviously we knew it would be hard but we just knew if we performed, we'd win.
"And the fact we knew we had five quality players to come off the bench, which was down to circumstances, players coming from injury rather than anything to do with management, was big. The last six or seven games we had lost to Galway, it was in the last 15 minutes we had lost it so that was a big factor."
The final was dreamworld, all the training ground fireworks translating on the grandest arena.
"The week of the All-Ireland final, I was ringing Liam, nearly to settle me. I was saying, 'We're flying here. Is there something we're missing?' I could feel it and we clicked on the day. The fact we were there three years in a row had to be a help whereas it was Waterford's first day. The support they had was off the record, it was brilliant to see, no matter how much you wanted to quieten them. They needed a lot of things to go right for them and they didn't and losing Vikki to injury, you couldn't afford that, especially a team that's coming. She's an outstanding player.
"It's ironic, Vikki goes off, Amy gets the next ball and sticks it over the bar. Amy would be the first one to say - she got 3-7 - most of the goals were put on a plate for her. The outside work was brilliant. Katrina Mackey to me was unbelievable all year and she and along with Laura Treacy must have been very close to be nominated for Player of the Year."
The glow was warm and Twomey would have been forgiven for thinking back to when a life he assumed was destined to go one way, wearing the green, black and white hoops for sure, dreaming of flourishing in the red and white maybe, ended in 1993, when a lump developed on his head.
"I had a brain tumour when I was 19, so I'd to pack up playing and went straight into coaching. It was horrific at the time. It was my identity growing up. All I knew was hurling. My family was steeped in it. My father was chairman of the club for donkey's years. I got sick then. I tried to go back playing but I was playing with fear – not out on the field but afterwards, about what could have been.
"I got operated on up in Dublin and the doctor said to me, 'If you're going out on the field, you're committing suicide,' so that was it. They won the intermediate county in Douglas for the first time ever, thankfully, but you're watching all your best friends, my brother was playing. You're delighted for them and for the club but there's a part of you thinking, 'I could be out there.' And back then, there was no such thing as psychiatrists or psychologists. So you just deal with it.
"I was bitter for a while, and cross with life for a while. Hurling was one thing but going around the place, I had that big, huge scar and you're identified as, 'There's the man with the scar.' At that age, it was very hard. And there were no resources. It was just, 'You're okay now, get on with it.'
"I fell into coaching and got a great buzz out of it after a while. It was always with the club. I couldn't be going to other places, it would have to mean something to me. I did four or five years with the seniors and left after we got beaten in a semi-final. I felt I'd brought them as far as I could. I'd had the likes of Eoin Cadogan and Stephen Moylan since they were young and brought them all the way through. They had to be sick of listening to me talking and I was probably sick of listening to me talking.
"I finished that in 2013 and got a phone call to get involved with the camogie and that was something completely different. We won the All-Ireland in 2014. So, my first year and last year, we won the All-Ireland which is great."
He announced his resignation not long after the All-Ireland final, having brought Cork to four national finals in his two years as boss and gone out on the ultimate high. The demands are considerable and with a business and a children, it was very difficult at times.
"My hair is growing back!" he quips, having only been hirsute around the lower end of his face for a few years now. "My goal for 2024 is to have a fringe!"
PwC Camogie All-Star Nominations
Goalkeeper: Amy Lee (Cork), Brianna O'Regan (Waterford), Fiona Ryan (Galway). Corner-Back: Róisín Black (Galway), Vikki Falconer (Waterford), Shauna Healy (Galway), Méabh Murphy (Cork). Full-Back: Julieanne Bourke (Tipperary), Libby Coppinger (Cork), Grace Walsh (Kilkenny). Half-Back: Méabh Cahalane (Cork), Keeley Corbett-Barry (Waterford), Laura Hayes (Cork), Karen Kennedy (Tipperary). Centre-Back: Aoife McGrath (Tipperary), Claire Phelan (Kilkenny), Laura Treacy (Cork). Midfield: Lorraine Bray (Waterford), Aoife Donohue (Galway), Orla Hickey (Waterford), Saoirse McCarthy (Cork), Teresa Ryan (Tipperary). Half-Forward: Carrie Dolan (Galway), Denise Gaule (Kilkenny), Niamh Hanniffy (Galway), Hannah Looney (Cork). Centre-Forward: Beth Carton (Waterford), Róisín Howard (Tipperary), Fiona Keating (Cork). Corner-Forward: Cáit Devane (Tipperary), Annie Fitzgerald (Waterford), Mairéad O'Brien (Waterford), Amy O'Connor (Cork). Full-Forward: Katrina Mackey (Cork), Siobhán McGrath (Galway), Niamh Rockett (Waterford).
PwC GPA Player of the Year Nominations
Senior: Beth Carton (Waterford), Saoirse McCarthy (Cork), Amy O'Connor (Cork). Intermediate: Áine McAllister (Derry), Aoife Minogue (Meath), Aoife Ní Chaiside (Derry). Premier Junior: Caoimhe Cahill (Clare), Ellen Casey (Clare), Jean Kelly (Tipperary).
Manager of the Year: Matthew Twomey (Cork).
The Soaring Stars team, comprising players from the Glen Dimplex Intermediate and Premier Junior Championships, will also receive their awards tonight.
Most Read Stories