Lessons learned in victory and defeat as Cork close in on decider
March 06, 2023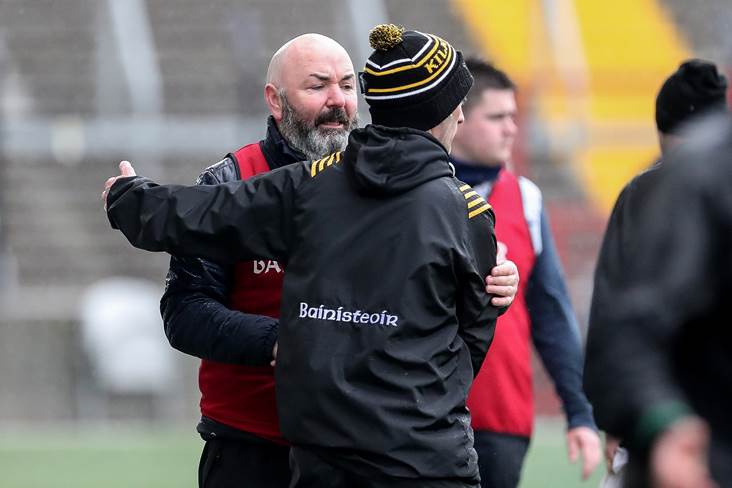 Cork manager Matthew Twomey and Kilkenny manager Brian Dowling shake hands at the end of the game ©INPHO/Jim Coughlan
by Daragh Ó Conchúir
Matthew Twomey wasn't over the moon with Cork's overall performance as they ground out a two-point victory over Tipperary in the top-of-the-table Very Camogie League Division 1A tie at The Ragg on Saturday, but the triumph moves his side closer to a place in the final with a 100 per cent record with two rounds remaining.
Last year's runners-up were on the back foot early on as the hosts flew out of the traps and established an early two-point lead thanks to three points from play by the outstanding Grace O'Brien.
A brilliant goal from last year's minor star Orlaith Cahalane, the latest of her siblings to don a red jersey at senior level, heralded a key period of dominance that sent them in at half-time leading by 1-8 to 0-7.
O'Brien provided the finish to the Cork net after a fantastic move to bring Tipp level but Cork just finished the stronger, points from Emma Murphy and Fiona Keating securing the 1-14 to 1-12 verdict.
"If we were told this morning that we'd be coming out with two points we'd have taken it," said Twomey.
"When you come up here you're gonna get tested and when you get tested you see a few cracks and we saw a few cracks now that we're gonna have to go away and work on Tuesday night. We're happy enough to get the win but there's a 'but' there.
"Tipperary are a very good side. You can see they're going to be a threat to everybody as the year goes on but our main play is speed and we were just hitting the ball from distance and made Clodagh Quirke look like an All-Star. She was standing on her own and we were hitting it to her and that was very disappointing.
"We wanted to speed up everything. That's the way we should be playing but we just didn't bring it today. It's puzzling why. But we don't expect everything to be perfect at this time of year. We have to realise it's only the start of March but a few things disappointing in it."
He was delighted by the contribution off his bench and feels that there is strong competition for starting berths.
"Emma Murphy came on and got a great point and Aoife Healy is after a very strong campaign with UCC in Ashbourne. She's unlucky, she's tied up (as a dual player) and she'd a football match with UCC as well during the week and we didn't want to start her but when she came, she did make the defence more solid again.
"We've the two Mackeys (Katrina and Pamela), Orla Cronin, if Ashling Thompson comes back (from her cruciate ligament injury), we'll see. There's going to be competitiveness there for places and that's what you need.
"Izzy O'Regan is a natural wing-forward who's playing wing-back and is doing fine there. So why would we drop her? That's the message going to all our players. Orlaith Cahalane was one of our best players today, I'd say 1-4 came through her and she's just out of minor. This is what we're looking for.
"And this is the type of test we're looking for as well. It was definitely a step up. We're delighted, obviously with the win, but we're delighted with what came out of it as well. We need these questions being asked. There's no point these questions being asked later in the season when it could be a knockout stage."
Centre-back Laura Treacy was named Very Player of the Match as she revelled in free role. The Killeagh star was relieved to come out on top of a titanic tussle.
"I've never come down to The Ragg and had an easy game," declared Treacy. "They gave absolutely everything out there and likewise with our girls, and it ended up being an absolute battle so we're thrilled to come out with the win.
"They dropped a player back with allowed me to go free and everybody else then around me marking. I enjoy that role. You can really play off the cuff a little bit and take a few chances in that role as well. I found myself in good positions and on a lot of ball I guess, and just do my best then to transition the ball as well as I can to get up to the other side of the field.
Treacy praised the new structure to the League, with one group of six providing more games and real examinations.
"I think it's fantastic. We have loads of games. Games week-in, week-out, which is great. The League is where teams start to develop players for Championship, get game time into players and match fitness as well so I think the League is running really, really well. The more games the better and that's why we're here to play."
Tipp boss Denis Kelly certainly wasn't disconsolate at the final whistle, even though his team had suffered their first reverse under his stewardship.
"A humdinger, 'twas brilliant, that's the games you want," said Kelly. "We knew we'd be tested and Cork are flying. We gave it everything we had, we were out on our feet there at the finish but we're learning lots there. It was just a puck of the ball either way. Maybe a couple of decisions didn't go our way today, they might the next day but that's the way camogie goes. But we're happy with our girls, they gave everything they had.
"You can do all the training you like but that's close to championship (intensity) and you're still only in early March so we're happy with that. We need more points on the board if we're gonna get to a league final. We've a bit of a break now so we'll go back, regroup and get ready for Clare the following weekend.
"The middle section of that first half, we probably lost our way a little bit and they took over in the middle of the field but there's great character in that dressing room. The girls really knuckled down, they got the couple of scores, dug it out when things weren't going our way and were lucky enough I suppose to go in only four points down.
"But that second half was something to behold. Some of the scores we got I was thrilled with and the goal we got was top class but we've more work to do. We're not there yet and we're still not happy getting beaten today and we'll be looking forward to getting another win on the board the next day.
"We're happy to be competitive but at the same time, you're never happy when you're beaten. We'll look at the video, pick out places where we fell short and look to improve on that for the rest of the League."
There is a two-week break now after three games in a fortnight and next up for Cork is a trip to UPMC Nowlan Park to take on Kilkenny, who defeated them in last year's All-Ireland final and chiselled out a 0-17 to 0-11 victory over Dublin at Parnell Park on Saturday.
That was a first success of this campaign for Brian Dowling's crew, who had struggled to get away from the Dubs due in no small part to Aisling Maher's tremendous shooting.
Gerry McQuaid's charges are still without a point but have improved with every outing. Late points from Asha McHardy and Denise Gaule eased the visitors clear.
The Cork-Kilkenny encounter will have an 11.30am throw-in as it is part of a double-header with a hurling League tie.
"Brian Dowling is after offering us to come in for breakfast at his house in the morning of the house!" joked Twomey. "He's a good guy.
"It's exactly what you want now. We're going up to Nowlan Park, they'll have a crowed for their hurling match afterwards. They're going to give to us. They might be wounded (after losing a few games) but we're a small bit wounded after last year as well!
"It looks like a very appetising game. Very much looking forward to it. They're the games you want, inside in Nowlan Park, the stadium and the pitch it is. That's what you want."
And mention of the tie brought a wide smile from Treacy, who has enjoyed and endured some tremendous battles with the Cats.
"Here we go again! We always love playing down there to be honest. It's a great pitch, great stadium so we're really looking forward to that one," Treacy stated.
Carrie Dolan followed up her ten-point tour de force last weekend with seven points as champions Galway beat neighbours Clare by 1-14 to 0-13 at Kilbeacanty.
Shannon Corcoran's goal was significant too as Cathal Murray's crew led by 1-9 to 0-4 at half-time.
Lorna McNamara's accuracy from frees reduced the deficit as Clare produced a strong second-half showing but they had left themselves too much to do.
Full Results:
Very Camogie Leagues
Division 1A
Cork 1-14 Tipperary 1-12
Kilkenny 0-17 Dublin 0-11
Galway 1-14 Clare 0-13
Division 1B
Waterford 3-24 Limerick 2-6
Wexford 2-17 Down 0-9
Offaly 2-8 Antrim 2-8
Division 2A
Meath 2-13 Westmeath 1-6
Kerry 1-11 Cavan 1-2
Laois v Derry POSTPONED
Division 2B
Galway 1-9 Wexford 1-13
Tipperary 1-8 Kilkenny 3-10
Division 3A
Tyrone 1-9 Kildare 7-11
Armagh 5-12 Mayo 2-5
Wickow 0-4 Roscommon 5-16
Louth 0-4 Carlow 2-17
Division 3B
Offaly 0-3 Antrim 4-15
Clare 0-17 Limerick 1-3
Most Read Stories