"It's one win and we've plenty to do"
February 25, 2023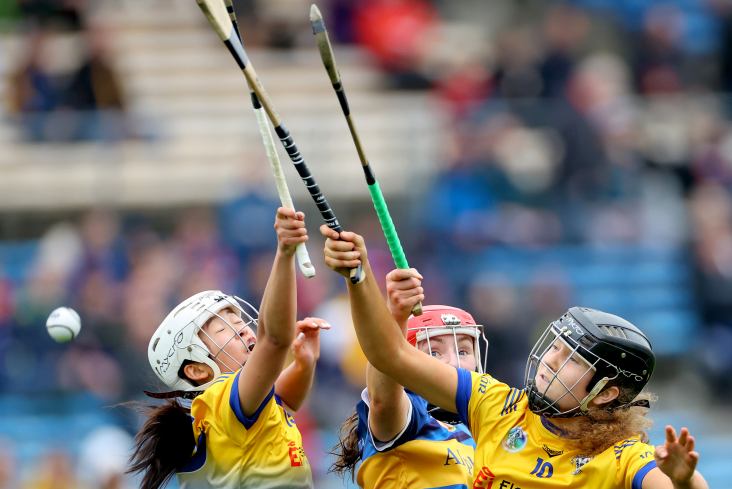 Clare's Ziyan Spillane and Lorna McNamara with Aoife McGrath of Tipperary ©INPHO/James Crombie
by Daragh Ó Conchúir
The Very Camogie League got off to an explosive start when Division 1A champions Galway were taken down by Tipperary last Saturday.
While that result and the three-goal margin was still being digested however, Clare pulled off what was arguably an even bigger shock less than 24 hours later, coming home strongly in the final quarter to defeat All-Ireland victors Kilkenny by two points.
The Cats had the majority of their big guns on show and were provided with a guard of honour on their first competitive outing since Aoife Prendergast lifted the O'Duffy Cup, but that was the last show of deference by the women in saffron and blue and there was no arguing the merit of the home side's triumph in Cusack Park.
Ziyan Spillane's performance was emblematic of the Clare approach, showcasing ferocious endeavour, boundless energy, great touch, her trademark lightning speed and clinical finishing when the opportunities were carved out.
It was a David v Goliath game but that is nothing new to the diminutive Spillane, who has joked in a past Q&A about being "only 4ft 2 apparently". The true measurement is 5'4'', she reveals, though her dressing room colleagues will never accept that, in the interests of maintaining the ritual of a good slagging.
Either way, her mindset, will, elite athleticism and mastery of the sliotar and camán have made the 20-year-old a regular since coming into the senior squad three years ago.
The Feakle-Killanena clubwoman rightly enjoyed last weekend but it is clear that everyone in John Carmody's group understands that if that is all they achieve this year, it will be worthless. Hence Spillane exhibiting a considerable sense of being grounded, while acknowledging it as invaluable affirmation of the work they are doing.
"We were all happy on Sunday and we'd gym then on Monday so there was definitely a positive atmosphere after a positive start to the season," Spillane details. "It's always a close match when you play Kilkenny and it was nice for us to come out the winning side this time and set the year up with a win.
"We were happy with the performance and that's what we focus on the most, a good performance. We still have plenty to improve on, but it was a good win, certainly.
"Training has been going well. The biggest thing is the numbers and we saw on Sunday we have a good, strong panel now and players can come off the bench and make an impact. Last year we struggled with numbers a bit and in the last 15 minutes of matches we were dying. On Sunday, we were able to hold out and get the win."
That final quarter burst, coming after they fell behind for the first time having led by four points at the break, was telling and suggested a level of belief that will only have been strengthened further by virtue of finishing the job off when almost everybody expected the visitors to pull away.
"That thought always crosses your mind, especially when you play a team of the quality of Kilkenny but the biggest thing is we didn't panic. Maybe previously we would have panicked but we were able to stay calm and get the scores down the other end when Kilkenny did that get that run at us. Every team is going to have their purple patch but the way we responded to that was telling.
"We just want to improve on our performance now week-in, week-out… It's one win and we've plenty to do."
Cork coming up probably helps in keeping things level, if there was any sense of heightened giddiness. Having the likes of Spillane in the ranks is such a boon. While the second-year physio student in UL only turns 21 later in the year, she has always exhibited leadership criteria.
Indeed she was awarded a GAA Future Leader All-Star during her transition year at Gort Community School, a time when she was secretary of the school's GAA unit.
"It was a good experience," she declares. "It makes you appreciate the people you don't see on the pitch every day and do all that behind-the-scenes work."
It is notable that Jakob Ingebrigtsen, the celebrated Norwegian Olympic 1500m and World 5000m champion is the sportsperson she would like to meet most.
"I'd love to get a bit into his mindset on how he stays on top all the time. Obviously, camogie is my sport but I think looking at other people who are at the top of the game in their sport, as an athlete, definitely helps."
As someone who thinks going cliff diving would be fun, Spillane clearly possesses a sense of adventure and isn't easily cowed. While she doesn't place herself in the category of adrenaline junkie, it is only her friends' fear of injury that has prevented her trying it out, yet.
Though born in China, being adopted and moving to Ireland as a one-year-old and being immersed in Irish and Clare culture since, she feels, and is, nothing other than 100 per cent saffron, blue, green, white and orange.
"I'm blessed. Since I moved to Ireland so young, this is my life and I love my life. I have great friends and playing camogie has been great that way. Even in college, the girls I live with play camogie too. It's a great way to make friends. You enjoy the game and you're playing it for the same reasons. And people are just so good."
Her parents, Sheila and Michael introduced her to Gaelic games from as early as she had awareness, as they did with her sister Deirdre.
"They come to almost every single match that they can come to. When I was younger, I used to go out the front with Dad and puck around with him. He thinks now I hit the ball too hard at him!"
Pauline McNamara was her first underage coach as a six-year-old and she will appreciate that grounding forever. Spillane is close friends with McNamara's daughters Lorna, who is a Clare teammate, and Claire, who lines out with Feakle-Killanena.
A defender and midfielder initially, she was moved to the attack last year, that voracious appetite for industry imperative for the modern high press, forcing turnovers in the opposition's defensive half or at least causing hurried clearances. In that aforementioned Q&A, Spillane selected "winning your own ball" as the most important skill in camogie. Music to the ears of any coach, not to mind players looking around at the other faces in a huddle before doing battle.
Choosing "an unlimited supply of Fanta Slushies and Pot Noodles" if she won the Lotto might not enthuse the nutritionist mind you. But hey, nobody's perfect.
"Any player who picks up a hurley dreams of playing senior for their county. When I got the call three years ago, I was dying to take it and I love it.
"We have Cork now and it's another good challenge. We want to know where we are and playing the best teams is what you want in the League. I suppose a lot of people will remember the Munster final we had against them last year, with extra, extra time. That was some match.
"Last year we were talking a lot about closing the gap and the Munster campaign showed we had made some ground. In the All-Ireland series, we lost out by such fine margins and it was disheartening to end the year in a relegation final but at least we won that and with the extra numbers, we want to show this year that we definitely are there and thereabouts and hopefully that will carry on from the first game now through the League and into the Championship."
Most Read Stories