GAA President's Award winners named
February 01, 2023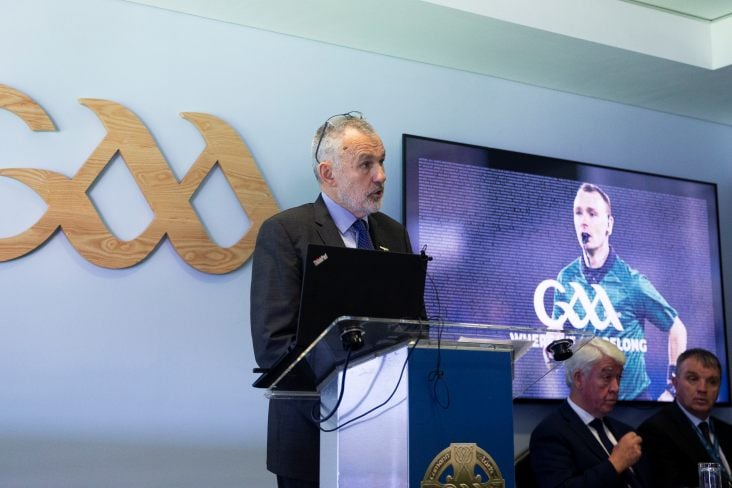 GAA President Larry McCarthy ©INPHO/Tom Maher
The GAA has confirmed the recipients for Gradaim an Uachtaráin 2023. These prestigious annual awards, organised with the support of AIB and broadcast by TG4, affords Uachtarán CLG with an opportunity to acknowledge outstanding commitment and long service across the club and county network.
The awards are a cross-section of people who have shared the common theme of making an inspirational impact on their code and also their club and community.
Uachtarán CLG Larry McCarthy said: "The success of the GAA has always been down to the people who, through their loyalty, selfless dedication and commitment, have invested so much to ensure that for almost 140 years the Association has gone from strength to strength. Gradaim an Uachtaráin affords us the chance to single out people who are responsible for extraordinary service to Gaelic games. In saluting the deserving recipients tonight, we are mindful that they are ambassadors for the thousands of people who do so much for the betterment of our Association. I warmly congratulate all of our recipients and acknowledge the support of TG4 and AIB in this most worthwhile initiative."
The 11 awards are made on a provincial and code basis. As well as Gaeilge, Education and International Awards, the presentation of the annual Dermot Earley Family Award will also take place.
The GAA President's Awards (Gradaim an Uachtaráin 2023) will be broadcast Friday night on TG4 at 7.30pm
Buaiteoirí Gradaim an Uachtaráin 2023
CONNACHT RECIPIENT – Mary Power, Drumcliffe Rosses GAA Club, Sligo
The quiet, softly spoken superstar of Drumcliffe/Rosses Point GAA that is Mary Power has given years of unrelenting service to the GAA in the scenic and picturesque area of north Sligo.
Otherwise known as 'Mrs Cúl camps' by all the parents and children in the club - every year for two weeks Mary becomes the most important and sought after person in the Drumcliffe/Rosses Point club if there is an issue booking a camp, gear needs to be changed or a child/parent needs an answer to a question.
Mary can be best described as 'a lady' as she goes about fixing problems and helping people in the most unassuming fashion possible. She has been part of the Cúl Camp programme for as long as the club has hosted a camp and for the GAA staff in the county it's a pleasure to spend the week in the company of this extraordinary woman. She has helped and led the growth of the Cúl Camp in the club to over 200 participants each year through originally her work as a teacher in the local school of Rathcormack, in which she spent years promoting GAA to pupils and fellow staff members and over the last few years as a person that knows nearly everyone.
Mary you could say always seems to find herself in roles that require diplomacy and patience and during the Covid crisis took up the position of covid officer for the club. Last year Mary took on the position of chairperson for the club, another job that requires great communication and leadership skills. She carries out her duties in a calm, personable and professional manner and it is a great honour for club and county to have a woman of Mary's calibre represent the GAA. It began as her son and daughter, Seán and Aisling, began playing club football. She became their taxi service to training and matches and went on to become fully immersed in the club.
As a teacher she was heavily involved in Cumann na mBunscol. Off the field Mary has been deeply involved with the fundraising efforts of her local club. She is also an ever- present fixture in the stands and on the sidelines supporting all her club teams, from Nursery to Senior and everyone in between. She was named as Club Person of the Year in 2017 and made hstory in 2022 when was elected as the clubs first ever female Chairperson. These won't be the last accolades she receives.
LEINSTER RECIPIENT – Mary Foley, Buffer's Alley GAA Club
Mary Foley epitomises GAA Volunteerism and is a constant presence at her club Buffers Alley where her enthusiasm is infectious, and signs of her hard work are everywhere to be seen. Arriving in Buffers Alley in the late 1980's when she married hurling stalwart Matty Foley, Mary wholeheartedly and selflessly immersed herself in club activities which resulted in the promotion and enhancement of Buffers Alley GAA Club. With such drive and vision, it was no surprise that she became Club PRO in 1997 and took the role to a level not seen before. She embraced social media and became an accomplished photographer as she set about the task of capturing and reporting on club events over the past 25 years.
Her standard of excellence led to Wexford GAA noticing that Buffers Alley had exactly what they were looking for in a Public Relations Officer. The call came in 2006 and Mary brought her high standards to the prestigious role of Wexford GAA PRO, while also continuing to carry out her duties at her club. Her attention to detail, extensive knowledge and sheer determination to give one hundred percent to any job she undertook soon brought her to the attention of the MacNamee GAA Awards Committee. During her years as Wexford PRO, the county final programmes produced by Mary fitted exactly what the MacNamee Awards were designed to honour: 'excellence in the area of communication, public relations and journalism specifically related to the activities of the Association.'
Another of her accomplishments with Wexford GAA was her nine-year stint as Fixtures Secretary. Her tremendous organisational skills were put to very good use in this role as she undertook (with a like-minded Fixtures Chairman) the running of hurling and football competitions in Wexford. Her sharp mind, common sense and ability to deal with the representatives of 49 different clubs and mainly keep them smiling proved to be a remarkable and noteworthy feat that probably was deserving of another GAA award! With more than one string to her bow, Mary also proved herself to be an informed and very astute Leinster delegate during her time with Wexford GAA. Finally, to sum up Mary's unique and ongoing contribution to Buffers Alley is to recognise her pride in her local club and her desire to always improve on how things are done. It's these two things that encapsulates the spirit of volunteerism that is part of Mary's DNA. It's the little things that mean so much and Mary is exceptional at recognising that fact. Behind the scenes, she is constantly doing jobs and engaging in acts of kindness that give people a sense of belonging to a club that cares. She is famous for her beautiful flower baskets proudly on display at the Club Grounds – a familiar sight on a fine summer's evening is Mary tending to the flowers at the edge of dark. You'll also find her baking, painting, cleaning, sweeping and doing many other jobs that go unnoticed until they're not done.
ULSTER – Margaret Keenan, St Patrick's GFC, Gortin, Co Tyrone
When Margaret Keenan went to the AGM of Gortin St Patrick's GFC in 1985, little did she realise that this would be the start of a 37 year term of unbroken voluntary service.
In a small rural club there are many challenges; getting suitable and willing volunteers to take office is amongst the most difficult. In reality, a small number of people will frequently have multiple roles. Margaret is the supreme example of a multitask volunteer. Over the years she has been the guiding hand for virtually every aspect of the club. Never afraid to take the difficult but right decision, she has the respect of club members. Highly respected for her knowledge of the 'Official Guide' combined with an ability to diffuse difficult situations, she can manage the most demanding challenges.
Within a year of taking the role of Secretary, Margaret married the Senior team captain Roger Keenan, their family life has revolved around Gortin St Patrick's. Her organisational and people skills are at the heart of all activities within the club. On every match day, Margaret will be involved from early morning making arrangements. On arrival at the club grounds she will be finalising team sheets, ensuring only players and officials enter the pitch, arranging for somebody to greet the referee, keeping a sharp eye on players and spectators during the match and then after the match helping to provide refreshments in the club kitchen. When everything is cleared at the clubrooms, she will head home to make dinner where every detail of the day's activities will be dissected and analysed.
The club recently organised a very successful gala to celebrate 50 years since its revival in 1972. Planning started over 12 months prior to the event with a number of sub committees working on a variety of tasks. Central to this was the co-ordinating skills of Margaret. She even managed to take a trip to New Zealand to visit her daughter Molly in the weeks before the gala - but was still in control of communications, proof-reading booklets and coordinating from literally the other side of the world.
Margaret's voluntary commitment, experience and knowledge have not gone unnoticed. At County level she has served on a number of sub-committees, currently she is Secretary of the County Hearings Committee.
This nomination and award are a very fitting acknowledgment for Margaret's commitment and long volunteering service. Her husband Roger, daughter Molly and son Ruairí, together with the Gaels of Gortin and Tyrone, are extremely proud of her recognition
MUNSTER – Sandra English – Rockwell Rovers GAA, Co Tipperary
Although Sandra English is mostly associated with the Rockwell Rovers G.A.A she is also renowned in the Parish of New Inn and Knockgraffon for her community involvement. The old adage which states that if you want something done, ask a busy person, is absolutely true in her case.
Sandra first came to the fore with her active involvement in the promotion of TG4's, Celebrity Bainisteoir when the Rockwell Rovers GAA Club were featured in 2009.
She is now P.R.O. of the Rockwell Rovers club, having completed four years as secretary during which time the club developed and opened the new All-Weather playing area and walkway at Páirc na nGael, New Inn. She is a most active member of the club and was foremost on the committee that produced the club history a number of years ago with the involvement of GAA Historian, Seamus King which was launched by former President John Horan in 2019.
Her mother Eileen Bell was a well-known local reporter in the New Inn area for the The Nationalist Newspaper since the 70's and when she passed away in 2014, Sandra took on the role and is still doing it to this day. Her father Gerry Bell is still hale and hearty in Whitelands, New Inn and he also instilled in her an interest in politics.
Sandra continues to report on the activities of the club and local area on both newspaper and local radio, being equally adept at communicating in print or in speech. She loves her native parish and does everything possible to promote it, volunteering in many areas of parish activity and being available to serve on many committees. She is a great worker and efficient in whatever she does.
Whatever needs to be done, Sandra ensures that it is done with maximum efficiency and minimum fuss. Indeed, one wonders where she gets time for everything whilst also holding down a job as a full time librarian.
She is married to Conor who is also embedded in the GAA having just stepped down as chairman of West Tipperary Bord na nÓg following many years' service in various roles. They married in 1993 and have with six sons, Cormac (26), Killian (24), Fergus (22), twins Finbarr and Diarmuid (20) not forgetting baby Gearoid (13)
Her great commitment to the G.A.A. and to life in general in the Parish of New Inn and Knockgraffon is an indication of the great generosity in heart and spirit of Sandra English.
LGFA RECIPIENT – Elena Byrne, Dunamaggin GAA Club
From the founding of the Dunnamaggin club, Elena has been a driving force in bringing Ladies Gaelic Gaelic Football to the club and county. From underage to Gaelic4Mothers&Others she is constantly seeking avenues to increase participation and promote the sport in Kilkenny and nationwide.
Elena has been an invaluable support to her club and is one of the reasons why the club continues to go from strength to strength. She may officially act as the PRO, but she is renowned for being a 'jack of all trades' in the club helping with all aspects and has been instrumental in building the solid foundations now laid for the club. Elena is a positive force and over the years has been a coach, mentor, member of the board, representative at county level for our club and much more. She demonstrates her love of the game of football with a passion to work are tirelessly as a volunteer.
Elena has been creative in devising fundraisers which were vital to the club but also gave huge advertising as they were fun, creative and successful. She is always ready for a new challenge and Elena was voted LGFA PRO of the Year in 2021 for the National Volunteer Awards. When anyone thinks of the Dunnamaggin club then Elena is always the first name to spring to mind.
CAMOGIE RECIPIENT – Deirdre Fitzgerald, Doiretreasc Camogie Club, Co Tyrone
Deirdre has been involved in Camogie for a lifetime and has held a number of positions both Officially and Unofficially within Club, County and Provincial Camogie and Football Units. Currently Secretary of Tyrone County Board, Registrar of Doiretreasc GFC and Ulster Camogie Registrar; Deirdre is a wealth of knowledge when asked about anything Camogie or Football. A perfectionist in all that she does, Deirdre will go above and beyond what is expected when she undertakes a given task.
Her love and passion for Camogie doesn't start and finish with her own Club; she has a genuine heartfelt love for all clubs in her County and beyond and to see them succeed gives her as much pride as seeing her own club succeed. Within Tyrone the development of Underage Camogie is something that has been worked on in recent years and whilst many people can be credited for this drive, Deirdre is one who is consistently in the background, quietly doing much of the hard work without a want or need for recognition from organising fundraisers to washing multiple kits or umpiring at games. Tripping the Country with her camera in toe, capturing the images of a sporting moment for every child is so very important to Deirdre. Her unofficial position as PRO in Tyrone is vital to the County with social media playing such an important role in the development of our sport. Deirdre brings a holistic approach to her work within Camogie and without fail, if she can be of assistance to others, that is what she will be. No task is too big or distance too far; camogie related or not, if you need something done, Deirdre will be the one to do it.
HANDBALL RECIPIENT – Margaret Walsh, Mallow Handball Club, Cork
Margaret is a dedicated volunteer who has given a huge part of her life to handball, a massive 15 years in admin roles starting out as Mallow Handball Club Secretary and in 2012 she was elected as Cork GAA Handball County Board Secretary. She has also served as Munster Juvenile Secretary along with having involvement in GAA Handball's Strategic Planning committee.
Margaret oversees fixtures, results, social media and competitions, liaising with Munster Handball and Croke Park. She travels the country to games, assists at events and has been to World Championships in Ireland, Canada and the US. She has been instrumental in the progress of Cork GAA Handball and has played a lead role in the development of the Wall Ball code in Cork, launching the first Cork She's Ace Ladies competition and was the official in charge at a memorable Féile na nGael in Cork with 300+ children taking part in 4-Wall and Wall Ball. Margaret has a passion for the sport at all levels and is excited about the future of GAA Handball.
EDUCATION AWARD – Tara Rynne, Ennistymon CBS, Co Clare
Tara Rynne joined the Ennistymon CBS straight from UL in 2013 and with Maths and PE as her subject areas she automatically began working with Michael Clohessy who had championed sport in the CBS for many years. Tara enthusiastically took on the role of coach, trainer and manager of the various football and hurling teams.
Tara is passionate about sport and she has worked tirelessly to develop football and hurling, adding hugely to the strong GAA tradition in the school. Through her involvement with local clubs, she has a good knowledge of her players. She develops their skills but more importantly she develops their confidence. She has a great relationship with the boys and there is no need for loud voices in the dressing room before matches. The boys always give their best for Tara both on and off the pitch.
This rapport with the students in general allows Tara to support the student's wellbeing in discreet and practical ways. Her leadership and contribution to their wellbeing was very evident during Covid lockdown when she was among the teachers supporting the boys with online challenges.
There have been many successes over the years culminating in Munster success in both hurling and football in 2022, only to be narrowly defeated in both All -Ireland finals.
The school is now competing at B grade in football and C in hurling, a tremendous achievement for a small school in North Clare having a student population of just over 200 students. Numerous past pupils have and are still playing for the county who have been coached and nurtured by Tara at the CBS.
Tara has become the first female member of Munster Post-Primary Schools GAA core Committee. She is the PRO and as part of this role she is developing the promotion of our games through the GAA Future Leaders Journalism module.
The Munster Post Primary schools GAA has developed a gold, silver and bronze accreditation awards system to encourage our aspiring Journalists at student level in our schools. Tara is very much involved in this initiative.
With a positive outlook and a calm demeanour, she is an inspiration to all those around her.
GRADAM NA GAEILIGE– Bronagh Lennon, CLG Naomh Muire Achadh Gallan, Co Aontroim
Hailing from the Aghagallon club in Antrim, Bronagh Lennon has worked tirelessly to promote Irish culture and language in her club, in her county and throughout Ulster through the various committees she has served on.
A current member of Coiste Náisiúnta Scór and former Oifigeach Cultúir agus Gaeilge for Antrim, Bronagh has been to the forefront in organising cultural events during Seachtain na Gaeilge and to ensure the Irish language has presence within the GAA in her county. Bronagh has taken part, and mentored participants, in Scór from an early age and the Irish language has more often than not had a presence in those acts. During her term as Oifigeach Cultúir agus Gaeilge Aontroma Bronagh revived Scór in the county and is currently a member of Coiste Náisiúnta Scór, Coiste Scór Uladh and is the current Rúnaí Scór Contae for Antrim.
Bronagh revived the Gaeltacht scholarship scheme in Antrim in her work as Oifigeach Cultúir agus Gaeilge in which hundreds of school goers have availed of and benefited from. Bronagh herself has a strong connection with the Loch an Iúir and Rann na Feirste Gaeltacht areas in northwest Donegal and spent many a summer teaching Irish, music and dance in Loch an Iúir. Bronagh also ensured that the Irish language had a significant presence in match programmes and on Antrim social media platforms during her time as Oifigeach Gaeilge agus Cultúir and the impact of that can still be seen clearly today.
She has organised national anthem workshops in Ulster counties as well as singing workshops in which songs 'as Gaeilge' were central. She has organised storytelling and singing nights as Gaeilge such as the one at Éigse na nGlinntí in CLG Mac Uilín, Baile an Chaisil. During the pandemic, Bronagh started the Saffron Singers and used the group to promote songs as Gaeilge. She ran online Irish courses for young and old as well as lectures for clubs on Irish surnames. Bronagh continues to work tirelessly to promote Irish language and culture in her native county of Antrim and further afield.
INTERNATIONAL AWARD – Joan Henchy, New York GAA
Joan Kiely was born in NY into a GAA family. Her father Dan was one of the main driving forces behind the Kerry Junior football team in Gaelic Park in the 60's where they were one of the leading clubs. The family returned to Tarbert, County Kerry prior to Joan starting national school. Her love of Gaelic games flourished and when Tarbert Ladies GAA was founded she was a member of the first team they fielded.
The lure of the Big Apple never faded and when she was 17, she returned along with her then boyfriend, now husband Brendan Henchy. They lived in Yonkers, New York and raised two daughters, Tara and Shauna who carry on their love of the GAA to the next generation.
She immediately got involved with the Kerry club and following in her father's footsteps concentrated on their Junior team. Over the years, she filled every position on the club's executive from County Board delegate, to Secretary and to Chairperson. Over the last twenty plus years, Joan has been directly involved with the New York County Board, from PRO, to Secretary and for the last three years she has served as the first female Chairperson. She is also our Central Council delegate.
Joan's passion has been the development of the underage games and the American born players and it was one of her proudest moments to stand in Croke Park last year as a New York Junior team comprising of all American born players took the field for the All-Ireland Junior Football final and she has always been a huge supporter of the CYC and Féile where New York teams have performed with great distinction. Being from North Kerry, she has always had a huge interest in Hurling and with her direct involvement New York, for the first time in ten years fielded a County Hurling team when they recently won the Connacht hurling league. She has also been hugely supportive of the Ladies GAA, Camogie and Scór. As Gaelic Park undergoes redevelopment, she has been at the forefront of fundraising and promoting it as our home for the next century.
THE DERMOT EARLEY FAMILY AWARD – The Mallon Family, St. Paul's Lurgan, Co Armagh
The Mallon's are originally from Omagh before they arrived in Lurgan and lived in Taghnevan estate. Philip (snr) was one of the founding members of St Paul's GAA Club in Teghnevan and its first treasurer from 1971-1982.
They started out with underage teams and Philip's wife Pat was a coach at under 10 and 12 in the early 1980s when there were very few if any Lady coaches. Philip would have been part of the Tenants association when Taghnevan was first built, Pat went on to be a local SDLP councilor for a long number of years looking out for the good of the local people. They continued to serve on the Committee and coach teams while bringing up their own Family who all have represented the St Paul's Club in various guises.
They can still be actively seen around the club, which have some of the best facilities in the county and the St Paul's Club and Teghnevan area has certainly benefited from the efforts of the Mallon Family. Since 1971, St Paul's has grown to be one of the biggest clubs in Armagh and in Lurgan where they have no shortage of neighbouring GAA Clubs.
Aside from his work on the executive Philip also trained the new group of players which included future Armagh County players: Jim McCorry, Shane McConville, Kieran McNally, Denis Seeley and the recently deceased Micky McDonald (RIP) to name but a few. The new club rewarded his and club members efforts by winning the Armagh Juvenile Championship in 1975. The following year, again under Philip's stewardship St Paul's won the Armagh Minor Championship. Philip served as Chairman from 1983 to 1987 before taking up the role of Secretary from 1993 to 2003, having served on the club committee in the interim period he again became Chairman from 2015 to 2017. His present role is as a trustee of the club.
While Philip was spending his energies on behalf of the club his wife Pat was also heavily involved, not only was she helping out in various roles including washing and maintaining the club jersies she was the first Manager of the clubs under 10 team which won the league in 1980. She became a member of the local Council during this time and was instrumental in helping the club obtain its own football pitches in 2003. Certainly a very busy household!
This example of Volunteerism has also passed on to their children who apart from playing for their club have also served on various Committees over the years. Christine and the late Helena sold tickets in the early days to raise funds for a growing club as well as helping the Girls teams, while Paula, involved with Ladies football in the club since it's inception now looks after the 5 to 10 year old girls teams. Philip (Jr), Barry and Peter look after the underage boys teams U5 to U10 while moving to the next generation, Grandson Dara O'Dufaigh, Club Secretary for the past 3 years has been succeeded in his previous role as club Irish Officer by his father Jude. Stephen, former senior player, who sadly passed away is commemorated by an Under 10 tournament played in his memory.
St Paul's are currently embarking on a new exciting development in the club, all of this drive and energy over the last 50 years plus has helped build a formidable community facility with Gaelic Games activity at the heart of it. Thanks to people like the Mallon family who have been central to it all.
Most Read Stories