2021 Camogie National League fixtures confirmed
April 12, 2021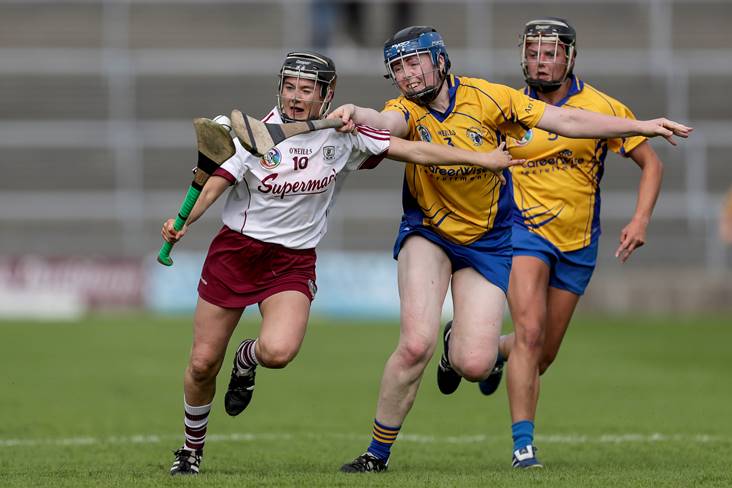 Galway's Aoife Donohue with Maire McGrath of Clare. ©INPHO/Laszlo Geczo.
Fixtures for the 2021 Littlewoods Ireland Camogie National Leagues have been confirmed.
The first round of group stages across all divisons will take place on Saturday, 15 May, with Division 1 holders Galway facing neighbours Clare, All-Ireland champions Kilkenny taking on Dublin and Cork playing Tipperary on home turf. Limerick, Waterford and Offaly receive opening byes.
The finals are scheduled for the weekend of 19/20 June with two of the three Division 1 group winners qualifying directly for the semi-finals, while the other will advance to the quarter-finals alongside the three second placed teams.
All fixtures are subject to change based on Covid-19 restrictions.
2021 Littlewoods Ireland National League Division 1
Saturday 15 May
Round 1
Group 1: Galway v Clare, Limerick BYE
Group 2: Cork v Tipperary, Waterford BYE
Group 3: Kilkenny v Dublin, Offaly BYE
Saturday 22 May
Round 2
Group 1: Clare v Limerick, Galway BYE
Group 2: Tipperary v Waterford, Cork BYE
Group 3: Dublin v Offaly, Kilkenny BYE
Saturday 29 May
Round 3
Group 1: Limerick v Galway, Clare BYE
Group 2: Waterford v Cork, Tipperary BYE
Group 3: Offaly v Kilkenny, Dublin BYE
Saturday 5 / Sunday 6 June
Quarter-finals
Saturday 12 / Sunday 13 June
Semi-finals / Relegation play-offs
Saturday 19 / Sunday 20 June
Final / Relegation final
Saturday 26 / Sunday 27 June
Final replay
2021 Littlewoods Ireland National League Division 2
Saturday 15 May
Round 1
Group 1: Antrim v Down, Derry BYE
Group 2: Tipperary v Cork, Kerry v Galway
Group 3: Wexford v Kilkenny, Laois BYE
Group 4: Dublin v Westmeath, Meath v Kildare
Saturday 22 May
Round 2
Group 1: Down v Derry, Antrim BYE
Group 2: Galway v Tipperary, Cork v Kerry
Group 3: Kilkenny v Laois, Wexford BYE
Group 4: Kildare v Dublin, Westmeath v Meath
Saturday 29 May
Round 3
Group 1: Derry v Antrim, Down BYE
Group 2: Galway v Cork, Tipperary v Kerry
Group 3: Laois v Wexford, Kilkenny BYE
Group 4: Kildare v Westmeath, Dublin v Meath
Saturday 5 / Sunday 6 June
Quarter-finals
Saturday 12 June
Semi-finals
Saturday 19 June
Final
Saturday 26 / Sunday 27 June
Final replay
2021 Littlewoods Ireland National League Division 3
Saturday 15 May
Round 1
Group 1: Down v Armagh, Offaly v Wexford
Group 2: Limerick v Clare, Waterford v Carlow
Saturday 22 May
Round 2
Group 1: Wexford v Down, Armagh v Offaly
Group 2: Carlow v Limerick, Clare v Waterford
Saturday 29 May
Round 3
Group 1: Wexford v Armagh, Down v Offaly
Group 2: Carlow v Clare, Limerick v Waterford
Saturday 5 / Sunday 6 June
Back matches / Play-offs
Saturday 12 June
Semi-finals
Saturday 19 June
Final / Relegation final
Saturday 26 / Sunday 27 June
Final replay
2021 Littlewoods Ireland National League Division 4
Saturday 15 May
Round 1
Group 1: Tyrone v Antrim, Cavan v Wicklow
Group 2: Kildare v Louth, Roscommon v Mayo
Saturday 22 May
Round 2
Group 1: Wicklow v Tyrone, Antrim v Cavan
Group 2: Mayo v Kildare, Louth v Roscommon
Saturday 29 May
Round 3
Group 1: Wicklow v Antrim, Tyrone v Cavan
Group 2: Mayo v Louth, Kildare v Roscommon
Saturday 5 June
Back matches / play-offs
Saturday 12 June
Semi-finals
Saturday 19 June
Final
Saturday 26 / Sunday 27 June
Final replay
Most Read Stories