Galway camogie club launches house and car draw to help buy and develop their own training grounds
March 26, 2021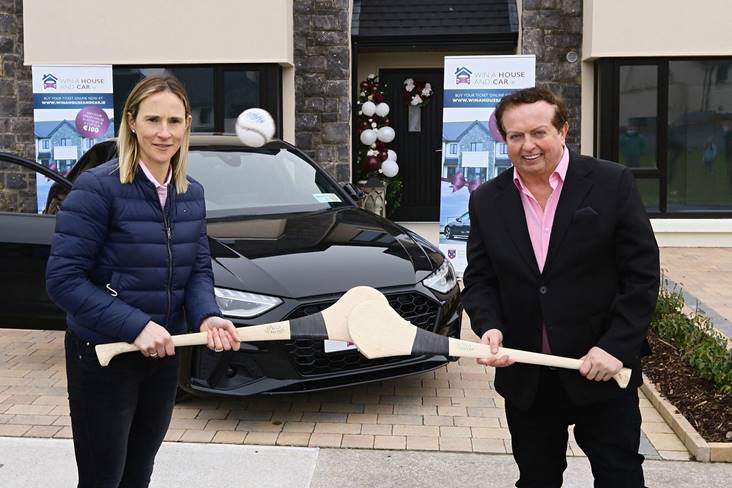 Athenry All-Star Therese Maher with RTE's Marty Morrissey at the launch of the club's house and car draw.
Win a prize that could truly be life-changing - a brand new home in Athenry, Co. Galway and a new Audi A4 S-Line – and do your bit for women in sport!
This is an ambitious plan by a great sports club that wants to level the playing field for their female athletes. Since the formation of the club in the early 1970s the members of Athenry Camogie Club have relied on the goodwill of the local second level schools and the Athenry's GAA club St. Mary's for use of their pitches. As both clubs grow in membership each year, the availability of pitch time is limited. The Club's win-a-house-and-car initiative is the first step in plans to buy and develop their own grounds and facilities.
Supporters of the draw will be in with a great chance to win a stunning new home in Athenry; a 3-Bedroom home in The Willows plus a brand new Audi A4 S-Line car. The Willows is less than four minutes' drive from the historic town of Athenry. The town is a hive of activity and community spirit, nestled near the motorway which makes it very accessible to Dublin, Galway and Limerick. Tickets are €100 each and all the details of the draw are just one click away at www.winahouseandcar.ie.
Speaking at the launch of the draw, Athenry's 5-times All Star hero Therese Maher explained what developing facilities for the Club would mean for players and supporters: "I can't think of a better way to promote and support the women in our club, to provide a facility to cater for the growing numbers playing our game and build for the future. Commitment and dedication is central to our club and the club is ready to work hard and make this dream a reality. All we need now is your support."
Attending the launch with Therese Maher was RTE's Marty Morrissey – a long-time supporter of Camogie Clubs around the country.
Visit the website www.winahouseandcar.ie and help Athenry level the playing field for women in sport!
Details of all our Trusted Partners are also available on our website.
For more details, please contact Deirdre Kehoe at DK Marketing on email: [email protected] or tel: 086-0452668.
Most Read Stories