Camogie previews: Galway meet Kilkenny in repeat of 2013 decider
September 06, 2019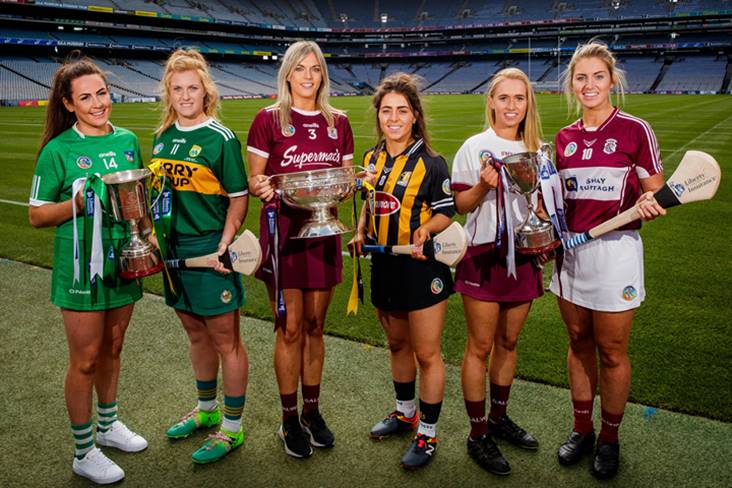 Grace Lee (Limerick), Laura Collins (Kerry), Sarah Dervan (Galway), Meighan Farrell (Kilkenny), Laura Ward (Galway) and Mairead McCormack (Westmeath) at the launch of the 2019 Liberty Insurance All-Ireland Camogie Championships Finals. ©INPHO/Ryan Byrne.
The stage is set at Croke Park for the 2019 Liberty Insurance All-Ireland Camogie Championships Finals on Sunday.
by Daragh Ó Conchúir
Sunday September 8th, Croke Park
Previews – Liberty Insurance All-Ireland Camogie Championships Finals:
Liberty Insurance All-Ireland Senior Camogie Championship Final
Galway v Kilkenny
4.15pm
Referee: Ray Kelly (Kildare)
For the first time since 2015, the Liberty Insurance All-Ireland Senior Camogie Championship Final will not be contested by the fierce rivals Cork and Kilkenny, with Galway breaking through to contest the decider for the first time since losing to the Rebels four years ago.
It is a repeat of the 2013 decider, when the Tribeswomen won the most recent of their two All-Ireland titles. Tony Ward was manager of Galway in both those Finals, and when the Maroons made their historic breakthrough in 1996, so current boss Cathal Murray will be looking to enter select company.
The improvement in Galway has been obvious since the Sarsfields man took over the reins after last year's National League, especially once he got a full pre-season into the players. They are significantly more durable physically and nowhere was this more evident than in their Semi-Final defeat of Cork, who were in pursuit of a third consecutive Championship.
They dealt with setbacks too in that game, which was also the case in the National League decider, when they got the better of Kilkenny by a two-point margin that ultimately flattered the Noresiders, despite their gritty second-half rally.
As well as physical and mental strength, Galway are significantly beefed up in terms of the appliance of science and tactical awareness.
They are bulwarked by a strong core that has known the best days and the worst, with peerless full-back and captain Sarah Dervan the rock of a very impressive full-back line in which Shauna Healy has also been an obdurate presence. Niamh Kilkenny, Aoife Donohue, Ailish O'Reilly and 2013 skipper Lorraine Ryan remain key operators too.
There is fresher blood too however, with teenager Sarah Healy establishing herself among the premier goalkeepers in the game having succeeded Susan Earner three season ago. In particular, the 19-year-old made some stunning saves when Waterford had her side rocking in the Quarter-Final, and one crucial stop in the second-half in the penultimate round as Cork chased a goal.
Former footballer Caitríona Cormican has proven a key addition to the squad and her two points within a minute against the Rebels were critical in keeping Paudie Murray's crew at bay. Emma Helebert has been a revelation at centre-back and Carrie Dolan has belied her youthfulness with the composure she has shown over placed balls.
Kilkenny know all about All-Ireland Final day, with this their fourth consecutive appearance in Camogie's blue riband and sixth in seven seasons. They have triumphed in only one of those, in 2016, but only fell short by the minimum margin in the two subsequent deciders.
There was a reshuffle in the management team this season but Ann Downey remains at the top and in the centre, the beating heart and guiding hand, as she was when gathering 12 Senior Championship medals herself.
There has been a very definite change in approach in the meantime, with new coach, the two-time All-Ireland-winning hurler, Brian Dowling facilitating the desire to implement a more attacking style than had been seen in recent years.
With a view to matching Cork especially, but Galway too, Kilkenny had moved former Player of the Year and three-time All-Star Anne Dalton to a centre-back/sweeper role. It is hard to say that it didn't work, as they won an All-Ireland and Dalton doubled her All-Stars tally, while also then being named Player of the Year for a second time at the end of last season. Yet there was a gnawing sense that while opposition attacks were being neutralised, their own talented forwards were suffering. They managed just 13 points in last year's Final and just nine the year before.
Putting a 43-point beating on Wexford in the group stages clearly skews their scoring stats but that Dalton was leading scorer going into the All-Ireland Semi-Final defeat of Tipperary, where she scored 1-1 and showed so many delightful exhibitions of her gifts, is certainly notable.
The St. Lachtain's star is now operating largely around centre-forward, from where she has plundered a stunning 6-11 from play. Even if she were to drift back to the middle to help the likes of joint skippers and sisters, Meighan and Anna Farrell, Kellyann Doyle and Denise Gaule deny Donohue and Niamh Kilkenny the space they thrive in, it will still mean that she is a threat in a creative sense. 2016 skipper, Michelle Quilty hit Tipp for 1-9 and is now the team's top scorer, just ahead of Gaule and Dalton, while Miriam Walsh and Katie Power work like Trojans.
Defensively, Claire Phelan has stepped into the Dalton position and made it her own, while Grace Walsh and Davina Tobin are elite markers, who are also relishing having more targets to hit with their clearances.
The potential match-ups are mouth-watering, whatever way Downey and Murray decide to go, but it is difficult to envisage anything other than this going down to the wire. Galway got on top by two points in the League Final, though it was 16 scores to 10, but Kilkenny had the same margin in hand in their Championship round-robin clash. There is nothing between them and it wouldn't be a surprise if a replay is required to unearth a victor.
Liberty Insurance All-Ireland Intermediate Camogie Championship Final
Galway v Westmeath
2pm
Referee: Andrew Larkin (Cork)
There will be a lot of maroon on view in Croke Park with Galway involved in two Liberty Insurance All-Ireland Camogie Championships Finals and Westmeath the opposition in the Intermediate match. Interestingly however, it will be the westerners wearing the changed strip of white, due to a jersey clash which they warmly welcome after a run of positive results in the jersey since a previous enforced change.
It is Galway's first appearance in the Intermediate Final since 2013 and they will be hoping that the fact they appeared in the Senior as well on that occasion will be a good omen, as they left headquarters with both the Jack McGrath and O'Duffy (Senior) Cups.
Tony Ward was manager of both of those teams, joining JJ Doyle of Wexford in a rare group that was supplemented last season by Cork boss Paudie Murray. Cathal Murray has the reins for both sides this year but the Ward link endures, with Tony's daughter Laura the captain of the Intermediates this season.
They were involved in a very competitive group, as evidenced by the fact that runners-up Westmeath have also emerged. It was so tight however that the table-toppers had to get a draw in their last tie against a Kilkenny team that had beaten them in the Division 2 League Semi-Final, to be assured of qualification.
As it transpired, had Kilkenny prevailed, three teams would have finished on 15 points on the top of the table and Westmeath would have missed out on score difference. Talk about tiny margins.
The teams met at the Coralstown/Kinnegad grounds in June and Galway needed three goals to edge the verdict by a point. They accounted for Division 2 League champions Tipperary by four points in the Semi-Final and will go into the decider as marginal favourites.
It will only be marginal however, as Westmeath have been making giant strides in recent years. Crucially, they have carried on the momentum from garnering Premier Junior honours in 2017, reaching the Division 2 League Final last year and making the last four again this term.
That experience has been crucial in building as a Championship outfit in the second tier and their form in the group stages, where taking Kilkenny's scalp in July proved the key result. The manner of that victory was impressive too as Johnny Greville's troops emerged from enemy territory in the John Lockes' facility in Callan with seven points in hand at the final whistle.
They were involved in a humdinger against last year's Finalists Down in the Semi-Final. They held the upper hand throughout but had to defend resolutely to hold off the Mournewomen by a point.
Experience of Croke Park will stand to Westmeath and in long-serving Pamela Greville – sister of the manager – Megan Dowdall, captain Mairéad McCormack, Sheila McGrath and Laura Doherty, they have a number of driving forces.
Galway are not short on experience or quality either, Tara Ruttledge having played Senior at the beginning of the decade and maintaining her commitment to the second string over the years despite being a Dublin-based teacher. Ava Lynskey, Molly Mannion, Méabh Scally, Ward and former soccer international Lisa Casserley are others who have shone through the summer.
The form book suggests that this will be very close.
Liberty Insurance All-Ireland Senior Camogie Championship Final
Kerry v Limerick
12noon
Referee: Gavin Donegan (Dublin)
The All-Ireland Premier Junior Camogie Championship Final has seen both of the finalists emerge from the same group.
There was little surprise in Kerry's progression, given that they had cruised through the group stages with a 100 per cent record that included a three-point win over Limerick in Croagh, though with that taking place two and a half months ago, there is potential for improvement in both units since.
Limerick would have entered the competition in good spirits as while they lost the National League Division 3 Final by four points, their conquerors Kildare are an Intermediate outfit.
After the narrow defeat to Kerry, they were held subsequently to a draw by Waterford but following a facile triumph over Wicklow, they came out on top in a high-scoring winner-takes-all affair with Offaly to bag the runners-up spot.
The Shannonsiders reserved their best performance of the campaign to date for the penultimate hurdle, accounting for Roscommon by seven points.
Kerry will be fancied to maintain the upward spiral of Camogie in the Causeway region, and while they found Dublin too strong for them in the 2018 decider, the old saying that you have to lose one to win one comes to mind, particularly when it pertains to familiarising yourself with Croke Park and how daunting playing an All-Ireland Final there can be.
In Patrice Diggin, they have an inspirational performer, acknowledged during her Ashbourne Cup-dominating days at University of Limerick as one of the nation's premier players. In the 10-point Semi-Final defeat of Clare, the flame-haired artist was a major influence once more from frees and play.
Also on that day Julianne O'Keeffe scored a stunning goal, flicked over her right shoulder in the air from a Diggin free, and is always threatening up front, as evidenced by the four points she added to that brilliant major against the Banner. At the other end of the pitch, Niamh Leen is long-established as a stubborn full-back, who relishes the battle of neutralising an opposition danger.
Rebecca Noonan is Limerick's primary scorer but Michelle Curtin and Geri-Mai O'Kelly offer valuable support to the free-taker. In defence, Aoife Tangney is a key operator while captain Grace Lee is a constant influence.
Neutral patrons, or supporters of the teams competing in the subsequent Finals, would do well to come in early because the day's extravaganza should get off to a belter.
Most Read Stories