Two excellent GAA books for young readers
August 08, 2019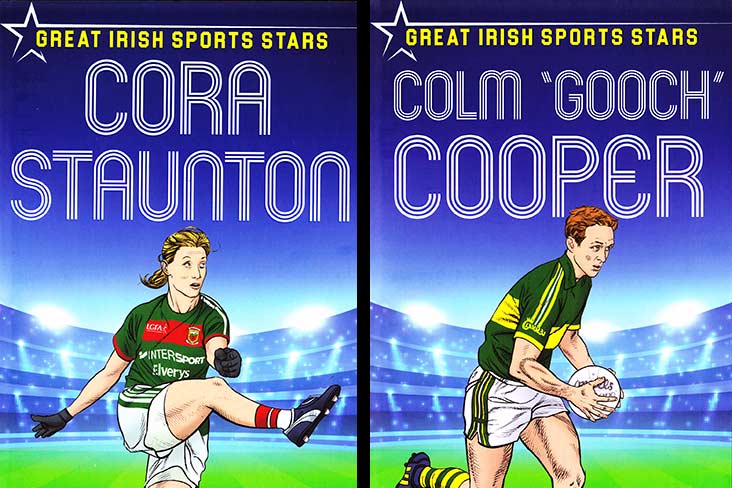 Great Irish Sports Stars Cora Staunton and Colm Gouch Cooper
O'Brien Press have launched two fantastic GAA books as part of a new 'Great Irish Sports Stars' series.
Aimed at young readers, and written by Donny Mahoney, one book tells the story of Kerry football legend Colm 'Gooch' Coooper, while the other is devoted to Mayo ladies great Cora Staunton.
Colm Cooper's remarkable haul of honours includes five All-Irelands and eight All Stars. Readers can follow Colm from his days as a tiny, freckle-faced kid – the youngest of seven in a GAA-mad family from Killarney – all the way to Croke Park. This is the story of how a boy who everyone said wasn't big enough or strong enough to wear the green and gold jersey of Kerry became one of the greatest gaelic footballers of all time.
Cora Staunton is an elite sportswoman: winner of four All-Irelands, eleven All Stars and five Club All-Irelands. She is a trailblazer in the Australian Football League and a hero in her native Mayo for her gaelic football skills. But it's been a long and eventful road for Cora.
When she was young, she was small for her age, and had to prove herself at every level: to the boys in her club, to the Mayo selectors who took a chance on her as a teenager, but most importantly to herself. From Croke Park to the stadiums of Sydney, Cora has proved herself to be a master of the game. This is the story of how a young football-mad girl became a living legend. A story of female empowerment for younger readers.
The paperback editions can be purchased for €8.99 each, while the electronic versions cost €5.99.
Join the hoganstand.com match tracker this weekend for live coverage of the All-Ireland football semi-finals.
Most Read Stories