News rules "encouraging a bit of gamesmanship" - McConville
May 17, 2021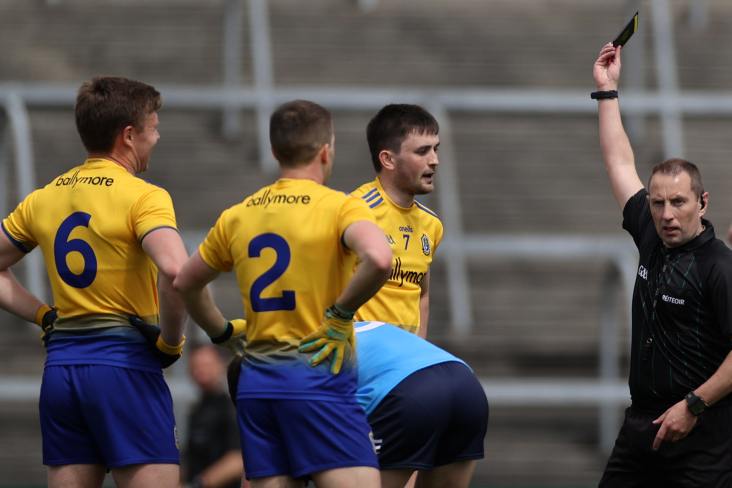 Roscommon's Brian Stack is black carded by referee Derek O'Mahoney
Former Armagh sharpshooter Oisin McConville says the new rules on cynical fouling could encourage gamesmanship on the part of attackers.
Anthony Cunningham's Roscommon side conceded three penalties, two of which were awarded under the new rule which see a penalty and a sin-bin for a cynical foul which prevents a goal-scoring opportunity.
The Rossies lost out to the All-Ireland champions by nine points and afterwards Cunningham called on the GAA to take another look at the new rules.
"The big one was the Dublin-Roscommon game where we had a couple of penalties that you could question," McConville told Morning Ireland on Monday morning.
"I think once we leave it to the discretion of the referee, we're going to create issues for ourselves. The advantage rule is a significant one. The advantage rule was something that I felt had actually worked quite well and I don't understand why we tinkered with it.
"It's early stages, I do understand that we have to address the cynical end of things. But I do think also that we are encouraging a bit of gamesmanship. I think we saw a little bit of that at the weekend.
"That's hopefully something we can eradicate pretty quickly and it's hopefully something referees can stamp down on and realise the difference between someone who throws themselves to the ground and is genuinely being tackled in a cynical way.
"It's suck it and see for a while but on the evidence of what we've seen, I'd have a bit of concern about it."
Most Read Stories