GAA on TV: take your choice from the 21 games set for live coverage
May 13, 2021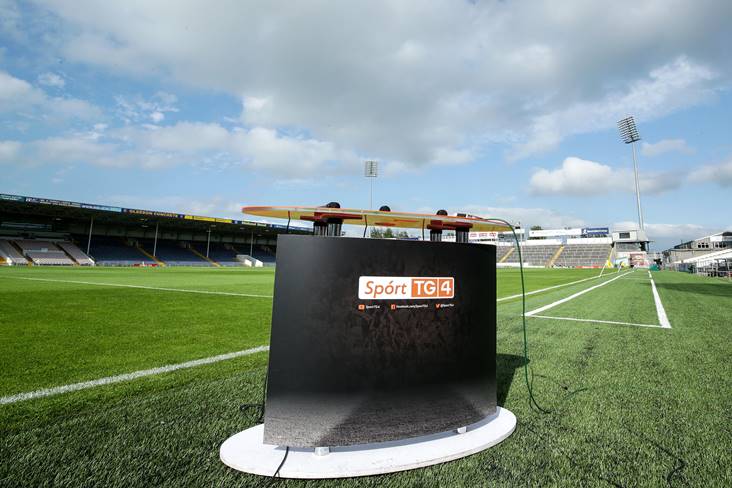 A view of TG4's coverage at Semple Stadium, Thurles. ©INPHO/Laszlo Geczo.
How about the ability to watch any one of 21 games of GAA at the weekend. With GAAGO coming back on stream it is possible.
The GAA's streaming service means that any Allianz FL game or Allianz HL Division 1 match that is not covered by their TV broadcast partners can now be viewed online at https://www.gaago.ie
TG4 will televise four games while RTE has Saturday's hurling meeting between Tipperary and Cork.
eir Sport also has three games while GAAGO has 14 games, including two Allianz HL Division 1 matches on Sunday.
Saturday 15 May
TG4
Allianz FL Division 1 North round 1 - Tyrone v Donegal, 5pm
RTE
Allianz HL Division 1 Group A round 2 - Tipperary v Cork, 7.30pm
eir Sport
Allianz FL Division 1 South round 1 - Kerry v Galway, 3pm
Allianz FL Division 2 South round 1 - Cork v Kildare, 3:30pm
Allianz HL Division 1 Group A round 2 - Tipperary v Cork, 7.30pm
GAAGO
Allianz FL Division 2 North round 1 - Mayo v Down, 2pm
Allianz FL Division 3 North round 1 - Longford v Derry, 5pm
Allianz FL Division 3 North round 1 - Fermanagh v Cavan, 7pm
Allianz FL Division 3 South round 1 - Limerick v Tipperary, 5pm
Allianz FL Division 4 North round 1 - Louth v Antrim, 3pm
Allianz FL Division 4 South round 1 - Waterford v Carlow, 7pm
Allianz HL Division 1 Group B round 2 - Laois v Dublin, 5pm
Sunday 16 May
TG4
Allianz FL Division 1 South round 1 - Roscommon v Dublin, 1.45pm
Allianz FL Division 1 North round 1- Monaghan v Armagh, 3pm - TG4 player app / deferred
Allianz HL Division 1 Group A round 2 - Galway v Limerick, 3.45pm
GAAGO
Allianz FL Division 2 North round 1 - Meath v Westmeath, 3.45pm
Allianz FL Division 2 South round 1 - Clare v Laois, 3.45pm
Allianz FL Division 3 South round 1 - Wicklow v Offaly, 2pm
Allianz FL Division 4 North round 1 - Sligo v Leitrim, 3pm
Allianz HL Division 1 Group A round 2 - Waterford v Westmeath, 1.30pm
Allianz HL Division 1 Group B round 2 - Clare v Wexford, 1pm
Allianz HL Division 1 Group B round 2 - Kilkenny v Antrim, 1.30pm
Most Read Stories