"That's where we won the All-Ireland"
May 08, 2021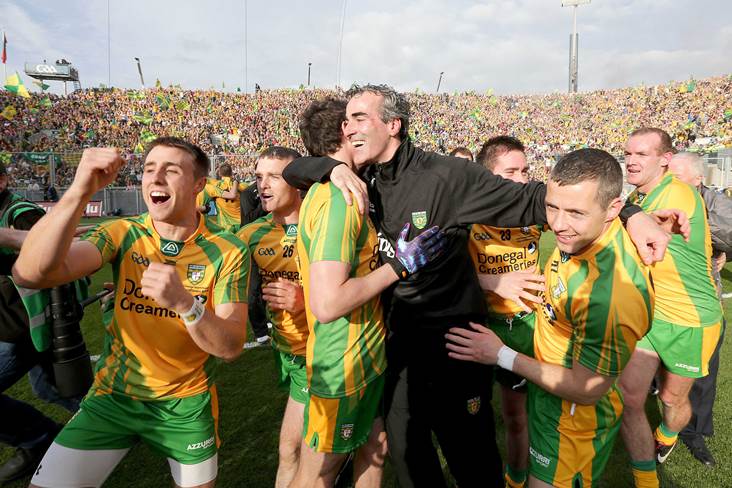 Donegal manager Jim McGuinness celebrates with his players after winning the All-Ireland in 2012.
©INPHO/Morgan Treacy.
On the sand dunes near Tramore Beach in Dunfanaghy, the seeds of Donegal's first All-Ireland SFC victory in 20 years were sown.
Jim McGuinness was the mastermind behind the Tir Chonaill's last Sam Maguire Cup triumph in 2012. He also led the county to three Ulster SFC titles during his four-year reign.
The Glenties man joined host Ryan Tubridy on last night's RTÉ Late Late Show Pieta Darkness into Light Special to discuss his switch from gaelic football to soccer and his personal journey.
Speaking of his daunting winter training sessions on the sands of Tramore, McGuinness believes that it was there where the foundations for the success were laid.
"That's where we won the All-Ireland," McGuinness told Tubridy.
"That's where the team won it. We won it there in the winter months. We would train for maybe two hours, we would leave the pitch and head for the dunes. It's probably a 3k jog across the dunes to the beach and the beach opens up, it's absolutely beautiful.
"From the foot of the beach, there is about a 400m incline. At the end of a two-hour session, you could end up potentially doing maybe six, eight, ten 400s - a sprint up and a jog back.
"I was thinking about those fellas [on his morning run up the beach], what they did and what they sacrificed. They pushed everything down the line, their own social life, getting out in the world, what they ate.
"They delayed everything in the hope that they could be successful for something bigger than themselves, something more meaningful. It creates this connectedness and this identity. The GAA is great for that anyway because you have the place of identity as a bedrock of it anyway."
Most Read Stories