Rouse remains grounded
June 22, 2018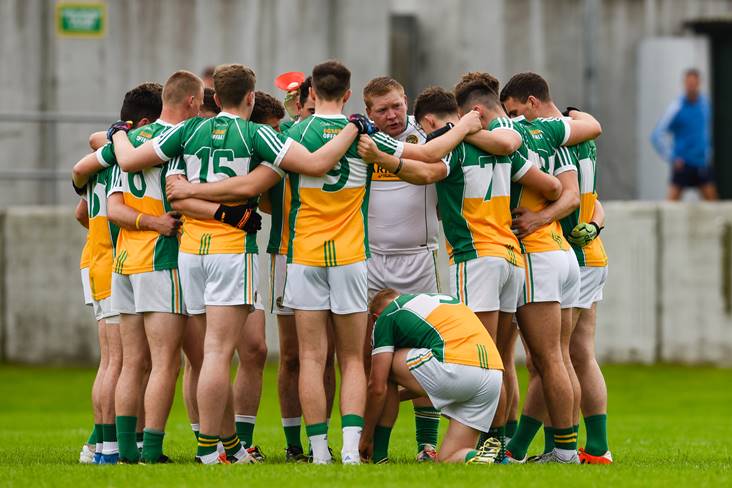 The Offaly team huddle.
©INPHO/Tom Beary.
Expectations in Offaly may be high that they can cause an upset against Clare in this weekend's All-Ireland SFC qualifier, but Paul Rouse is not getting carried away by all the hype.
Offaly football's topsy turvy year has been well-documented as Rouse and a new management team guided the side to an opening round qualifier win over Antrim.
Now, they entertain a Clare side that suffered a heavy defeat to Kerry in the Munster SFC semi-final and there is a lot of talk of an upset on the cards.
Nonetheless, Rouse is not getting caught up in the hype and he stressed to the Midland Tribune that his charges are the underdogs going into the game on Sunday.
"People have to be realistic, Clare finished third in division 2 and were very unlucky not to be a division 1 team. They went away and beat Down and Cork, that is way beyond anything Offaly have achieved over the last decade, so we have to be realistic in what our expectations are. A month ago we lost to Wicklow and Wicklow finished bottom of the National Football League.
"And everyone was doom and gloom about Offaly football. It is great that there is a renewed sense of optimism, I am delighted to see that. You couldn't but be excited, it is great people are feeling optimistic about the thing, but everything the players do from now on is a bonus."
Follow our match tracker for a bumper weekend of action including three provincial finals and eight qualifier games from the All-Ireland football championship.
Most Read Stories