Wicklow have been let down by the GAA, says Brogan
May 25, 2018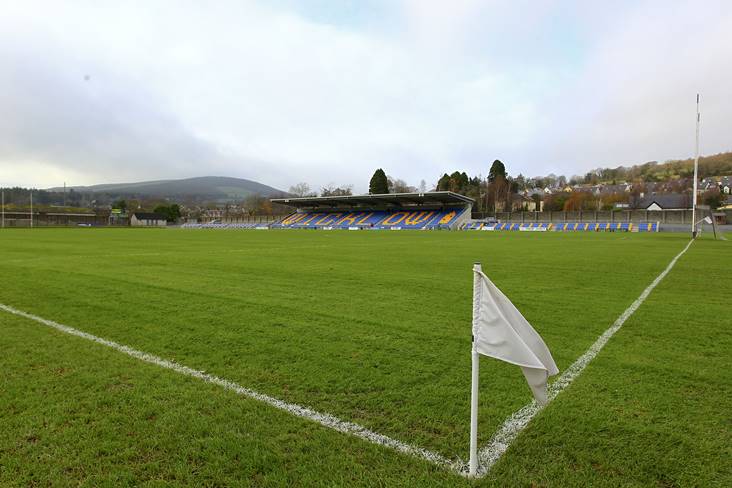 A view of the pitch at Joule Park, Aughrim.
©INPHO/Ken Sutton.
Alan Brogan feels the decision not to fix Sunday's Leinster SFC quarter-final between Dublin and Wicklow for Aughrim is a 'missed opportunity for everyone involved'.
Much has been made of the lost opportunity to promote Wicklow GAA, but Brogan feels the Dublin players and fans are also missing out by not getting the chance to experience the unique surroundings of Joule Park at this time of year.
"Let's be blunt about this. Wicklow have been let down here by the GAA," the former Dublin star wrote in his Irish Independent column.
"For Wicklow GAA people, this moment in the spotlight is rare and it's wonderful but it feels like the reward for beating Offaly has been unjustly confiscated. Imagine not winning a championship match for five years, then finishing bottom of Division 4, but going on and beating Offaly in the first round of Leinster.
"Imagine then the victory setting up a first championship match with Dublin in 28 years at a time when they have footballers who will go down alongside some of the sport's all-time greats. And then imagine not getting the chance to host them in your own county because the ground isn't big enough to fit all the supporters. Particularly when Offaly had already been afforded that right had they won.
"It's a missed opportunity for everybody involved. Aughrim is one of those few remaining GAA grounds with a bit of folklore about it. It's not built in the middle of a town or next to a shopping centre. There's no multi-storey car park and I'm sure the wifi isn't great either.
"I don't know whether it spooked St Vincent's last November when they went down as Dublin and Leinster club champions but something clearly knocked them off their stride.
"In Mick O'Dwyer's time in Wicklow, their last real patch of relative success, the place almost became a cliché. Aughrim - tough place to go. And it is. 
"When you get off the motorway at Rathnew, the road thins and there's the sense of going into the unknown. There's a bit of magic about Aughrim.
"Even for the Dublin players, the decision not to play the match in Aughrim is a missed chance. These players have experienced basically everything there is to experience as inter-county footballers. They're All-Ireland winners, Footballers of the Year, All Stars, Sigerson winners, Ireland internationals and all the rest.
"But this would have been something different. A tight, unfamiliar ground. A partisan, hostile crowd. They're the conditions that make for unique and memorable occasions.
"Would it make any difference to the result? Absolutely not. Would some Dublin supporters have been discommoded? Probably. But that shouldn't be the deciding factor."
Be sure to follow the hoganstand.com Live Match Tracker this weekend for all the latest action from the senior football and hurling championships.
Most Read Stories