Shefflin calls for protection for Reid from 'football tactics'
May 25, 2018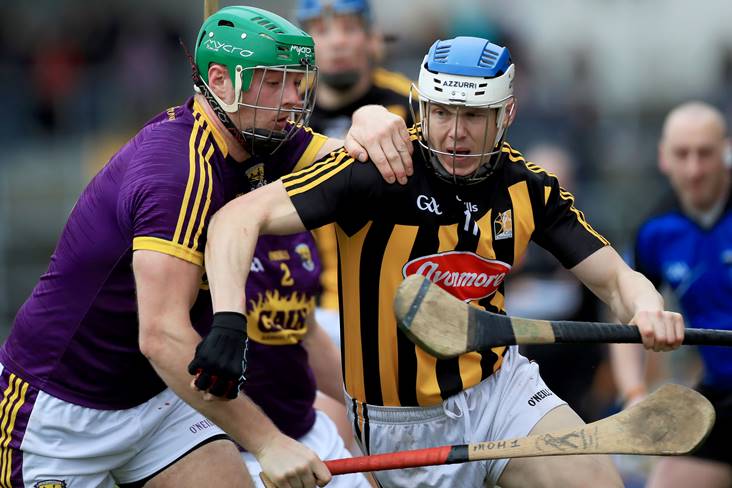 Kilkenny's TJ Reid with Matthew O'Hanlon of Wexford.
©INPHO/Donall Farmer.
Henry Shefflin has called on match officials to offer greater protection to TJ Reid.
The Kilkenny talisman has been subjected to football-style man-marking tactics according to his Ballyhale Shamrocks club manager, who reckons he would benefit from a move to full forward.
"That's the difficulty. How do you get away from that? I didn't come across that too much where this football tactic of man-marking a player by standing beside him, holding, pulling him. I think you need more protection from a linesman, umpires to get away from that," Shefflin said at yesterday's launch of Centra's #WeAreHurling campaign.
"Eoghan O'Donnell [Dublin] did a fabulous job and hurled very well but his concentration was TJ. If the ball was there he was going for it alright but, yeah, it is very difficult to play against that.
"If you're a player who doesn't have any interest in the ball - for me it's very hard thing to do because you just want to go out and play. So that's something Brian (Cody) might want to go out and look at; maybe put him into full forward, and get him away from that because then the defenders have a big job to do.
"Am I defending my full back and 'keeper or am I just worrying about TJ. He could leave a big gaping hole. It's something he's probably getting used to but it is going to be a challenge because he's such a marked man."
Shefflin doesn't subscribe to the view that Kilkenny have become over-reliant on Reid for scores.
"I think he's just been playing so well that his scoring record is just off the scales," he continued. 
"That's one of the pleasing aspects - that he maybe hasn't hurled as well in the last two matches but they still won and he is contributing. Of course they're depending on him but if Walter [Walsh] is there and one or two of the younger lads and if they get Colin [Fennelly] and Richie [Hogan] back into the mix, I think it will spread it out and put more focus on other defenders."
Be sure to follow the hoganstand.com Live Match Tracker this weekend for all the latest action from the senior football and hurling championships.
Most Read Stories