"I see nothing wrong with playing club games in October and November"
February 20, 2020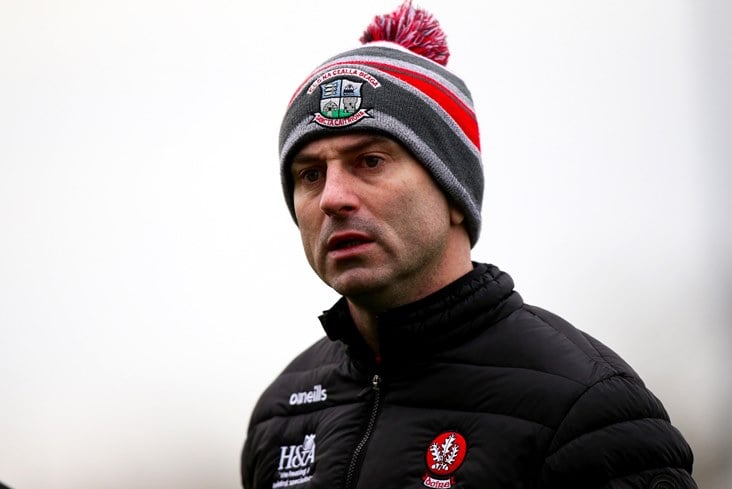 Rory Gallagher during his first game in charge of Derry against Monaghan in Inniskeen
Derry boss Rory Gallagher believes that the club season is being shortened "far too much".
This summer will see a tier two championship introduced, meaning only teams from the top two divisions can compete in the All-Ireland SFC qualifiers after they exit their provincial championship.
Speaking to The Irish News, Gallagher, who is also involved with the Killybegs club in Donegal, said he does not see the inter-county season being effected by the removal of two rounds from the top tier championship.
"I see nothing wrong with playing club games in October and November. We're shortening the club season far too much," said the ex-Fermanagh forward.
"With Killybegs, I'd rather we played in October with county players than playing away in June and July without them. I just think it's too short a club season.
"Finishing up on September 20 and you don't kick another competitive ball until the following March? It's crazy. How do you get better in that short space of time?
"People write a lot about Dublin and them doing everything right. When did Dublin play their league final this year? I'm nearly sure the start of December.
"I remember playing a league final in Dublin around December 22, and nobody complains. If you don't play Gaelic football in Dublin, you'll be lost to rugby and soccer."
A double line-up of Allianz Football and Hurling League fixtures this weekend. Follow the hoganstand.com match tracker for live updates on Saturday evening and Sunday afternoon.
Most Read Stories