'Ice baths and plunge pools could decide Munster hurling championship'
May 18, 2018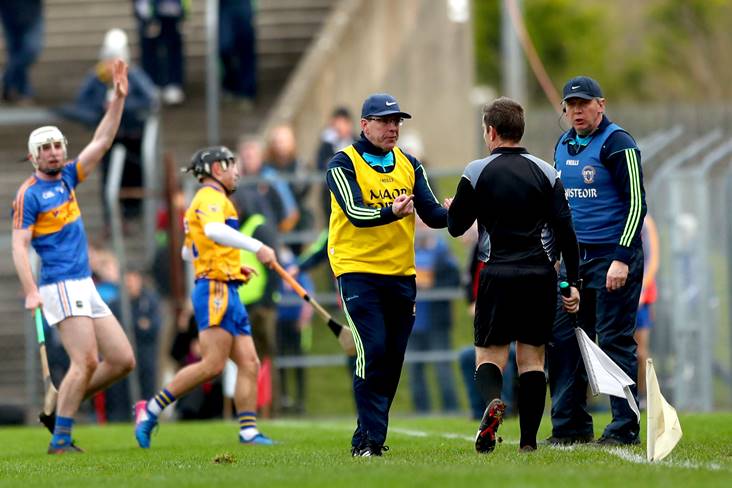 Clares joint-managers Gerry O'Connor and Donal Moloney speak to the linesman.
©INPHO/James Crombie.
by John Fallon
Clare joint manager Gerry O'Connor says this year's Munster hurling championship could be decided in ice baths and plunge pools and away from the playing fields.
Kelvin Harold is the strength and conditioning coach entrusted with helping this Clare squad recover from their hectic five-week Munster schedule.
The 2013 All-Ireland champions began their campaign away to Cork at Páirc Uí Chaoimh this Sunday and, like the others, face a hectic schedule of four games in five weeks.
"A hamstring tweak in your first Munster championship game last year and it was no big deal because it would be four or five weeks to the next game," said O'Connor. 
"It is going to come down to the team that recovers better from game-to-game, what recovery methods have you targeted and implemented during the league, are you going to use plunge pool, cold showers, ice baths. 
"It is whatever team has really, really focused on that and has put a plan in place over the national league that it can implement in the championship.
"The strength and conditioning coach that has been challenged the most to put the best possible recovery methods in place. 
"They could be in a position, week in, week out, to pick from the same panel for the four games. We're probably at a slight advantage that we have a break after two weeks. 
"But you've also got to ensure that the other guys who don't play on a championship Sunday are trained to a degree that would allow them to compete the following Sunday. 
"A lot of planning has to go into this five-week period."
Clare host Waterford in Ennis next weekend, then they have a week off, before a trip to Tipperary and a final day clash with Limerick in Ennis on 17 June.
Clare beat Cork 5-16 to 3-16 in the 2013 All-Ireland final under Davy Fitzgerald but haven't made it past the All-Ireland quarter-finals since.
O'Connor and Donal Moloney took over as joint-managers in October 2016 and are determined to help this team realise their potential.
"A lot of our guys are very mature in terms of mentality and age. While there is no elder statesman in our team, John Conlon at 28 is probably the older, there are a bunch of guys between 25 and 28 who have done a lot and they know it is time for this team to deliver," said O'Connor.
"As a group, they probably feel they haven't delivered. For the last six months, I don't think a group of players could have committed themselves more. 
"They realise time is running out. You only have a certain lifespan as an inter-county player in this day and age. 
"This year is a huge year for us because the Clare public were very accommodating and lenient on us last year because they felt we were learning. 
"I wouldn't expect them to be as generous this year so that puts added pressure and focus on us. If you can't thrive in that environment, there is no point being in this job."
Stay up-to-date with this weekend's football and hurling championship action on our Match Tracker where we will be bringing live updates and scores from around the grounds.
Most Read Stories