Five grey-area gaelic football rules
June 27, 2019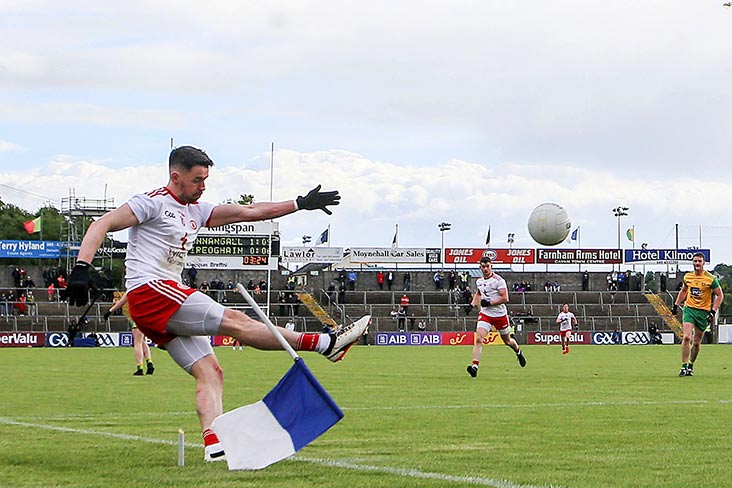 Tyrone's Matthew Donnelly kicks a ball and breaks a flagstick in half at the same time during the Ulster SFC semi final against Donegal.
There's an old adage that rules were made to be broken and this appears to be the case when it comes to gaelic football.
Looking at last weekend's championship games, a number of anomalies stood out, where rules are either misinterpreted or ignored or impossible to enforce.
1. Throwing the ball to the net.
Surely the act of throwing the ball to the net is a foul? While it's no longer imperative to finish to the net with a closed fist, the clear boundaries between slapping to the net and actually throwing it are being ignored. A hand slap is permitted and a double hand slap is okay but if a player cradles or cushions the ball in both hands, albeit momentarily, and then pushes / throws it over the line (effectively catching and redirecting it), that's a foul. Or is it? Did Conor Madden have the ball in his possession before he pushed it to the net in the Ulster final?
2. Handpassing a point.
It's within the rules of the game for the player in possession to take his point by fisting the ball over the bar. With a closed fist. For old stagers like myself, it seems strange to see the ball handpassed over the bar with an open hand, but evidently a rule change in 2013 made handpassed points legitimate. But with players holding possession tight, a lot of those handpasses look like throws in slow motion.
3. Foot block.
What is a foot block anyway? Sometimes penalties and frees are awarded when a defender or forward blocks an attempted shot or pass with his foot, others it is ignored. Seems it's only a foul if the offending foot is close enough to the one striking the ball to be deemed a dangerous tackle. Or something.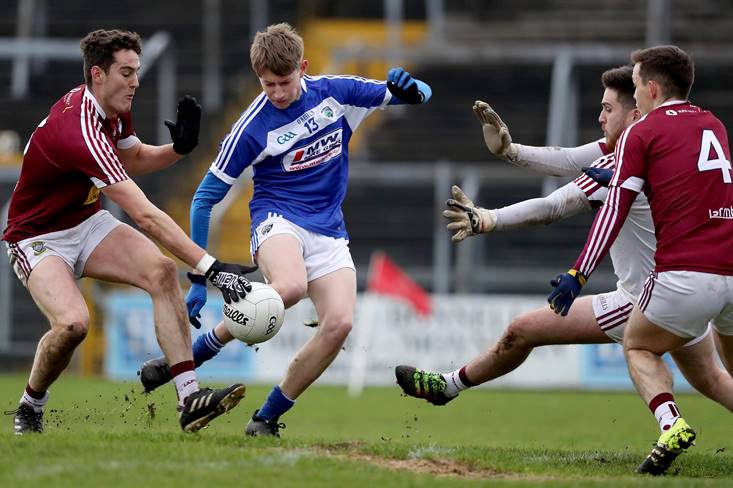 4. Steps.
"After every four steps the ball must be either bounced or soloed". Sometimes enforced, but this one is often overlooked or missed by the match officials. It almost seemed strange to see Brian Fenton penalised for over carrying in the Leinster final while we lost count of how many steps Jamie Brennan took before his goal in the Ulster decider.
5. Black card.
Had to get the black card in here somewhere. The black card covers a number of elements of cynical play, two of which are the deliberate pulling down of an opponent and the deliberate body collision. These should be relatively straightforward to enforce, as intent is usually pretty obvious, but some players are getting away with these transgressions while others are being black-carded for fouls that don't fall into any of the black card criteria.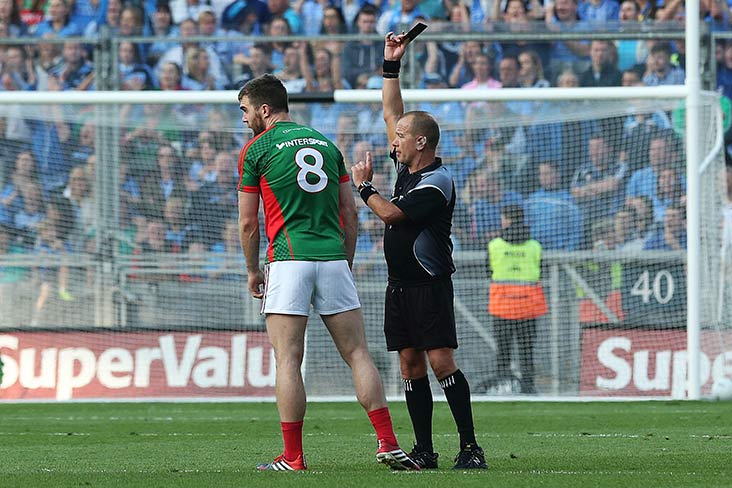 Follow the hoganstand.com match tracker this weekend for live coverage of the All-Ireland SFC Qualifiers, as well as the Leinster and Munster SHC finals.
Most Read Stories