2016 McGrath Cup / Munster SHL fixtures
December 04, 2015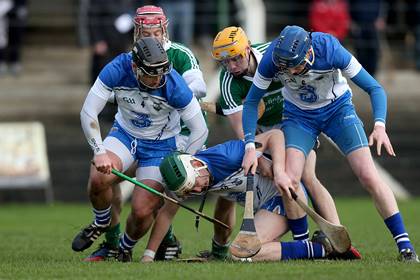 Action from the Waterford Crystal Cup quarter-final between Limerick and Waterford in Kilmallock.
©INPHO/Donall Farmer.
The 2016 McGrath Cup / Munster Senior Hurling League fixtures have been announced.
Both Munster pre-season competitions will be confined to inter-county teams only. All six Munster counties will participate in the McGrath Cup,while all counties bar Tipperary will participate in the new Munster Senior Hurling League, which replaces the Waterford Crystal Cup.
The McGrath Cup will be organised in two groups of three counties with Kerry and Cork seeded in separate groups. The three counties in each group will play each other over three weekends and the group winners will play in the final.
The Munster Senior Hurling League format will see all counties play each other over five weekends with the top two meeting in the final.
McGrath Cup fixtures:
Group A: Round 1  Clare v Tipperary  January 3; Clare venue 
Group A: Round 2  Kerry v Clare  January 10; Kerry venue 
Group A: Round 3  Tipperary v  Kerry  January 17; Tipperary venue 
Group B: Round 1  Cork v Limerick  January 3; Cork venue 
Group B: Round 2  Waterford v Cork  January 10; Waterford venue 
Group B: Round 3  Limerick v Waterford  January 17; Limerick venue 
Final: Group A winner  v Group B winner January 22; (TBC)
Munster Senior Hurling League fixtures
Round 1: Limerick v Kerry January 3; Limerick venue 
Round 1:  Clare v Cork  January 3; Clare venue 
Round 2:  Kerry v Cork; January 10; Kerry venue 
Round 2:  Waterford v Limerick  January 10; Waterford venue 
Round 3:  Clare v  Kerry  January 13; Clare venue 
Round 3:  Cork v Waterford  January 13; Cork venue 
Round 4:  Cork v Limerick  January 17; Cork venue 
Round 4:  Waterford v Clare January 17; Waterford venue 
Round 5:  Kerry v Waterford  January 24; Kerry venue 
Round 5:  Limerick v Clare January 24; Limerick venue 
Final: TBC
Most Read Stories