Galway to receive just 12,000 final tickets
August 24, 2012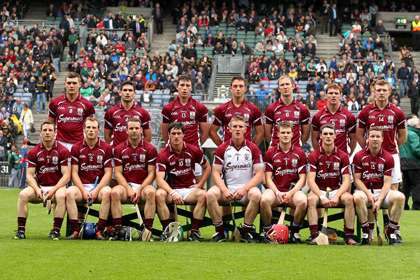 The Galway XV for the Leinster final. Alot of their supporters could miss the All Ireland decider because of a shortfall in tickets
Thousands of Galway fans hoping to see their team's All-Ireland hurling final showdown with Kilkenny face disappointment after it was confirmed that the county has been allocated just 12,000 tickets.
The paltry allocation will be distributed to the clubs next week, but Galway hurling board secretary Pat Kearney still expects Anthony Cunningham's charges to have the backing of upwards of 30,000 supporters on September 9.
"I expect close to 25,000 to 30,000 Galway people in Croke Park on the day of the All-Ireland, but that will come down to people using their own initiative to get tickets," he explained to The Connacht Tribune.
"This All-Ireland final is no different to any other and what they do in other counties is look for tickets in other places and in other counties, much the same way as people would look for tickets going to a concert.
"You have to remember this is a national occasion. This is a day for the 32 counties, along with those clubs based overseas. Already this morning, I have had three clubs from London onto me looking for tickets. So again, it is important to remember that this is a national occasion, not just a county occasion."
Kearney is determined to ensure that Galway's diehard supporters aren't overlooked.
"Clubs know who these core supporters are and I don't think clubs will be found wanting in this regard," he added.
Most Read Stories