This one was the sweetest, says Tommy
September 05, 2011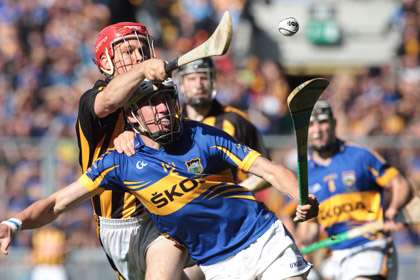 Tommy Walsh of Kilkenny with Tipperary's Michael Cahill
Kilkenny ace Tommy Walsh admitted that his sixth and latest All-Ireland triumph was the sweetest of all.
The Tullaroan tiger, who looks set to win a ninth successive All-Star award after another all-action display yesterday, said in today's
Irish Examiner
: "It stands as the sweetest because we lost last year. If you go back and ask anyone before today what is there best victory it would have been Cork (in 2006) because we got beaten the two previous years.
"After last year and losing the five-in-a-row it was heartbreaking all last winter and it probably showed out there today how much it affected us.
"You can probably only get that after losing. We're just delighted now that we went and did something about it."
He continued: "After losing it's hurt and when you're winning it's hunger," he explained, wearing the bruises, cuts and general marks of battle. This year it was down to hurt. It was nothing as regards Tipperary or anything, it was just getting beaten last year in the final.
"During the winter then every time you see a hurling match on the TV you're turning it off or walking out of the room. At least this winter we'll be able to look at matches with happiness."
Walsh admitted he had his hands full with Tipp's Patrick 'Bonner' Maher.
"You'll always get as good as you give against Tipperary and it was no different out there. The Bonner's a great hearted player and I suppose every Tipp player will feel the same, that when you go out you give it your all."
Most Read Stories