All-Ireland SHC final: Cats are back
September 04, 2011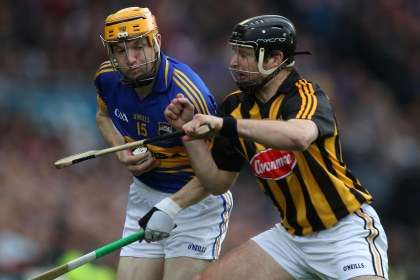 Tipperary's Lar Corbett gets no space from JJ Delaney of Kilkenny during the All-Ireland SHC final at Croke Park ©INPHO/Billy Stickland
Brilliant Kilkenny roared to a 2-17 to 1-16 victory over Tipperary in front of 81,214 spectators at Croke Park.
Brian Cody's eighth All-Ireland success is arguably his sweetest yet as the Cats defied the bookies to chalk up a deserved win, with Michael Fennelly and Richie Hogan striking the winners' goals.
Kilkenny - All-Ireland hurling champions for the 33rd time - bossed the first half and led by 1-8 to 0-6 at the break; the scoreboard did not reflect their superiority. Michael Fennelly struck the goal in the 35th minute and Henry Shefflin knocked over three first-half points.
Kilkenny had reeled off the first five scores and Tipp had no answer to resolute defending from the likes of Tommy Walsh and Paul Murphy and had Eoin Kelly to thank for keeping them in touch, as he arced over four frees before the short whistle.
Crucially, the Leinster champions had completely nullified the threat of 2010 Hurler of the Year Lar Corbett during those opening 35 minutes.
The rain was spilling down as the two teams took to the pitch 20 minutes before throw-in to go through the pre-match formalities and there was unbelievable tension and excitement in Croke Park in the build-up to the latest instalment of Tipp and Kilkenny's All-Ireland final saga.
There were no late changes to either team and it was the legendary Henry Shefflin who opened the scoring with a second-minute free from in front of the posts. The Cats had won the toss and opted to play with their backs to Hill 16. The breeze had died down since the minor game ended.
Michael Cahill made a fantastic intervention to dispossess Eoin Larkin just as the Kilkenny full forward was about to pull the trigger, but Larkin kept his composure to float over a second Kilkenny point moments later from out the field: 0-2 to no score after four minutes.
Early exchanges were every bit as hectic and frenetic as predicted, with time and space at a premium. In the seventh minute, Eoin Kelly sent a difficult Tipp '65' wide from a couple of feet in from the Cusack Stand touchline. Gearoid Ryan was working very hard in the first ten minutes but he dropped a shot short, with Noel McGrath fouling David Herity under the dropping ball.
Richie Hogan created space for himself superbly to drill over a third minor for the Noresiders in the twelfth minute - a great start by Brian Cody's men. The Black & Amber almost had a goal when Larkin beat Brendan Cummins to a high delivery and flicked the sliothar towards the empty net. But Paul Curran was on hand to stop it on the line and clear.
Michael Fennelly carved out a chance for Richie Power, who made it 0-4 to no score. Tommy Walsh had made a great start for the Cats, who were in total ascendancy in the opening 15 minutes. Shefflin benefited from an incredible Walsh fetch and delivery to make it 0-5 to no score with a superb finish from the left wing.
Sixteen minutes in, Noel McGrath thumped over the opening point for the Premier County - a wonderful point. At the other end, Shefflin was very harshly penalised for over-carrying as he endeavoured to break through the Tipp defence.
Kelly (free) closed the gap to three on 18 minutes and there was a skirmish under the Hill after Patrick Maher was awarded another Tipp free close to goal - referee Brian Gavin came out worst as Tommy Walsh's stray hurl inadvertently caught him on the nose and cut him, leading to a long hold-up while the match official received treatment.
Kelly fired the free between the posts when play resumed and Tipp would have been delighted to have closed the arrears to just two points, having been so comprehensively outplayed. Eddie Brennan clipped over a nice Kilkenny point after a magnificent Power solo run. Double scores: 0-6 to 0-3.
All-Ireland Poc Fada champion Cummins came off his line to take a free, but his shot went wide, and the floodlights were switched off on 26 minutes as the sun peered out in Dublin 3. Shefflin missed uncharacteristically and the Kilkenny defence slammed the door shut in John O'Brien's face after the Tipperary No.14 made a fine catch.
The holders had scored only three times in the opening half an hour but they were back within two points again when Kelly stroked over another routine free in the 31st minute, a free which culminated from an error in the Cats defence. When Michael Rice drew a foul from Paddy Stapleton, Shefflin showed why he's regarded as one of the all-time greats with a precise finish.
On the stroke of half-time, Kilkenny struck for a splendid goal. Shefflin and Richie Hogan were both involved in placing marauding midfielder Michael Fennelly who planted a bullet into the bottom corner on the run. Tipperary replied with a point from their No.8, Ryan, before brilliant defending from Paul Murphy and a clever Shefflin pass set another midfielder, Michael Rice, up for Kilkenny's eighth point. That came in the first of five minutes of first-half injury time…
Patrick Maher was foot-tripped by Noel Hickey as he bore down on goal and Kilkenny were fortunate just to concede a point from a Kelly free. After six added minutes, the first half ended with the Cats deservedly ahead by five.
Tipperary manager Declan Ryan introduced Benny Dunne and Pa Bourke at half time, having also brought on Brendan Maher during the second quarter. Bourke hit a wide in the third minute of the second half, but Dunne pointed a minute later. In between, Power will have been disappointed not to have been awarded a free at the other end.
Shefflin dropped an excellent point over the bar in the 40th minute and JJ Delaney cleared the danger as Patrick Maher bore down on goal with free men inside him. The result was a '65', which Kelly finished to close the gap to four again, 1-9 to 0-8.
In the 42nd minute, Colin Fennelly became the eighth Kilkenny player to score as he won the ball and finished majestically from out the field. A minute later, Power made it 1-11 to 0-8. Power then won a free, which Shefflin clipped over to make it a seven-point game ten minutes into the second half. Centre back Conor O'Mahony replied for the Munster champions.
Tipp drew closer from a really fortunate free awarded against Jackie Tyrrell right in front of the posts; the Kilkenny followers were furious.
But, in the 49th minute, the Cats struck for an astonishing goal. Brennan sprinted through the Tipp rearguard and handpassed the ball out to Richie Hogan on his left. The No.15 soloed the ball once on his hurl and then volleyed it first time into the top right corner of the net. What a goal! Brilliant from the Black & Amber.
John O'Brien replied with a point but Hogan won a free in front of goal after Kilkenny had spurned a goal chance. Shefflin slammed the free between the uprights to make it an eight-point game at the three-quarters stage. Any doubts about the Cats' fitness levels had been blown out of the water - they had yet to make a substitution!
Noel McGrath executed a beautiful finish from a sideline cut from the right side, defying an acute angle. Michael Fennelly went for goal when a point was on but found only Cummins with a weak shot. Kilkenny were made to pay in the 55th minute when Tipp pounced for a goal of their own to close the gap to four:
Corbett placed Bourke and the No.17 drilled a low shot which seemed to go straight through David Herity to the back of the net. Herity did well to clear his lines next time Tipp attacked but Power's shot went wide at the Hill 16 end.
With 13 minutes remaining, the match was back in the melting pot. Colin Fennelly steadied Kilkenny with a great individual point when they really needed it - eleven minutes from the end - and Brian Cody made his first switch, introducing TJ Reid. The intensity of the exchanges was nothing short of phenomenal.
Noel McGrath boomed over his third point nine minutes from the end and we were back to a four-point game, 2-14 to 1-13. Kilkenny's fans were jeering again as Tipp got a routine free in their favour six minutes from the end, and Kelly knocked it over. Ironic jeers followed when Michael Fennelly won a free with a great catch at the other end. Shefflin made it 2-15 to 1-14 with less than five minutes to go.
A foul on Patrick Maher presented Kelly with his eighth pointed free two minutes from the end of normal time and the Tipp talisman made no mistake. Substitute TJ Reid responded with a great point 30 seconds later. There was late drama as Bourke was hooked in the last minute as he tried to strike his second goal. Two minutes of injury time were announced…
Captain Brian Hogan made a sterling block and clearance and Ryan slotted over a Tipp point with a minute of injury time left and a goal between them. But Larkin won possession to bang over the insurance point with 30 seconds remaining.
To O'Loughlin Gaels clubman Brian Hogan the honour of collecting the Liam MacCarty Cup.
Kilkenny: David Herity, Paul Murphy, Noel Hickey, Jackie Tyrrell, Tommy Walsh, Brian Hogan, J.J. Delaney, Michael Fennelly (1-0), Michael Rice (0-1), Eddie Brennan (0-1), Richie Power (0-2), Henry Shefflin (0-7), Colin Fennelly (0-2), Eoin Larkin (0-2), Richie Hogan (1-1). Subs: TJ Reid (0-1), John Mulhall.
Tipperary: Brendan Cummins; Paddy Stapleton, Paul Curran, Michael Cahill; John O'Keeffe, Conor O'Mahony (0-1) Padraic Maher; Gearoid Ryan (0-2), Shane McGrath; Seamus Callanan, Noel McGrath (0-3), Patrick Maher; Eoin Kelly (0-8), John O'Brien (0-1), Lar Corbett. Subs: Brendan Maher, Benny Dunne (0-1), Pa Bourke (1-0), David Young, John O'Neill.
Most Read Stories