FL3 round-up: Premier go top
March 19, 2017
The Tipperary team huddle.
©INPHO/Donall Farmer.
Tipperary are top of Division Three after coming from six points down to defeat Offaly.
Joseph O'Connor's goal helped the Faithfuls lead by 2-9 to 1-6 early in the second half at Tullamore but Tipp outscored them by 1-9 to 0-2 from there to the end - including a brilliant Michael Quinlivan goal in the 53rd minute - to take top place in the table away from Louth on points difference.
Tipperary had George Hannigan sent off while the losers finished with 13 men as both Michael Brazil and Peter Cunningham saw red.
The Wee County went into today with a 100% record but they were trounced by neighbours Armagh in Drogheda, 3-15 to 0-11, with Ciaran McKeever, Niall Rowland and Jamie Clarke (penalty) netting.
In Corrigan Park, CJ McGourty hit the only goal of the game in the first half as Antrim earned a surprise 1-10 to 0-11 win over Laois.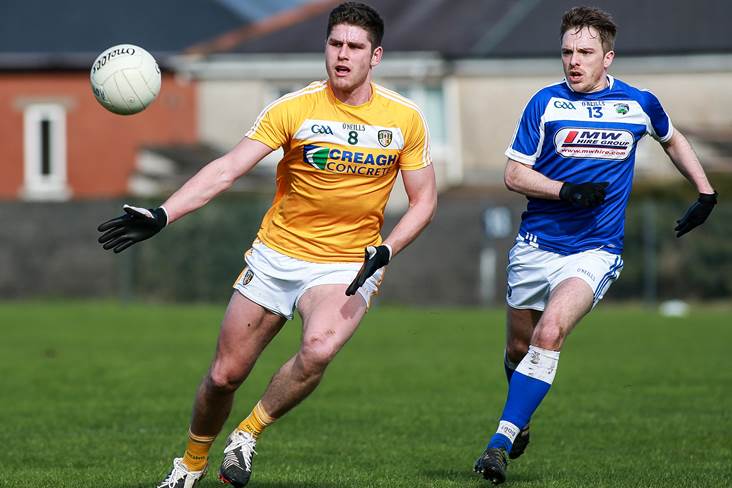 Antrim's Jack Dowling in action against Ross Munnelly of Laois.
©INPHO/Presseye/John McIlwaine.
Meanwhile, in Pearse Park, Longford effectively ended Sligo's promotion hopes with a 0-16 to 2-7 victory.
Tipperary - E Comerford; A Campbell, P Codd, S O'Connell (0-1); B Maher, R Kiely (1-1), J Feehan; L Casey (0-1), G Hannigan; B Fox, K O'Halloran (0-3f), J Keane (0-1f); C Sweeney (0-4, 1f), M Quinlivan (1-0), L Boland (0-1). Subs: J Kennedy (0-1) for L Boland, K Fahey (0-1) for B Maher, W Connors for S O'Connell, L McGrath (0-1) for L Casey.
Offaly - A Mulhall; S Pender, J Lalor, S Nally (0-2); N Darby, B Darby, D Hanlon; J O'Connor (1-0), E Carroll; S Doyle (0-1), M Brazil, G Guilfoyle (0-1); B Allen (0-3, 2f), N Dunne (0-3, 1f), P Cunningham (0-1). Subs: J Walsh for S Doyle, J Gethings for D Hanlon, A Mahon for J O'Connor, R McNamee for B Allen, D Hogan for S Nally (BC), W Mulhall for N Dunne. S O'Connell (1-0og).
Referee - J Hickey.
**
Armagh - B Hughes; G McCabe, C Vernon, P Hughes (0-1); N Rowland (1-0), B Donaghy, A McKay; S Sheridan (0-1), A Findon; R Grugan (0-4, 1f), A Duffy, N Grimley (0-5, 3f); J Clarke (1-3, 1-0pen), C McKeever (1-0), A Forker. Subs: B Crealey for A Findon, J Morgan for G McCabe, S Heffron for N Rowland, C O'Hanlon for A Duffy, G McParland (0-1) for C McKeever, N McConville for R Grugan.
Louth - C Lynch; J Bingham, P Reilly, K Carr; D Maguire, P Rath, A Williams; T Durnin (0-2), D Byrne; J Stewart, P Smith (0-3), B Duffy; R Moore, E O'Connor, R Burns (0-4, 3f, 1'45). Subs: A Reid for R Moore, G McSorley (0-1) for J Bingham, C McKeever (0-1) for E O'Connor, K Murphy for K Carr, R Holdcroft for R Burns.
Referee - C Branagan.
**
Antrim - C Kerr; C Hamill (0-1), P Gallagher, P Healy; P McBride (0-2), D Lynch, P McAleer; J Dowling (0-1), S Beatty; K Niblock, R McCann, M Fitzpatrick; C J McGourty (1-4, 0-3f), C Murray (0-2), S McGarry. Subs: S Donnelly for K Niblock (BC), B Bradley for S McGarry, S McVeigh for S Donnelly, D Nugent for J Dowling, N Delargy for D Lynch.
Laois - G Brody; D Strong, D Booth, A Farrell (0-1); S Attride, J Kelly, P McMahon (0-1); J Finn (0-1), J O'Loughlin; N Donoher, D Conway (0-2), D O'Connor; R Munnelly (0-3, 2f), D Kingston, P Kingston. Subs: E Buggie for S Attride, E O'Carroll (0-2) for D Kingston, S Moore (0-1f) for D Conway (BC), C Murphy for R Munnelly, K Lillis for P Kingston, D O'Reilly for J Finn.
Referee - E O'Grady.
**
Longford - P Collum; A Farrell, B Gilleran, P McGee; D Brady, D McElligott, P McCormack; M Quinn, D Gallagher (0-1); B McKeon (0-2), J McGivney (0-2), B O'Farrell; R Smyth (0-4, 2f), L Connerton, S McCormack (0-7, 5f). Subs: D Masterson for P McGee, L Moran for R Smyth, B Farrell for D Gallagher, R McEntire for J McGivney, D Mimnagh for B McKeon.
Sligo - A Devaney (0-2, 1f, 1'45); N Gaughan, R Donovan, C Harrison; Keelan Cawley, N Ewing (0-1), K McDonnell; P O'Connor, A McIntyre (0-1); J Kelly, C Breheny, E McHugh; S Coen (2-0), A Marren (0-2), N Murphy (0-1). Subs: D Maye for N Gaughan, S Gilmartin for P O'Connor, Kyle Cawley for J Kelly, G O'Kelly Lynch for C Breheny, P Hughes for S Coen, Brendan Egan for Keelan Cawley (BC), C Davey for A McIntyre.
Referee - S Lonergan.
Most Read Stories