Leinster SFC final: Dubs win but fail to impress
July 10, 2011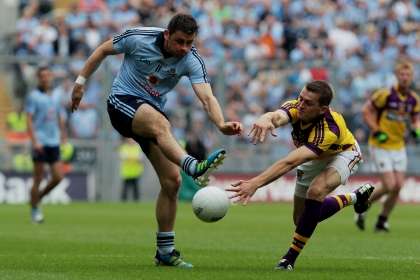 Dublin's Alan Brogan has his shot well blocked by Wexford's Adrian Flynn during the Leinster SFC Final at Croke Park
Dublin beat Wexford by 2-12 to 1-12 in a low-quality Leinster decider at Croke Park.
It was hard luck on the Model County, who coughed up a decisive own goal when the Dubs were very much on the ropes coming up to the end of the third quarter.
Inspired by the mercurial Ben Brosnan (0-9), the Division Three side were as good as their more illustrious opponents for long spells but they went over half an hour without a point from play in the second half. Still, but for that disastrous own goal, they probably would have landed the Delaney Cup.
Instead, it was left to Bryan Cullen to accept the silverware as the Metropolitans became provincial champions for the 50th time.
Wexford were within a point at the break, 0-7 to 0-6, after reeling off the last three scores of the first half. Dublin - looking for long spells as if they were going to win at a canter - had led by 0-6 to 0-2 and by 0-7 to 0-3, but they went 13 minutes without a score coming up to half time and the Model men had great scores from Adrian Flynn and Brosnan (2).
Conditions at Headquarters were ideal for a sporting occasion of this magnitude and there was a great atmosphere around the stadium as the two sides - both lining out as selected during the week - completed their warm-ups and pre-match parade.
The Model County won the toss and opted to play away from Hill 16, but Bernard Brogan delighted the assembled throng there within 20 seconds as he thumped over a mind-boggling point from a nigh-on-impossible angle. At the other end, Ciaran Lyng equalised less than sixty seconds later with an equally efficient finish off his trusty left foot.
Diarmuid Connolly hit a bad wide after collecting a beautiful pass from Eamonn Fennell and Bernard Brogan also missed the target following a pass from brother Alan. In the early stages, the evergreen Cullen was showing a remarkable work rate in the Sky Blue shirt. Dublin seemed to have players everywhere and their movement was forcing Wexford into some elementary errors.
After Bernard Brogan hit his side's third wide in as many minutes, Alan Brogan tore through the Model County defence to whack over a lovely point even though he was being fouled by his marker. Fennell followed up with a poor wide after more untidy play from the nervy underdogs.
Graeme Molloy did wonderfully to knock away a dangerous ball in towards the younger Brogan and James McCarthy made a fantastic diving block to deny Eric Bradley a goal chance. Bradley had the last touch but Wexford were wrongly awarded the '45', which Ben Brosnan gratefully drilled between the uprights: 0-2 apiece after twelve minutes.
Alan Brogan dropped a shot short into Anthony Masterson's hands and Stephen Cluxton nonchalantly struck a '45' between the Hill 16 posts from the wrong side to restore the hosts' advantage. After Aindreas Doyle had a wide, Dublin's next point was the embodiment of simplicity: Cluxton with a quick kick-out to Paul Flynn, who ran half the length of the field before arrowing over a beauty.
Cullen - on course for a seventh Leinster SFC medal - pointed off his left foot to leave his side 0-5 to 0-2 in front at the end of the first quarter. Eoghan O'Gara used his strength to draw a free, which Bernard Brogan despatched off his left side to stretch the gap to four.
Lyng dropped over another stunning Wexford point from a ridiculous angle after a tap-down from Redmond Barry under Brosnan's quick punt forward, but Daithi Waters dropped a shot into Cluxton's grasp before Alan Brogan curled over a lovely point with his left. Michael Fitzsimons blocked a Lyng attempt and Dublin under-hit another shot.
Adrian Flynn raided forward from wing back to drop over an excellent Wexford point on 26 minutes, edging the Slaneysiders back within three points. Brosnan swept over a free two minutes later but Shane Roche's effort at the end of a decent move was a few metres wide. Coming up to the half-hour mark, Jason Ryan would have been delighted with his side's efforts thus far, with just two between them.
After Ger Brennan was guilty of a dreadful clearance, Brosnan measured his next '45' superbly, pointing via the left upright to close the margin to the minimum two minutes from the break. On the stoke of half time, the Wexford No.12 sent a 50-metre free to the right and wide. The short whistle sounded with just a point between them.
Wexford spurned two scoring chances at the start of the second half and Fennell kicked wildly wide at the other end. Brosnan struck a low shot straight at Cluxton, having carved open the Dublin defence with a lung-bursting surge, and Bernard Brogan landed a shot in on top of the steady-handed Masterson.
First-half substitute Mossie Quinn recorded Dublin's next wide and Redmond Barry did superbly to win the ball, turn his man and win a free from Paul Conlon. A great chance for Brosnan to level the scores, which he took with aplomb to level the scores for the third time… One could sense the Dubs faithful getting a little jittery.
Bernard Brogan was having an off day and he kicked an uncharacteristically-untidy shot at the end of a purposeful Cullen run. Then, amazingly, Wexford pounced for a goal!
In the 44th minute, substitute PJ Banville ran at the Dublin defence and picked out Barry with a deft handpass. The Model County No.15 ran around Cluxton and slid the ball along the deck to an empty net: 1-7 to 0-7.
Dublin's response was a great point from half-time substitute Kevin McMenamin. Brosnan showed no sign of nerves as he slotted over a free (after Cullen dragged Bradley down) to restore the underdogs' three-point cushion.
With just over 20 minutes remaining, Barry coughed up possession too easily and Quinn picked out Bernard Brogan, who turned inimitably to slot over a crucial Dublin point: 1-8 to 0-9.
In the 51st minute, Wexford handed Dublin the lifeline they desperately needed: Masterson - who was otherwise faultless throughout this game - came out to collect a dropping delivery with Bernard Brogan closing in. Inexplicably, the Model 'keeper opted not to catch the ball but instead fisted it against full back Molloy and the ball trickled into an empty net. It really was the softest of goals.
The brilliant Alan Brogan pointed in style after his brother Bernard had struck yet another wide. Then came one of the goals of the season:
Young Dublin wing back James McCarthy took advantage of tiring Wexford legs to tear through the defence and slam an unstoppable shot into the roof of the net. Inspirational stuff from the No.5!
Wexford should have had a penalty in the 61st minute. Lyng skipped past Fitzsimons and made a bee-line for the Dublin goal. The corner back fouled Lyng, who was well inside the large rectangle when he was finally brought to ground. Regardless of whether or not Lyng played for the penalty and irrespective of where the initial contact took place, it was a clear penalty.
Why should it matter where the foul started?
Anyway, Joe McQuillan thought otherwise and a free was awarded, which Brosnan tapped over. Bastick replied and Brosnan dropped one over from play after a quick Wexford free.
Brosnan certainly hadn't given up and he banged over another great score from play to close the gap to three with four minutes of normal time left, 2-11 to 1-11.
Cluxton denied Wexford substitute Paddy Byrne a late goal and - within seconds of his introduction - Ross McConnell pointed on the stroke of full time, following good work from fellow sub McMenamin.
Brosnan chipped over his ninth point in the second added minute but that was the last kick of the 2011 Leinster SFC and brave Wexford ran out of time.
Dublin: Stephen Cluxton (0-1); Michael Fitzsimons, Rory O'Carroll, Paul Conlon; James McCarthy (1-0), Gerard Brennan, Kevin Nolan; Denis Bastick (0-1), Eamonn Fennell; Paul Flynn (0-1), Alan Brogan (0-3), Bryan Cullen (0-1); Eoghan O'Gara, Diarmuid Connolly, Bernard Brogan (0-3). Subs: Thomas Quinn, Kevin McMenamin (0-1), Barry Cahill, Ross McConnell (0-1).
Wexford: Anthony Masterson; Joey Wadding, Graeme Molloy, Brian Malone; Adrian Flynn (0-1), David Murphy, Aindreas Doyle; Daithi Waters, Rory Quinlivan; Shane Roche, Ciaran Lyng (0-2), Ben Brosnan (0-9); Colm Morris, Eric Bradley, Redmond Barry (1-0). Subs: PJ Banville, Adrian Morrissey, Paddy Byrne, Liam Og McGovern.
Most Read Stories