The Friday Interview: Paddy Dowdall
June 01, 2012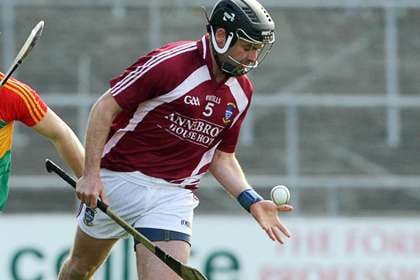 Westmeath's Paddy Dowdall
After an exhilarating comeback victory over Antrim, Westmeath hurling captain Paddy Dowdall is looking forward to hosting Galway in the Leinster SHC for the second year in-a-row this weekend.
Sunday is a big day for the Westmeath hurlers who, against all the odds, have set up a Leinster SHC quarter-final meeting with Galway in Mullingar.
Six points down and reduced to 14 players late in the first half of their first round clash with Antrim, Brian Hanley's men staged a remarkable second half comeback to overcome their Ulster opponents and, in the process, caused the first shock of the 2012 championship. Westmeath now face an even bigger task against a Galway team which is fancied to go a long way in this year's championship, but after being given the fright of their lives in last year's corresponding fixture, they won't be taking the Lake County's challenge lightly.
Having spent a good chunk of his 11-year Westmeath career in the Christy Ring Cup and in the lower echelons of the Allianz League, games of this magnitude don't come along too often for Paddy Dowdall. When Westmeath shocked Dublin in their rain-drenched 2006 Leinster SHC encounter at O'Moore Park and subsequently gave a decent account of themselves against All-Ireland champions Kilkenny in the provincial semi-final, he missed out, so it's easy to see why he's so excited about facing the Tribesmen.
"These are the games you want to be playing in and what you train for," the Westmeath captain and half back enthuses.
"It's going to be a great day in Cusack Park, particularly for the younger players in our team. Out of a panel of 30, we have 13 players who are U21. Five or six of them are U19, including Niall O'Brien, Paul Fennell, Robbie Greville and Aonghus Clarke who all started the last day. Galway are a top four or five team, so it will be a huge experience and learning curve for our lads."
Twelve months ago at the same venue, Westmeath - with far less preparation work behind them than this year - came within minutes of causing what would surely have amounted to the biggest hurling upset of all time. While the expectation is that Galway will be much more focused and will therefore put their fellow maroons to the sword with the minimum of fuss, Clonkill clubman Dowdall doesn't see it that way.
"We might as well not turn up if we don't believe we can win," he says.
"We mightn't have the same profile as Galway, but I can assure you we train just as hard and make the same sacrifices. Anthony Cunningham was at our game against Antrim and will have them a lot better prepared than last year. We hope to do the same as we did last year, but maybe push on in the last 10 minutes - like we did against Antrim - instead of fading away. The longer we stay in the game, the better chance we have of winning."
Coming just a month after their failed bid to win promotion from Division 2A of the Allianz League, very few saw Westmeath's 0-14 to 0-12 victory over Antrim coming. But as disappointing as it was to lose the Division 2A decider to Carlow, their self-belief never waned.
"No-one expected us to win bar ourselves," the 2008 All-Ireland intermediate club winning captain recalls.
"We put a big effort into the league, but for some reason, we never caught fire. Maybe we put too much pressure on ourselves, I don't know. After Carlow beat us, that pressure was gone so maybe it was a blessing in disguise to lose the league final.
"We took a week off which gave us a chance to take stock and get our heads right for the championship. When we came back, our first touch was much better and the mood was very good. More importantly, though, the belief which Brian Hanley had instilled in us was still there."
He continues: "It was looking bad at half-time when we down by five points and Conor Jordan had been sent off very harshly in my opinion. But after Brian gave us a rousing team talk at half-time, we performed heroics in the second half to pull it back. We won a lot of turnovers by being ferocious in the tackle, while our fitness stood to us as well. You would have to give (physical trainer) Peter Leahy a lot of credit for the condition he has us in."
There was another motivating factor behind Westmeath's great win, Paddy reveals: "When Antrim and Galway were first admitted to the Leinster championship, it was at our expense. To be told you can't play in your provincial championship was a sore point with everyone in Westmeath. The powers-that-be said we weren't good enough to play in Leinster, but I think we proved them wrong by beating Antrim," he says.
"It was definitely the biggest win I've had with Westmeath so far. You could see how much it meant to the players and supporters afterwards."
The 29-year-old, who is a mechanic in the Irish Army, believes the Lake County's strong emphasis on underage coaching is now starting to bear fruit.
"The work that has gone into the underage over the past 10 years has been incredible. We've produced some very good minor teams in the last few years who were unlucky not to win a Leinster championship. Last year's team was exceptionally strong, but they were beaten in the Leinster semi-final by Dublin who went on to reach the All-Ireland final.
"Even though we're a small county with a small pick (Westmeath has just 15 hurling clubs), we'd be hoping to be up there competing with the Dublin's and Galway's at senior level in the next three or four years. The young players are really that good. The main thing now is to ensure that not too much pressure is put on them and that they are properly looked after. We don't want to see them all having to emigrate like what happened in the mid-1980s when Westmeath had a team that was very close to making the breakthrough."
In conclusion, the Westmeath skipper is calling on supporters to get behind Brian Hanley's young side on Sunday.
"The win over Antrim has created a tremendous buzz around the county. We have some great hurling supporters in Westmeath and I hope to see them turning out in big numbers this weekend. Who knows, we might be able to give them something else to shout about!"
Time will tell . . .
Most Read Stories