Tipperary SHC: Fourth time lucky for Drom & Inch
October 17, 2011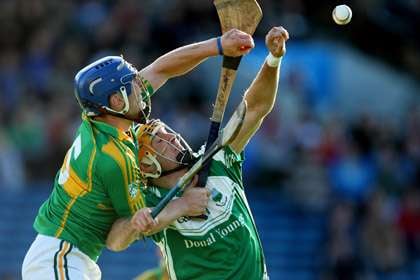 Clonoulty's John O'Keeffe and Seamus Callanan of Drom & Inch during the Tipperary SHC final at Thurles
Drom & Inch's persistence finally paid off when they edged out Clonoulty-Rossmore to claim their first Tipperary SHC title at Semple Stadium yesterday.
Drom & Inch 1-19
Clonoulty-Rossmore 2-14
Beaten finalists in 2005, '07 and '09, Drom & Inch dug deep in the second half to carve out an historic Dan Breen Cup success and bring delight to their supporters in the 7,038 crowd. When John O'Neill's goal propelled Clonoulty - who were bidding for their first title in 14 years - into a 2-10 to 1-8 lead two minutes into the second half, another final defeat looked to be on the cards for Teddy Kennedy's side, but they outscored their opponents by 0-11 to 0-4 in the time remaining to finally get their hands on the coveted silverware.
Clonoulty settled to their task quickly and led by 1-4 to 0-1 after 13 minutes thanks to Sean Maher's goal. Drom & Inch needed a quick response to stay in the game and it was provided when Pat Lupton netted within a minute of Maher's strike. County star Seamus Callanan should have had a second goal for the winners in the 23rd minute, but mis-hit his shot. However, points from David and Seamus Butler meant they only trailed by the minimum, 1-8 to 1-9, at the break.
O'Neill's goal on the restart put Clonoulty back in the driving seat again, but from then on Drom & Inch were on top with Callanan coming into his own in attack and former county player Eamon Buckley lording it at centre back. David Butler, David Collins and Seamus Butler were also outstanding as the wearers of green and white celebrated a long-overdue success.
Scorers - Drom & Inch: P Lupton 1-2, S Callanan 0-6 (3f), D Butler 0-4, D Collins 0-3, J Ryan (1f), S Butler 0-2 each. Clonoulty Rossmore: T Hammersley 0-6 (4f, 1'65), J O'Neill (0-1 s-l), S Maher 1-2 each, T Butler, C Ryan, J Moloney, C Quirke 0-1 each.
Drom & Inch - D Young; Martin Butler, Micheal Butler, M Costello; P Stapleton, E Buckley, James Ryan; Johnny Ryan, J Woodlock; S Butler, S Callanan, D Collins; P Lupton, D Ryan, D Butler. Subs: K Butler for D Ryan (28), L Ryan for Martin Butler (38), M Ryan for J Ryan (62).
Clonoulty Rossmore - D O'Dwyer; Joey O'Keeffe, J Heffernan, K Horan; Padraig Heffernan, J Devane, John O'Keeffe; S O'Connor, T Butler; S Maher, C Ryan, J Moloney; J O'Neill, T Hammersley, C Quirke. Subs: M Sadlier for Horan (h-t), F O'Keeffe for Moloney (46), A Kearney for O'Connor (47), M Coen for Ryan (54), M Heffernan for Quirke (58).
Ref - P Gibson (Burgess).
Most Read Stories