MFC Div 3: First half goals seal win for Oldcastle
October 23, 2017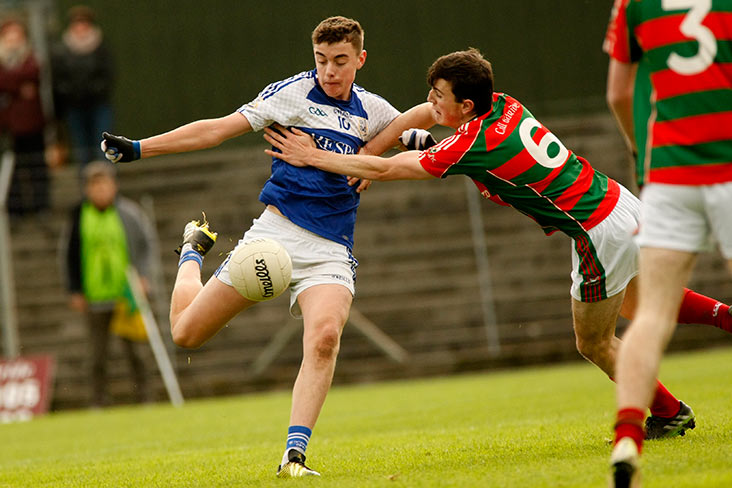 Oran Mulvanny strikes for Oldcastle's opening goal as Kilbride's Ronan O'Leary closes in during the MFC Division 3 final at Pairc Tailteann.
TO VIEW A SELECTION OF PHOTOGRAPHS FROM THIS GAME CLICK HERE
Oldcastle claimed the first minor football championship title of the year with this seven point win over Kilbride in the Division 3 final played before the IFC decider at Pairc Tailteann.
Oldcastle 5-14 Kilbride 3-13
Oldcastle were quick off the mark with three unanswered points from Lee Healy, Pearse Sheridan and Colin Hawdon in the opening ten minutes. Kilbride hit back with the games opening goal courtesy of full forward Finn Hughes but in the next four minutes the winners hit the Kilbride net twice. Oran Mulvanny's goal was quickly followed by their second major from James McCluskey. The North Meath boys added another three goals before the break through Healy, Robbie Smith and Mulvanny to go in at half time 5-5 to 1-7 in front.
Both teams exchanged three points each in the opening ten minutes of the second half before the impressive Joey Donnelly struck for Kilbrides second goal after 13 minutes. Oldcastle responded with fine points from Kyle Kavanagh, Colin Hawdon and Sheridan before Donnelly got in for Kilbrides third goal to narrow the lead to seven points. 
The concession of those first half goals left too much for Kilbride to do and Oldcastle went on to claim the title.
After the game Frank Gallogly and Brendan Cummins presented the Minor Football Championship Division 3 Cup to Oldcastle captain Keith Connell.
Oldcastle scorers: Oran Mulvanny 2-2, Colin Hawdon 0-4, Robert Smith and Lee Healy 1-1 each, Kyle Kavanagh 0-3, James McCluskey 1-0, Pearse Sheridan 0-2, James Caffrey 0-1.
Kilbride scorers: Joey Donnelly 2-7, Cadhla McKenna 0-4, Finn Hughes 1-0, Jamie McWeeney and Adam Malone 0-1 each
Oldcastle: Karl Gibney, Dylan Garrigan, Eoin McCluskey, Stephen Milmoe, Thomas Flood, Keith Connell, Conor Hetherton, Ronan Taggart, Robbie Smith, Oran Mulvanny, Pearse Sheridan, Kyle Kavanagh, Lee Healy, Colin Hawdon, James McCluskey. Subs: James Caffrey, Cillian Connell.
Kilbride: Andrew McWeeney, Hugo McPeake, Sean Duffy, Paul Donnelly, James Gavin, Ronan O'Leary, Jamie McWeeney, Michael Farrell, Cadhla McKenna, Cian Harford, Joey Donnelly, Jack Sweeney Leahy, Adam Malone, Finn Hughes, Martin Courtney. Subs: Brian Dignam, Zack McGovern, Timmy Farrell, Mark Dempsey, Ross Sheehy.
Referee Eamonn Barry
Most Read Stories