IFC: Nobber draw secures preliminary quarter-final spot
September 12, 2017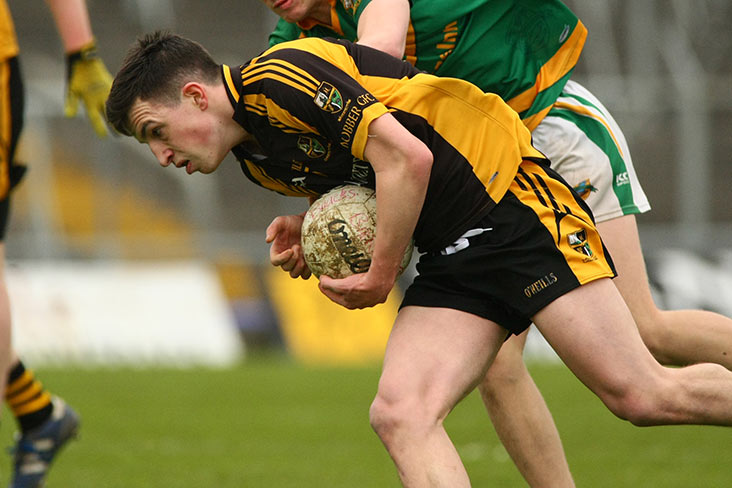 Nobber's Sean Meade
Nobber 1-13 
Oldcastle 2-10
Only  a result - draw or win - for Nobber against championship favourites Oldcastle could guarantee them to advance to the knockout stages and they achieved that in a rip-roaring match played at Moynalty on Saturday evening.
They set out their intentions from the start, when Fiachra McEntee scored a great point from way out on the right within thirty seconds and they were 3 points up by the 4th minute with good points from Darren Lambe and Niall Farrell, following good work from McEntee.
Oldcastle then roared into the game with a point in the 7th minute and the sweeping move up the entire field finished with a low shot that rifled to the net in the 8th minute - game on.
Pointed frees were exchanged before McEntee and Brendan Heffernan pointed to leave it 6pts to 1-2 in Nobbers favour after 20mins. Stephen O' Brien was unlucky to hit the Oldcastle post with an excellent effort before Oldcastle hit 1-1 to leave it 6pts to 2-3 by the 25th minute.
Nobber hit a purple patch and notched 1-3 in the remaining 5mins of the half with Sean Meade scoring an excellent goal and points from Karl Casserly, Heffernan's 2nd and a great score from the marauding Jack Condra - HT Nobber 1-9, Oldcastle 2-3.
Oldcastle pointed twice in the 2nd and 3rd minute of the half to leave the minimum in it before McEntee, this time from out on the left took a pass from Sean Meade and split the posts in the 35th min. Again Oldcastle closed it to one in the 36th. Heffernan and newly introduced substitute Gerard Campbell pointed in 41st and 42nd minutes to restore a 3pt lead,  1-12 to 2-6 .
Nobber failed to score in the following 15mins. Oldcastle scored 2 to leave the minimum in it (1-12 to 2-8) before a good move involving Stephen O' Brien and McEntee who offloaded to Sean Meade and he slotted over from a narrow angle to leave 2 in it with 3mins to play. Oldcastle showed their worth  and scored 2pts in the 59th minute to level matters. It was squeaky bum time and Nobber with last minute long distance effort from Niall Farrell falling wide but had done enough to secure their advance in the Championship, a victory would have placed them top of the group - a draw put them in 3rd place and into the Quarter Final - tight margins in a tough group.
Eanna Fagan, Jack Condra, Pauric Weldon and Heffernan excelled in defence, our midfielders won the midfield battle while upfront Fiachra McEntee, Sean Meade and the industrious duo of Stephen O' Brien and Darren Lambe ensured Nobber's advance.
Nobber - Dary Hutchinson, Eanna Fagan, Paul Meade, Jack Condra (0-1), Brendan Heffernan (0-3), Pauric Weldon, Niall Farrell (0-1), Alan Farrell, Thomas Murtagh, Stephen O' Brien, Sean Meade (1-1), Darren Lambe (0-1), Dale Larkin (0-1f), Fiachra McEntee (0-3), Karl Casserly (0-1). Subs - Gerard Campbell (0-1) for D. Larkin, Brian Meade for B. Heffernan, Gavin Farrelly for F. McEntee (inj). B. McEntee, T. McEntee, B. Cassidy, R. Shields, D. Shields, A. Shields, C. Clarke, C. Halpin, J. Donohoe, C. Fox
Most Read Stories