IFC: Michaels book place in last eight
September 11, 2017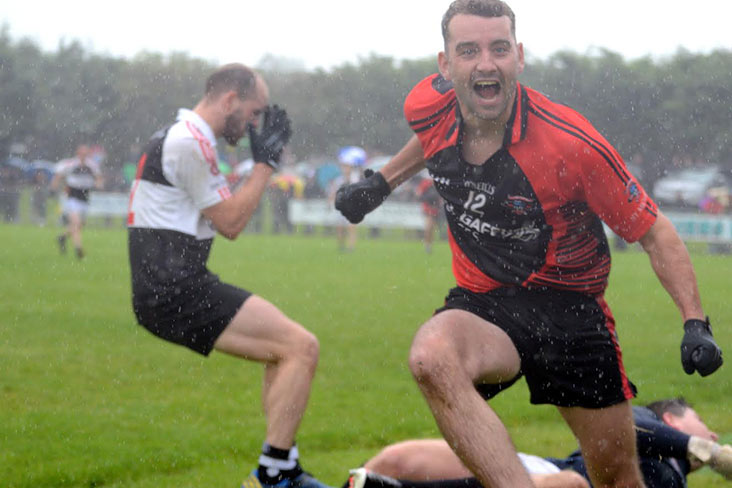 David Lynch celebrates after scoring a goal for St. Michaels against Dunderry in the Meath IFC clash at Cortown
St. Michaels 1-10, Dunderry 0-11     
St. Michaels booked themselves a quarter final clash with Kilmainham after a late flourish saw them over the line in a wet and windy Cortown on Sunday afternoon last.                                                                                          
It was a tense and dramatic end to a contest that ebbed and flowed throughout as St. Michaels held on for dear life to a two point cushion as Dunderry threw everything at them but thanks to excellent defensive work St. Michaels stood firm.                                                                                   
Ciaran Lynch opened the scoring with a well judged free into the strong cross wind in the opening minute, Dunderry opened their account five minutes later from play and a point apiece from Shane McDonnell and Lynch put two between the sides but Dunderry were back on level terms at the end of the opening quarter. St. Michaels made several turn-overs throughout the opening half as the Dunderry lads struggled to get to grips with the greasy conditions. Ciaran Lynch added a further 3 points to close out his sides first half scoring while Dunderry levelled the match for the third time with a '45 a minute into injury time to leave it all square at 0-6 apiece at the interval.
One of the games main protagonists Matthew Halpin made a contribution to the scoreboard with an excellent point from play in the opening minute of the second half, Dunderry cancelled out that score almost immediately to draw level for the fourth time. Then on 37 minutes a long high effort from Shane McCormack came back off the upright much to the delight of David Lynch who was quickest to react and he blasted to the back of the net for the games only major and a three point lead. McCormack put four between the sides before Dunderry lost their no 18 to a red card at the end of the third quarter. Despite being a man down Dunderry took the game to St. Michaels and added four unanswered points in as many minutes to level the match for the fifth time.
St. Michaels were hanging on for dear life now and memories of their opener against Ballinlough went flashing through the minds of many of their supporters, but to their credit they stuck to the task on hand and several goalmouth scrambles were cleared by Darren O'Connell and his excellent defence and two such clearances were rewarded when Peter O'Connell fired over an beautiful free off the ground from 50m out on 55 minutes and a minute later Shane McDonnell had the last word when he put two between the sides. Dunderry parked their bus in the St. Michaels half and the winners and their supporters had to endure seven agonizing minutes including injury time before confirming their place in the last eight.           
                                                                                                                                                                                                                                                                                   St. Michaels team and scorers: Darren O'Connell;  Thomas O'Brien, Jamie Reilly, Sam Briody; Christopher Drew, Ronan Cassidy, Matthew Halpin; Peter O'Connell (0-1), Shane McCormack (0-2); J.B. O'Reilly, Ciaran Lynch (0-5), David Lynch (1-0), Ray Reilly, Ronan Lynch; Shane McDonnell (0-2). Subs: Ben Tobin for O'Brien 54 minutes, Mark Stafford for Ciaran Lynch 56 minutes.
Referee: Cormac Reilly.      
Report and photo Pascal Reilly.           
Most Read Stories